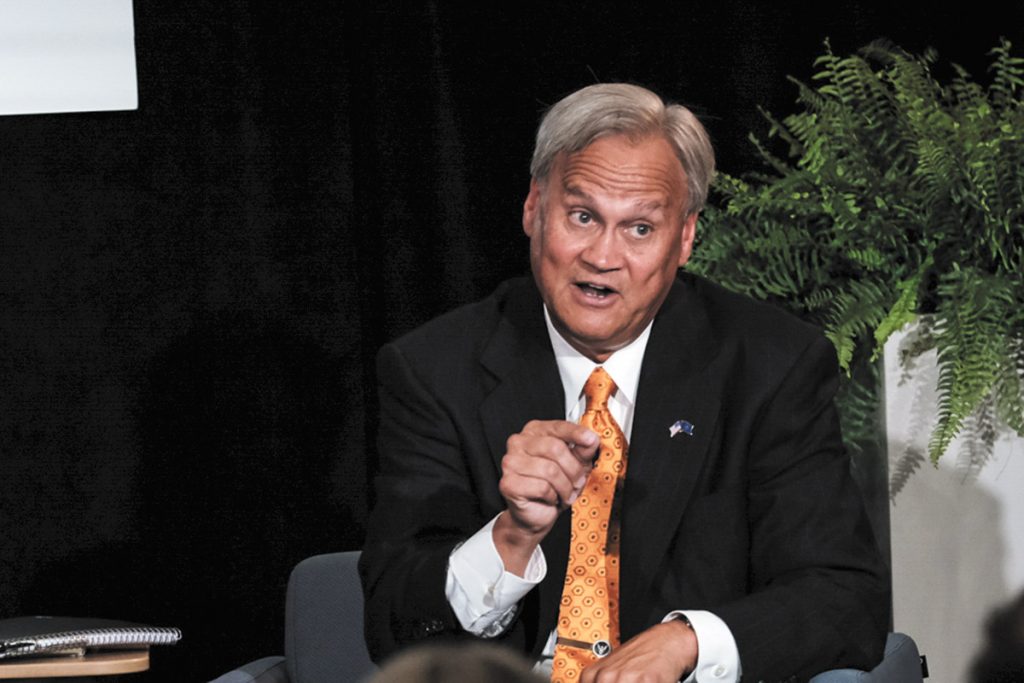 Republican Jim Merritt has spent nearly three decades representing Indianapolis in the Indiana Senate.
But his campaign for mayor, which he launched in January, has taken him to places and introduced him to people in the city he never knew before—an experience he says he wants to continue if he's elected.
Talking with people, he said, is key to finding solutions to difficult problems.
"I'm all about coordination, collaboration, convening," Merritt said. "If you ask any lobbyist, if they've worked on legislation with me, I get about 20 … of them in the caucus room and we work it out."
He said he'd bring that same approach to governing Indianapolis. Here's what else he told IBJ about his vision for the city:
Sen. Merritt, if you ran into someone right now in the elevator or on the street and you had a minute or two to tell them why they should pick you for mayor, what would you say?
We need a mayor that is conscious of the fact that we have a violent crime epidemic in our city. It's all about leadership in law enforcement. We need a mayor who will depend on someone at [the Department of Public Works] that has expertise in infrastructure, along with snow removal. And we need a mayor who is willing to work towards growing Indianapolis.
So the bottom line here is that job one is law enforcement, is keeping us safe. Two is having a solid infrastructure to grow the city and allow the neighborhoods to flourish. And three is to be the face of Indianapolis throughout the world, including in New York City, Washington, D.C., and down Market Street at the Statehouse. It's all about keeping us safe. It's all about having a solid infrastructure. And it's all about quality of life.
The Indy Politics poll found 40% of residents feel like they are less safe than they used to be. And I know crime has been a major issue for you. What is your case for how you can do it better?
Well, it starts with [former Indianapolis Metropolitan Police Department Deputy Chief] Bill Benjamin. It starts with the leadership in IMPD. There's a man for the times, and [Benjamin] is a man hunter. He had a clearance rate of 81%, whereas right now, 44% of the time at IMPD, they get their murderer. And the stat that blows you away is that 60% of the time that you commit murder in Marion County, you're going to get away with it. That's halting.
So when it comes down to IMPD, it's about leadership, it's about equipment, it's about training and it's about recruiting on an annual basis. It's the, really, ABCs of keeping us safe.
One of the underlying causes of crime, of course, is poverty. One in five Indy residents live in poverty and there are these deep, terrible pockets of poverty. How would you go about tackling that part of the problem?
I've spent a lot of time out on the far-east side of Indianapolis, and I think poverty and crime have incredibly hampered the growth of that area of town. And I think it's important that we talk about reinvigorating the [Police Athletic League] clubs. I visited a gym the other day over at 62nd and Allisonville, and they had 50 boxers in there, and they're all young people. The mentoring there is incredible. And I truly think that we'll be a lot better off if we inject mentoring into IPS and the charter schools.
One thing that I've been working on in my mind is introducing a food [tax increment financing district], and what I mean by that is offering the incentives to target all the different players—Meijer, Kroger—and offering those incentives for one of the entities to bring in a produce truck on Tuesday. And then on Thursday, a fresh meat truck to come in, and try to reinvent the wheel, innovate.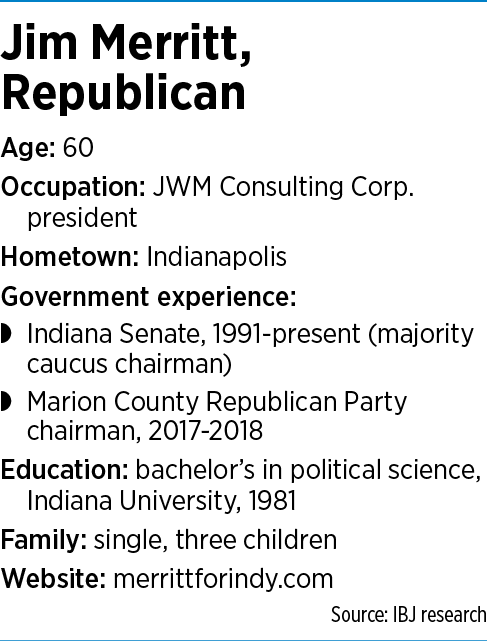 The east side kind of sticks out as a place where there used to be a lot of manufacturing jobs, sometimes within walking distance of employees. The neighborhoods near the GM stamping plant on the near-west side, near downtown, are the same way. What can a mayor do, if anything, to try to bring jobs and economic opportunities back into some of these hardest-hit areas of the city?
It takes leadership, it takes creativity, it takes the energy of actually understanding what the neighborhood needs and what the neighborhood wants. That is a food desert to beat the band out there. And they've had Walmart close, they had Kroger close. And how is anybody going to get anything started without a community-oriented grocery store?
And you don't need a grocery store anymore; you need groceries. This is all linked. We don't have a high school on the far-east side of Indianapolis anymore. … So it's all linked with the food desert, with education, with job opportunities.
And maybe you saw my black agenda. The minority entrepreneurs are not getting to the table … . There are too many no-bid projects. They don't know where to get the grants, and we need to have tutorials, we need to have compliance, and if somebody wants to go into business for themselves, it needs to happen. The African American unemployment rate doubled between January 2018 and January 2019. That is a severe problem.
It's interesting how much more activism there has been in the mayor's race this year from the black community. I know you've met with them, you've presented ideas to them. How do you think the conversations you've had with them would influence the way you govern?
It's a sea change since Jan. 10 [when the campaign began]. I've seen the lack of opportunity that individuals in the African American community have. I've seen the achievement gap between black and white kids. And you talked about poverty—that has really grown the achievement gap with homelessness, with hunger, with poverty in itself. And so, yes, it's been an education. And I'm a lot better state senator today than I was and I will be a better mayor. I pledged that we will have mayor's night out, we will have advisory boards that include the Concerned Clergy.
You presented a full black agenda and you've been talking about some of those things to the black community. Is there any one thing that sticks out to you as particularly important?
I think it's working with the faith-based community on poverty and crime. We have 300 churches in 46218 alone. We may have 15,000 churches in Marion County, and we have 1,600 homeless individuals. I think identifying problems and relying on law enforcement, relying on the faith-based community to help us solve the problems, that'll be day one.
Poverty is also a problem for the city's tax base. How would you persuade the people who do have higher incomes to either move into Indianapolis or not to leave for the suburbs?
That's a really good question, because a lot of people won't go downtown because of the homelessness and the panhandlers. [Coalition for Homelessness Intervention and Prevention] has done a really good job of creating the opportunity for information, data, everything where homelessness pervades, but we haven't activated it. We haven't taken that information and made the hard decisions about that.
And so the first thing we will do is, we will have a commission made up of hotel managers, ER docs, IMPD—which has a homeless unit—and we will create a group of people that are stakeholders in downtown Indianapolis and get the information from them. And then we will say to the Sagamore Institute or some other third party: "What is the fiscal impact of this problem?" We will try to quantify what the cost is for a visitor to come to Indianapolis and see … somebody sitting, laying on a mattress at the corner of Illinois and Washington.
That will give us the clout to go to the populace, to go to the residents, and say: "This is what we need to build. This is what we need to offer. This is what we're going to do."
You've talked about the importance of bolstering neighborhoods, which always brings up interesting questions about gentrification and whether you can help longtime residents stay in their neighborhoods. What would be your approach to dealing with those issues?
I call it the G-word because nobody likes the word gentrification.
A good example is what they've tried to do to the west, when they've tried to change the name of Haughville to River West. That was a complete shoving aside of history, of the strong history of Haughville. And to me, that's saying to the residents that have been there for 50 years … that you don't count, you don't mean a thing, and we want to do something cool.
So, it has to be a collaboration of community partners when you're talking about the G-word, and it has to be a balance. And we have to ensure that people don't have to move out. And that's a difficult balance, but it's going to have to take a lot of work with all the different stakeholders.
Switching gears, the mayor of Indy, unlike most cities, plays a pretty big role in chartering new schools, overseeing existing charter schools. What would be your approach to that part of the job?
Well, I was really, really upset when the mayor of Indianapolis and the Lighthouse High School board allowed Lighthouse High School to close in May. There was a junior class there that they had to go somewhere else for their senior year and … they may just drop out of school.
And then Marion Academy closed on July 31, five days before school is going to start, and it just throws the family, the students, the teachers, the principal into chaos. And so when I become mayor, we will have a transition approach in the city, and the mayor will be working with the charter board and my secretary of education and innovation to prevent a closure—or if there was going to be one, to have a comfortable transition.
There's been a lot of talk that there's a lot of saturation of charter schools in Indianapolis with 40, which is half of the total in the state. So, we will have a robust vetting, a rigorous vetting of all applications. And we will concentrate on looking at unserved areas for a charter school.
What do you think you've learned about yourself during the campaign?
I've gotten to know a lot of people in the African American and Latino communities, as well as our Indian community. And I'm getting to know the people in the Chin community [a minority ethnic population from Myanmar]. And I think we've got a really rich, diverse community here.
And what I've learned about myself is that I didn't know that. And I've been here 60 years and I continually learn about neighborhoods that I have not been to and people that I didn't know.
How does that change the way you would govern the city?
My desire to be in the community and not in the City-County Building is much stronger than it was. And I can tell that when you're with people and you're listening to them face to face, it is just so much more powerful than having them up to the 25th floor. It just strikes me that a mayor needs to be hands-on. The mayor needs to represent the city at the Statehouse. The mayor needs to be in New York City talking to the capital markets for investment. And the mayor needs to be on a few trips with the governor around the world.
What one or two words would you use to describe the kind of leader you would be as mayor?
Energetic.
Do you have any pets?
No.
What is the last movie you saw?
"Judy"
What is the last book you read?
"Grit: The Power of Passion and Perseverance," by Angela Duckworth
What is your favorite Indianapolis restaurant?
Daddy Jack's and George's [Neighborhood Grill]•
Please enable JavaScript to view this content.