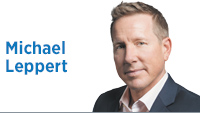 What has the recent roller-coaster ride for the Democratic nomination for president taught us? A few things, actually, but one of the most refreshing among them all is that money can't buy an election. Not this time, anyway.
Michael Bloomberg spent $18.4 million on ads in Virginia and North Carolina in his quest to become the Democratic Party's nominee. That amount does not include the substantial amount he spent through Everytown for Gun Safety in 2019 to help turn the Virginia Legislature blue. Voters there know him.
Joe Biden spent $449,000 in those two states. And, yes, Biden won them both.
Both men were running on a "moderate" platform. Both men have name ID. But Bloomberg had put all his seemingly endless financial resources on a gamble that his Super Tuesday debut would catapult him to the lead in the nominating process. After nearly $600 million spent, Bloomberg came up with a victory in American Samoa, and nowhere else.
The commercials he ran were fantastic. Kudos to the marketing talent who produced them. Why do I even know about the ads? Because a good number of them had run here in Indiana, which was money wasted in my book. Of course, when one has money to waste, one often does.
Former California State Assembly Speaker Jesse Unruh said it first in 1966: "Money is the mother's milk of politics." What happened with Bloomberg and Biden last week did not nullify Unruh's now-famous quip. But it did something important just the same.
Money's role in politics has grown exceedingly worse since the colossal mistake known as the decision in Citizens United vs. Federal Election Commission. Money raised by a campaign is as big a news item as a campaign's polling support these days. This would seem to be a failure of the mainstream media to all but equate the two things. However, the correlation between money and results is usually real.
A disturbing pattern of self-financed campaigns is creating the appearance that the super-rich will almost certainly be the only ones who can win big elections. Illinois Gov. J.B. Pritzker, who is worth more than $3 billion, spent $171 million of his own money to defeat incumbent Bruce Rauner in 2018. Rauner, who is worth a paltry $400 million, spent $27 million of his own money to win the Governor's Office in 2014.
U.S. Sen. Mike Braun, R-Ind., loaned and repaid his 2018 campaign money a few times, but the early influx of $1.5 million of personal money might have been his campaign's best strategic move. And of course, that was a move not available to just anyone.
Yes, in between Biden's huge victory in South Carolina on the Saturday before and Super Tuesday, three days later, he got a little help from former Mayor Pete Buttigieg and U.S. Sen. Amy Klobuchar. Both candidates ended their campaigns and endorsed Biden just before the big showdown on March 4. Both campaigns had supporters in the moderate lane who likely did not need to stretch their ideals much to transition to the former vice president's team.
The Beatles wrote, two years before Unruh coined his less-famous political quote: "I don't care too much for money. Money can't buy me love." I actually think this is true with presidential campaigns. Even Donald Trump's victory in 2016 was not based on money raised or spent.
Having said all that, for those of you wanting to get financially involved, I can get you in touch with a campaign or two that could certainly use your help.•
__________
Leppert is an author and governmental affairs consultant in Indianapolis. He writes at MichaelLeppert.com. Send comments to ibjedit@ibj.com.

Click here for more Forefront columns.
Please enable JavaScript to view this content.