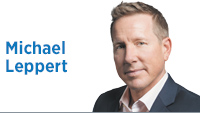 A few things might never return when the pandemic is over. And no matter what your particular echo chamber might be reverbing at the moment, we are still a good distance from the end.
Of the things we collectively stopped or started doing in the last year, not all of them should be missed. Coughing and sneezing in public, while impossible to avoid, won't be ignored like it once was.
I inherited my father's nose. Setting aside the visually unfortunate nature of its significant presence, one feature that came with this schnoz is that I sneeze three times a day. Every day. In sickness and in health, in good times and in bad, my horn blows on its own clock and as predictably as any sunrise. It still scares my dog, who is now 6 years old and has survived this frightening ruckus a couple of thousand times.
The upside for me is that I usually have more of a warning than most people do and can often get away from a crowd before it goes off. But now I have to think about it more than I did—plan for it, even.
But what about greetings? Running into people as spring has approached has been awkward. Before COVID-19, offering a handshake was the minimum for people with whom I am acquainted or am meeting for the first time. I don't think I have shaken anyone's hand in over a year and, honestly, I miss it.
Shaking hands dates back to at least the ninth century B.C., when, according to History.org, the Assyrian King Shalmaneser III was shown in ancient art "pressing the flesh" with a Babylonian ruler to seal an alliance. Why do we shake hands with our right hand? Most believe it was a way to show that the hand-shaker was not brandishing a weapon or attempting to grab the other man's sword. Apparently, everyone was right-handed in the old days.
In ancient Rome, the gesture was seen as a symbol of friendship and loyalty. Since I am not authorized to seal any international deals nor am ever armed, let's focus on friendliness. We need more friendly gestures these days, not fewer. Ever since my parenting days when fighting children were told to knock it off and shake hands, I've seen the act have a calming and welcoming effect.
Human contact and connection have been on the ropes for a while now. Not only am I a serial hand-shaker, I am also a hugger. At least I used to be—hugging had already become risky. For France, the cheek-kissing greeting, or "faire la bise," has brought on the same challenges—only greater, I presume. Moving from the double kiss to no contact at all must be doubly awkward there.
I grew up as one of seven children, so, yes, it was a crowded house. Contact with one another was unavoidable, so embracing it and managing the friendly and loyal contact was more productive than anything else. As a result, my siblings shake hands and hug all the time.
I fear that the absence of friendly contact in our culture will ultimately make us a less-friendly people.
So, for now, I recommend we adopt the Japanese tradition of bowing. It seems to be the most respectful, no-contact solution on the market. And after I learn all of its elaborate protocols, I will share them in detail from afar.•
__________
Leppert is an author and governmental affairs consultant in Indianapolis. He writes at MichaelLeppert.com. Send comments to ibjedit@ibj.com.

Click here for more Forefront columns.
Please enable JavaScript to view this content.