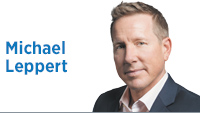 By the time you read this, it will be two weeks into 2022. Thirty percent of Americans made some sort of promise to be better in some way this year. I'm checking in because the first two weeks are always the toughest, or so I've heard.
The magic of making changes in one's life is hard to bottle. Oh, but if it could be bottled, I am fascinated by how people would likely use such wizardry. Regardless of the change one seeks, what is it about this seemingly random date on a calendar that inspires this spell?
I am becoming less sentimental about almost everything as I age. As an example, while New Year's Day was a big deal to many, to me, it was just another Saturday. Because of my lack of enchantment with most designated celebration dates on any calendar, personal changes can happen for me at any time throughout the year. People who know me certainly appreciate that.
But even for me, when I start a new "thing," I often pick a target date that works for me. Planning for change can raise success rates drastically. Seriously, no one should expect me to stop eating Hershey's Kisses by the handful when there are still several handfuls left over from December. To accomplish the goal of reducing chocolate consumption, my target date needs to be some date after they have been eradicated from the house.
Ironically, that date is probably closer to today. So, today it is! No more Kisses.
In modern America, that is primarily what New Year's represents: a target date for change. Also, modern resolutions are usually about some form of self-improvement. That, too, has changed a little since the tradition began.
Babylonians most often get credit for starting the practice of New Year's resolutions 4,000 years ago. Their "new year" began in mid-March, right after their crops were planted. That was when they held Akitu, "a 12-day religious festival to reaffirm their loyalty to the existing king or bring on a new one," according to Barbara Santini in a recent interview with Newsweek.
This was also when that ancient culture settled all personal debts, often in the form of returning borrowed agricultural equipment to the rightful owners in time for use during the coming season. Starting the new year with a clean slate was their way of attempting to curry favor with the pagan gods of that time.
It sounds like a combination of Election Day and Tax Day to me. Admittedly, I appreciate the end of every political season and the mystery of my tax damage every year more than the actual new year. I just wish elections and taxes ended with the end of their "seasons."
The advice I always give when someone wants to change is to frame the project positively. Try not to make the goal to "quit binging on Kisses." Make the goal to "spend more time actually kissing." It's the kind of thing that can get people to the next chocolate holiday season, Valentine's Day.
But most of all, the best advice I can give is to try to behave more like a young person. According to a recent Economist/YouGov poll, 40% of Americans 30 and under will actually make a resolution this year, easily the largest group. And wouldn't you know it, the same poll shows that 57% of those making a resolution are the most optimistic that their lives will improve this year.
So, in honor of this resolute and optimistic cross section, I will play along just this once.
In 2022, I enthusiastically resolve to be, drum roll, taller.
Happy belated New Year!•
__________
Leppert is an author, educator and a communication consultant in Indianapolis. He writes about government, politics and culture at MichaelLeppert.com.

Click here for more Forefront columns.
Please enable JavaScript to view this content.