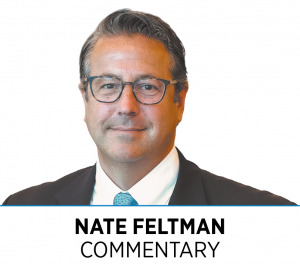 Leadership of some of the city's and state's most important organizations, along with top political jobs, are up for grabs this year and next. This new class of leaders, along with recent hires at key state institutions, must work together and be bold in their vision in order for our region and state to prosper.
The Indiana Chamber of Commerce announced it has commenced its search to replace longtime President Kevin Brinegar. Under Brinegar's leadership, the state chamber played a key role in marshaling support for important legislative changes that have helped make Indiana more economically competitive over the past two decades. A new CEO is expected to take the helm early next year and will be asked by its members to focus on improving the state's poor public health and education rankings.
The Indy Chamber will also welcome a new leader later this year. Michael Huber left late last year to join Indiana University President Pamela Whitten's team as vice president for university relations. Moira Carlstedt has stepped in as interim CEO until a permanent successor is chosen. The Indy Chamber's new leader will play an important role in the further development of downtown, as well as the region as a whole.
Later this year, Indianapolis will elect its next mayor. Mayor Joe Hogsett is running for a third term. Hogsett faces Democratic primary challengers, but pundits expect him to cruise to a primary victory. On the Republican side, political commentator Abdul-Hakim Shabazz, the Rev. James Jackson and former City-County Councilor Jefferson Shreve will face off. Shreve's smarts and experience, along with his ability to self-fund and raise substantial sums, gives him the edge in the primary and could give Hogsett his stiffest competition to date. Regardless of who wins, critical city issues will likely gain more visibility, hopefully leading to more action from the Mayor's Office.
Next year, Indiana will elect a new governor. Three Republicans have announced their candidacies—U.S. Sen. Mike Braun, Lt. Gov. Suzanne Crouch and Eric Doden. No Democrats have yet to declare. Whoever takes the state's top job will inherit a fiscally strong state with strong upside potential. Gov. Holcomb's steady hand, along with the savvy and more aggressive economic development approach brought by his secretary of commerce, Brad Chambers, positions Indiana's next governor to take bold steps to move Indiana forward.
New leadership at the Central Indiana Corporate Partnership, the NCAA and our state's premier state universities will join the aforementioned leaders in shaping our city and state. Melina Kennedy recently started as CEO of CICP after David Johnson's retirement. Former Massachusetts Gov. Charlie Baker this month took the reins of the NCAA following Mark Emmert's retirement. Mung Chiang succeeded Mitch Daniels as president of Purdue University at the beginning of the year, while Whitten became IU's first female president in 2021 following Michael McRobbie's 14-year run.
There likely has never been more turnover in top city and state jobs in such a short time. While change at the top always brings uncertainty, it also brings opportunity for fresh thinking. This new leadership cadre has the potential to bring new energy and new ideas to our key regional and state organizations.
Let's encourage these new leaders to work together in a smart and bold fashion in order to make strides in education, talent retention and improved public health. The prosperity of our region and state depends on it.•
__________
Feltman is publisher of IBJ and CEO of IBJ Media. Send comments to nfeltman@ibj.com.
Please enable JavaScript to view this content.