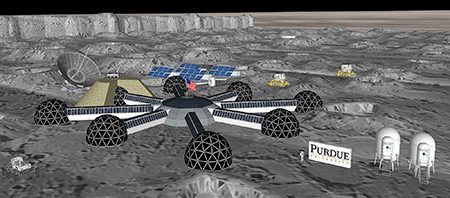 These days, it feels a lot like the 1960s at Purdue University's School of Aeronautics and Astronautics. Not the "make love, not war" 1960s, but the one shaped by this famous declaration from President John Kennedy in 1961: "I believe that this nation should commit itself to achieving the goal, before this decade is out, of landing a man on the moon and returning him safely to the Earth."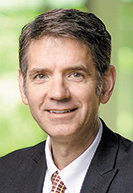 "There's certainly a lot of excitement," said William A. Crossley, the J. William Uhrig and Anastasia Vournas Head of the School of Aeronautics and Astronautics.
"Our enrollment is at a record high because of it. We have about 900 undergraduate students and about 600 graduate students in aeronautics and astronautics now. That's double what it was 10 years ago."
What's triggered that growth is a sudden burst of interest (and influx of cash) into the field of rocketry. Over the past decade, a slew of well-heeled companies have built gigantic new rockets that are not only state of the art but also vastly cheaper to launch than previous models.
That spawned yet more companies eager to exploit those cheap rides by lofting everything from massive satellite constellations to robotic construction craft.
"A big chunk of this is all the excitement about these new entrants," Crossley said. "Companies like SpaceX, Blue Origin, and a ton of other startups that don't get quite as much publicity. A lot of people are getting into that part of the business."
The investment firm Morgan Stanley says annual space-industry revenue totals $350 billion today—a figure it projects will swell to $1 trillion by 2040.
"Just as further innovation in elevator construction was required before today's skyscrapers could dot the skyline, so, too, will opportunities in space mature because of access and falling launch costs," Morgan Stanley analyst Adam Jones said in a July report.
Adding to the excitement is the recently inaugurated Artemis program, the centerpiece of the Trump administration's push to return an American crew to the moon by 2024, with plans to establish a permanent base thereafter.
And SpaceX, led by PayPal and Tesla Motors founder Elon Musk, is preparing to flight-test a stainless steel, needle-shaped rocket called Starship that can carry 100 people to either the moon or Mars.
Musk asserts that the rocket will begin orbital flight tests early next year.
Hence the frenzy of activity at Purdue, which has a hand in both government and private-sector space efforts.
Purdue pedigree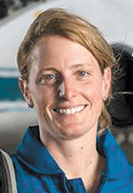 The school's storied program dates back to 1948, almost a decade before Sputnik 1 became the first human-made object in orbit. Its halcyon days (at least so far) were during the mad rush to the moon—which was first trod upon by Purdue alumnus Neil Armstrong in 1969.
So far, 24 of the university's graduates have served as NASA astronauts, including four currently in the program.
One of those is Loral O'Hara, who was selected in 2017 and now is on the inside track to take part in the Artemis program, which stated upfront that it wants to land the first woman on the moon.
If that's O'Hara, Purdue would get bragging rights to one of the greatest two-fers in the history of human exploration.
While the school for decades has funneled many of its grads into space-related positions inside the federal government, these days those grads are also streaming into private space companies.
For example, Tony Gingiss, who received a bachelor's in aeronautical and astronautical engineering from Purdue in 1990, is now CEO of OneWeb Satellites, which is building a massive orbital internet network that's eventually expected to include 2,000 satellites.
And Beth Moses, who received bachelor's and master's degrees in aeronautical and astronautical engineering from Purdue in the early 1990s, is now chief astronaut instructor for the space tourism company Virgin Galactic. In that role, she rode one of the company's rocket planes into suborbital space.
But Purdue's bread and butter isn't just sending people to space. It's also figuring out what they'll do and how they'll survive once they get there.
For instance, the university recently debuted the Cislunar Initiative—which uses academic, government and private-industry resources to figure out how to develop commerce and science in the region encompassing the Earth and the moon.
Researchers say creating that infrastructure will make it possible for humans to have a sustained presence on the moon. They liken the effort to the 1950s launch of the interstate highway system, which spurred economic growth across the United States.
The effort, which encompasses several of Purdue's College of Engineering schools, is analyzing everything from methods to manage space traffic to the creation of moon shelters that would allow humans to weather its extreme temperature variations for extended periods.
Not just theoretical
Purdue has studied such matters many times over the past few decades. But they always felt like academic exercises, because the only crewed space vehicle the United States possessed was the space shuttle, which could only reach low Earth orbit.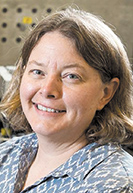 But now, as bigger, cheaper, more powerful rockets come online, the work has acquired a certain urgency.
"I would say there's a lot of excitement about space right now, and about this type of work," said Shirley Dyke, principal investigator of Purdue's Resilient Extra Terrestrial Habitats institute, a multidisciplinary Purdue team working with other major universities to develop crewed or crew-tended habitats on the moon and Mars.
"Lots of work for the last several decades on Earth has brought us to the point where we can tackle these challenges in this new environment," she said.
While Dyke is skeptical that a crew will return to the moon by 2024 or that SpaceX's Musk will achieve his goal of reaching Mars in the mid-2020s, she said those dreams are not far-fetched.
"It may take slightly longer, but I do see it happening," she said. "We'll be able to go there and do science on a fairly significant scale."
While Dyke ruminates on how humans will survive once they reach other worlds, the staff of the recently expanded Zucrow Labs is focused on how they'll get there.
The 24-acre facility, near Purdue University airport, includes test stands that can evaluate jet engine components and fire rocket engines with up to 10,000 pounds of thrust. It's the largest university propulsion lab in the world.
And it's rarely been busier. Timothée L. Pourpoint, a professor in the School of Aeronautics and Astronautics, said he had to step indoors to make a phone call recently because the roar from two test stands firing engines made it impossible for him to hear.
"It can be quite loud," Pourpoint said. "It depends on the test we do. When we test the largest systems, you can sometimes hear it a few miles away."
Those sounds have become steadily more common over the last five years, as Zucrow Labs fine-tunes power plants for a growing list of clients, from NASA to the armed forces to private companies.
"A lot of the things we do we're not allowed to talk about," Pourpoint said.
One thing he can talk about is a special hybrid engine (which uses a solid fuel and a liquid oxidizer) researchers are working on for NASA.
"That would be for a potential mission to Mars," he said. "Working on something that might eventually be on the surface of Mars is exciting for everybody. It's awesome to see this level of activity and think where we could be in another five or 10 years."
Seizing opportunities
To help capitalize on opportunities in aviation and aerospace R&D, Purdue President Mitch Daniels four years ago announced the creation of 176-acre Aerospace Technology District adjacent to its airport.
The district is one component of the university's $1.2 billion Discovery Park District, which, when completed in the 2030s, is expected to boast more than 400 acres of labs, housing, retail, green space and other amenities.
The aerospace district already has attracted a Rolls-Royce R&D facility and a $37 million factory that will manufacture Saab engines for the Air Force's new pilot-training aircraft.
It fell just short of landing a factory that will build rocket engines for the Jeff Bezos-bankrolled Blue Origin. Thwarting that deal, in part, was an antiquated, one-lane railroad underpass at the park's entrance that would have inhibited the movement of large freight.
That bridge has since been slated for a $12.5 million widening and refurbishment project to make it a suitable "front door" for the aerospace park.
The advantages of the aerospace district to businesses are obvious—a more-or-less greenfield site for factories and research facilities, placed cheek-to-jowl with a renowned research hub.
"I think it's just a matter of time before we get somebody from the space arena out there," Crossley said. "We've had a lot of nibbles."
'Paradigm shift'
Space journalist Keith Cowing predicted that the increases in aerospace enrollment seen at Purdue and other universities are just the beginning of what's coming.
Cowing, who's 54 and edits the popular NASA Watch blog, has grown old waiting for the space program to return to the enthusiasm and interest of the Apollo moonshot days.
"Every six or seven years after Apollo, there would be an advisory committee, and they'd say, 'We need to go to the moon or Mars or both,'" Cowing recalled. "You'd have this big report, and they'd say how much it would cost, and people would see the number and say, 'Never mind.'"
But Cowing said the can-do mindset he remembers as a youth is finally back.
"About 10 or 15 years ago, there was sort of a strange convergence of people becoming impatient with the lack of progress in space," he said. "People who made a lot of money, and eventually amassed enough to mount space efforts on a par with some nations. There's been a paradigm shift."
The new wave of entrepreneurship left traditional space companies such as Boeing and Lockheed Martin flat-footed, Cowing said. Universities that want to capitalize this time around must reach out to the new kids on the block—the companies building the future of a spacefaring industry, he said.
Crossley, for his part, said Purdue already has done just that.
"We've got such a huge footprint already. Our goal is to continue doing what we're doing," he said.
"I think we're well prepared to do research both for commercial space and for government agencies. And we're training our students for both of those endeavors."•
Please enable JavaScript to view this content.