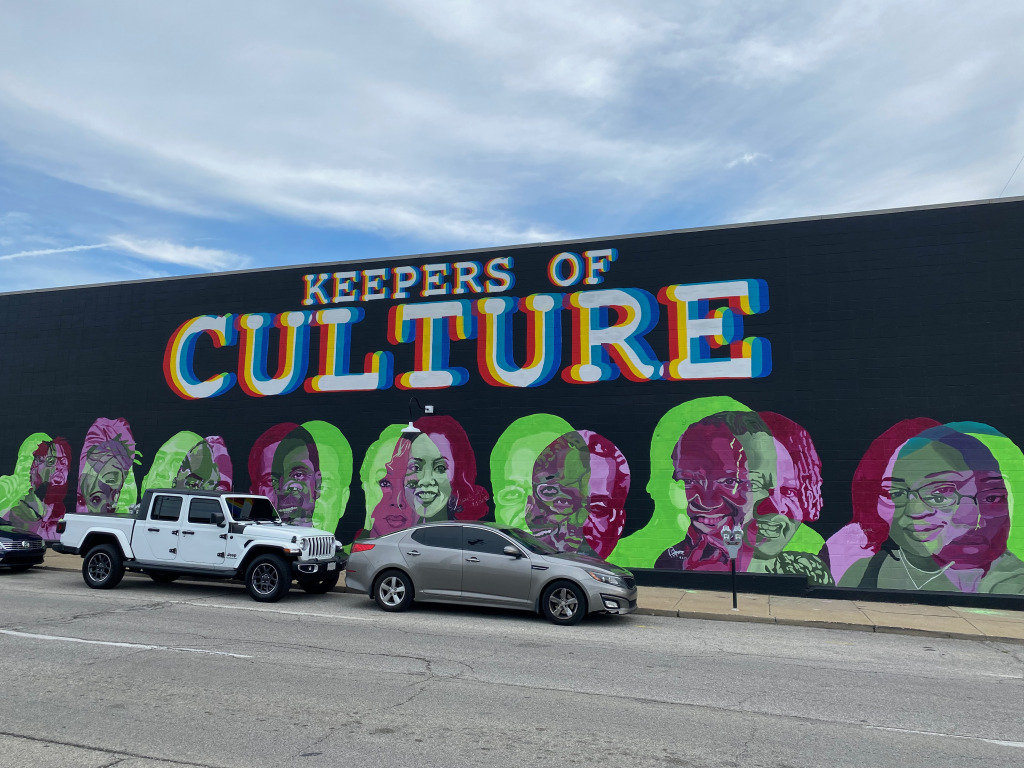 A new street-by-street inventory of public art in Marion County identified 3,090 artworks, and an accompanying report encourages increased representation of artists who are Black, Indigenous and people of color.
Lead researcher Danicia Malone said less than 20% of the artworks include an artist signature, which made it difficult to study equity and inclusion within the public art landscape. The report lists more than 25 types of public art, including murals, sculptures, hand-lettered signs and graffiti.
"There's a lot that we are missing in terms of who the creators are of these works and how they relate to the people who live in these places and spaces," Malone said. "That's something that we wanted to uncover, or at least present as a probing question. This is an important question. We hope this kind of endeavor will help influence residents, visitors, administrators and policymakers alike."
The report, "Public Art for All," conducted by Malone's Rokh Research & Design Studio, was unveiled Thursday at 2129 E. Brookside Ave., part of the ​​B/Side Creative Campus founded by Indianapolis artist Lobyn Hamilton.
Of the 537 artworks attached to an artist's name, 67.5% were created by white artists. Black artists created 16.1% of the artworks, although Black residents make up 29% of Marion County's population. Latino and Latina artists created 8% of the artworks, even though Latino and Latina residents make up 10.9% of the county's population.
"Public Art for All" is a project supported by the Indy Arts Council and the Indianapolis Bicentennial Commission. Art Strategies LLC, founded by former Indianapolis Cultural Trail public art curator Mindy Taylor Ross, partnered with Rokh, and funding was provided by the Herbert Simon Family Foundation and the Central Indiana Community Foundation.
Malone said an opinion piece she wrote for newamerica.org in October 2020 contributed to conversations that led to the "Public Art for All" project being undertaken through a lens of equity.
"Our public spaces, our built environments have been designed to condition us to understand who belongs (and who doesn't), who is valued and protected (and who isn't). Public art proclaims our community values, centers our beliefs and provokes our assumptions. Daily, many of us maneuver around cities and towns that have transparently devalued we, who are non-white," Malone wrote.
Malone, who has degrees from Ball State University and IUPUI, is pursuing a doctorate in geography and urban studies at Temple University in Philadelphia.
From May to August 2021, a team assembled by Malone scouted more than 6,000 linear miles in Marion County for examples of public art.
Among pieces accompanied by artist signatures, 35% were made by 18 artists. Malone said a greater breadth of creativity is needed.
"When you have the same artists doing repeated work, that's taking away the ability for other types of aesthetics, other types of relationships, other types of conversations to happen in a public space, because we're only looking at one particular story," Malone said.
Malone said it's important for public art to be relatable for everyone, regardless of ethnicity, gender, age or ability. The report focuses on "spatial justice," a term defined by late urban planning educator Ed Soja as "the fair and equitable distribution in space of socially valued resources and opportunities to use them."
"I believe everyone walks away with something once they've encountered art, whether it's public or private, whether they're inside of a museum, a gallery or at a park," Malone said. "It is influencing us, just as buildings are when we look at a magnificent piece of architecture. We should think about public art as a resource. We think about public health as a resource; we think about clean water as a resource; we think about clean air as a resource."
Among the 3,090 public artworks in the county, murals are the most prevalent with 1,299 on display. Meanwhile, Malone said murals are funded lower than other types of public art.
"We have an understanding of fair wages for artists," Malone said. "I think that's where we can begin the conversation: What's a fair wage for an artist, recognizing that our creative economy is something that drives any city, town or municipality? Artists are the ones behind that infrastructure. So how are we supporting that laborer and how are we supporting that genius, just as we would support and incentivize the developer coming to town or a new business coming to town in the same way?"
Julia Muney Moore, director of public art for Indy Arts Council, said the "Public Art for All" report will be used as a resource by her organization.
"The results of this census will guide how the Arts Council invests its public art dollars in artists and communities going forward, and how we will encourage our civic partners to prioritize their investments as well," Moore said. "By reflecting different stories and cultures, public art helps make public space more equitable."
To read the "Public Art for All" report, visit rokh.co.
Please enable JavaScript to view this content.