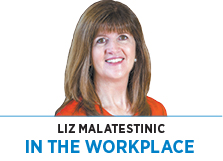 Most of us were looking forward to seeing the year 2020 in the rearview mirror, but it has quickly become apparent that ringing in the new year did not flip some magic switch. While there are plenty of reasons to be optimistic, employers will also face challenges this year.
A major source for optimism, of course, is the availability of a vaccine to fight COVID-19. Some Americans are unconvinced of its efficacy or safety, leading many employers to ask if they can require the vaccine for employees who return to the workplace. The short answer is, yes, with an asterisk.
In December, the Equal Employment Opportunity Commission issued guidance pointing out that, under the Americans with Disabilities Act, employers may require "that an individual shall not pose a direct threat to the health or safety of individuals in the workplace."
As with other ADA issues, however, employers are required to provide accommodations for a disability. They are also required to accommodate sincerely held religious beliefs. The most obvious accommodation would be to offer remote work, but not all jobs have that option. In those cases, unpaid leave might be possible. In the extreme situation, an employer may consider termination. However, consulting your employment attorney would be advisable before taking that final step.
To head off grumbling, employers can be proactive by launching an internal public relations campaign to promote the benefits of vaccination and creating a climate of mutual care and consideration. Some employers are taking this idea a step further by offering incentives to employees who are vaccinated. Houston Methodist, a Texas hospital system, rolled out a "Hope Bonus" of $500 for employees who get the vaccine. The organization plans to eventually require vaccination of all employees, but implementation might be easier if resistance is minimized.
While the vaccine brings the hope of restoring lost jobs, we are not there yet. A report from the U.S. Bureau of Labor Statistics shows a December 2020 net loss in the United States of 140,000 jobs. Significantly, women lost 156,000 jobs in that month, while men had a net gain of 16,000. Women, especially women of color, have been disproportionately hurt throughout the pandemic because they tend to work in industries that have been subjected to more restrictions, such as restaurants. Women have also been affected more than men by child care disruptions and school closings. Dropping out of the workforce is an immediate economic crisis for these women that can ultimately damage their long-term career progress and exacerbate the pay gap.
For companies, the loss of women in the workplace is a talent drain, and companies will need to review staffing this year to find opportunities for concerted recruitment and retention efforts. Key to resolving this problem will be extending opportunities for remote work long after we achieve widespread vaccine distribution. A company that has the flexibility to replace working from home with a hybrid remote and in-person work schedule has a definite advantage in recruiting and retaining women—and men, as well.
From a broader perspective, employers will also need to be mindful of developments at the federal government level this year. Every new administration brings its own priorities, and the Biden administration will be no different. Health care is high on the list, and President Joe Biden has proposed giving employees a public option for health care, if they so choose. Paid family leave and raising the minimum wage are also objectives for this administration. Whether major legislation in any of these areas can be passed in the current political climate remains to be seen.
Regardless of whether any new laws that affect the workplace are enacted, there are always administrative changes at the federal level that affect companies. Regulatory agencies and commissions such as the EEOC, the Department of Labor and the National Labor Relations Board have rule-making authority on a variety of important issues that can impact employers, and their interpretations often change with new administrations.
We can likely expect to see a number of these rule changes in the coming months and years, resulting in the need to update our workplace policies. Areas to monitor include independent contractor classification (again), EEOC reporting requirements and labor-policy changes that will make it easier for employees to unionize.
Whereas 2020 brought employers a maelstrom of complex challenges to navigate, 2021 is likely to offer new considerations. Companies who anticipate the changes and maintain the hard-earned sense of flexibility gained over the turbulent last year will continue to be able to pivot in the shifting winds of the coming year.•
__________
Liz Malatestinic is a senior lecturer in human resource management at the Indiana University Kelley School of Business at IUPUI.
Please enable JavaScript to view this content.