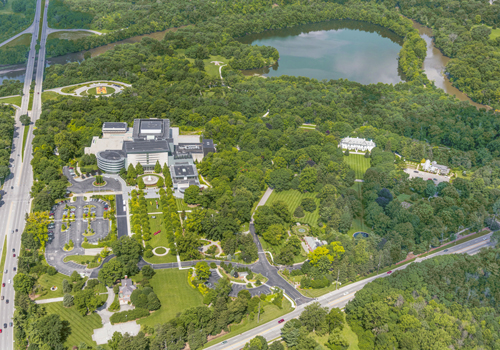 Dozens of Newfields employees have signed a public letter calling for the resignation of President Charles Venable in the wake of a controversial job listing in which the Indianapolis art museum and nature center described a need to diversify its patrons while "maintaining the museum's traditional, core, white art audience."
At least 85 employees and affiliates of Newfields signed the letter, dated Tuesday, calling for Venable's ouster, including members of the organization's board of governors and several departments. IBJ has confirmed the identities of the signatories as Newfields employees. Signatories signed anonymously under the singular name "Change Newfields" out of fear of retribution.
The letter said staff members spent four hours Monday "listening to members of senior leadership attempt to explain themselves, their actions, and their plans" after the controversial job posting for a new director of the Indianapolis Museum of Art became public.
Staff members "only feel more distrustful and confused about our future" after the meeting, the letter said.
After an uproar over the letter, Newfields removed "white" from the posting and issued a statement Saturday expressing "deep regret" for the language.
The group said signees include representatives from advancement; the board of governors; collections support; conservation; culinary arts/events/hospitality; curatorial; design; interpretation; media and publishing, education; exhibitions and rights & reproductions; guest experience, volunteerism and community engagement; horticulture; library and archives; marketing and communications; public programs; registration; retail services; security and technology.
The letter makes multiple demands, including the cancellation of Newfields' job contract with search firm m/Oppenheim; the restructuring of human resources so it is an independent unit within Newfields; and a reevaluation and expansion of the boards of trustees and governors to make them more representative of the community and include representatives from Indianapolis Public Schools, nearby neighborhoods and other arts organizations.
"We assert that in order to effectively move forward, large and sweeping changes are necessary," the letter said. We endeavor to continue and accelerate staff efforts that have been historically hindered by leadership. At the present time, we do not see a way forward if Dr. Charles Venable remains at the helm of our institution."
The letter also indicates language in the job posting was discussed at length during a January staff meeting, before it was published—and was defended by Venable and Laura McGrew, senior director for guest experience and human resources.
"We have no chance of hiring the kind of Director for the IMA we need without a serious reckoning of the Board of Trustees and Dr. Venable's immediate removal," the letter said.
The staff letter calling for Venable to step down also mentions former associate curator Kelli Morgan, a Black woman who was hired to diversity the museum's galleries, but resigned over the summer citing a toxic and discriminatory work environment.
The staff indicated Venable engaged in "continued gaslighting of the staff" after Morgan's departure, and refused to take responsibility for events leading up to her exit.
The call for Venable to step down has amplified over the past few days. Nearly 1,600 Indianapolis residents have signed a separate letter calling for Venable to resign and for permanent changes to how Newfields interfaces with Black artists and staff members.
And Malina Simone Jeffers and Alan Bacon, founders of cultural development firm GangGang, said Saturday they were withdrawing as guest curators for upcoming art exhibition, "DRIP: Indy's #BlackLivesMatter Street Mural." GangGang called for the art organization to cancel the exhibition and apologize to participating artists. The firm also indicated it plans to move forward with a Black-led art exposition of its own this summer.
Please enable JavaScript to view this content.