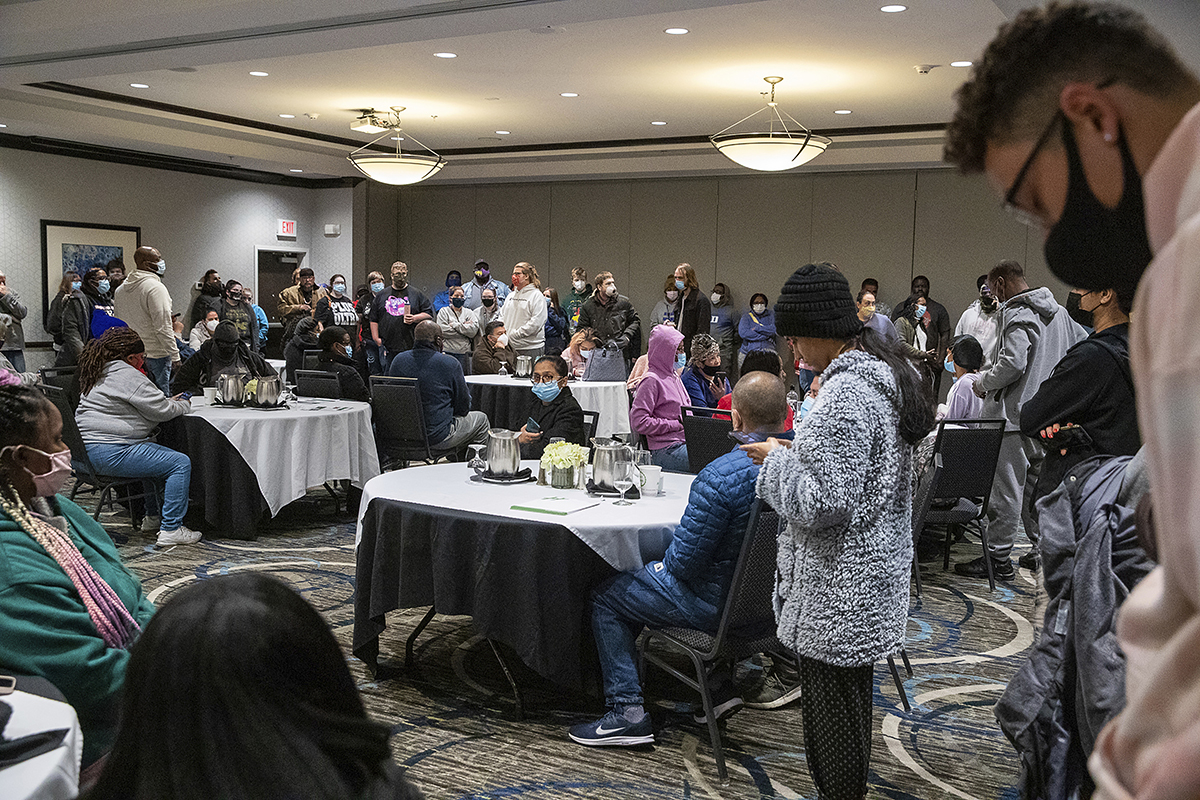 Cell phones have become an indispensable part of life—but, for a variety of reasons, they're also a restricted item at many Indianapolis-area workplaces.
Some companies allow limited personal cell phone use at work. Others allow employees to carry—but not use—personal cell phones while they're on the clock. Still others prohibit their employees from even carrying their phones in work areas at all.
The issue came to light last week, following a mass shooting that left eight workers dead at an Indianapolis FedEx Ground facility. Some FedEx employees said the company's no-phone policy delayed their ability to check in with loved ones after the shooting.
In a statement, FedEx Corp. confirmed that it does restrict employee cell phone use. "To support safety protocols and minimize potential distractions around package sortation equipment and dock operations, cell phone access within certain areas of FedEx Ground field operations is limited to authorized team members," the company said.
Vicky South, who has worked at FedEx for eight years, said she would like to have her phone with her on the work floor.
"It would make me feel good to have it on me," she said. "But then … there's security issues there. Some people aren't responsible enough to stay off of their phones, so to speak, while they're working. There's a lot of questions. It could be good and it could be bad."
FedEx is not alone in having such restrictions.
From safety concerns to productivity and data security issues, there are a number of reasons why companies may limit their employees' access to cell phones while working.
The practice, for instance, is widespread in manufacturing. The key reason is productivity-related, said Kristen Abbott, owner and managing director of Indianapolis-based Abbott People Solutions.
Manufacturing plants and production processes are engineered for maximum efficiency, and if employees are using their cell phones while on the job they're not being as efficient as they could be.
"If the company can get out 100 widgets vs. 60 widgets, they want to get 100 widgets," Abbott said.
Distraction caused by cell phones can also cause dangerous accidents in an environment where industrial machinery and other heavy equipment is in use. Even while walking across the shop floor, for instance, workers need to watch for passing forklifts.
"It is a different world where fatalities occur, where serious injuries occur," Abbott said. "There's all kinds of hazards you need to be aware of."
Indianapolis-based Allison Transmission Inc. allows its employees to carry their phones with them, but "for obvious safety reasons, under normal circumstances, their use is prohibited while walking or doing any work on the shop floor," Allison spokeswoman Claire Gregory told IBJ via email.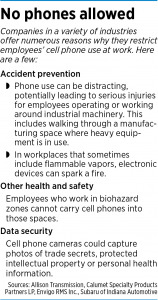 In Lafayette, Subaru of Indiana Automotive Inc. takes the restrictions a step further. The automaker does not allow its employees to have their personal phones with them while working.
"The distraction of a personal phone around industrial machinery could lead to a significant injury and/or a wide range of production issues," Subaru spokesman Craig Koven told IBJ via email.
Often, cell-phone rules can vary within a single company.
Indianapolis-based Calumet Specialty Products Partners L.P., allows employees to carry and use their cell phones in office areas. But the company also operates several refineries around the U.S. and has specific rules for employees at those facilities, said Vice President of Human Resources Pete Andrich.
That's because certain areas in a refinery may contain flammable vapors. So safety codes and regulations mandate that only specialized electronic devices known as "intrinsically safe" devices are allowed in these areas.
"In our refineries, specifically, personal cell phones cannot be carried in operational areas, even if they are shut off, due to the nature of the equipment we work with. However, in these areas our employees have access to specialized radio communication devices to ensure swift response in case of emergency," Andrich said in an email.
Indianapolis-based Envigo RMS Inc., a life-sciences company, also has different cell-phone rules depending on the employee's work situation, said Kevin Johnson, the company's senior vice president of global human resources.
"The proper way to look at it would be from a circumstantial perspective," Johnson said.
Envigo has about 1,500 employees globally, including 250 in Indianapolis.
For instance, some Envigo employees aren't allowed to have their phones with them at work because they work in a restricted biohazard area where they're required to shower upon entering and exiting, Johnson said. Other employees are drivers who can have their phones at hand but can't use the phones while driving unless they are making calls using hands-free technology.
Kroger Co. asks its store and office employees not to use their phones for personal business while on the clock, though employees are allowed to carry the devices.
"Our policy allows them to focus on customer service," Kroger spokesman Eric Halvorson told IBJ via email.
The company's production sites and distribution centers may have different cell phone policies, Halvorson said.
Autumn Johnson of Louisville, Kentucky, who is a talent acquisition partner for media company E.W. Scripps Co., said privacy and intellectual property issues can also be a concern when it comes to employee cell phone use.
"They're not going to want you to have it in the facility and taking pictures," Johnson said.
Such concerns can lead to quite strict rules, depending on the workplace.
In fact, Johnson said she once worked at a call center where employees were prohibited from recording any secure or private information. That meant that employees couldn't have their phones with them at work—or even use a pen and paper to take notes about client issues.
The employers who said they restrict at-work cell phone access also said they offer various ways to communicate in case of emergency, including land lines, two-way radios or public address systems. The companies may also offer an emergency number that employees' family members can call if they have an urgent need to reach them during work hours.
Kristin VanSoest, president and CEO of Indianapolis-based consulting firm Safety Resources Inc., said she generally believes that companies should prohibit personal cell phone use at work for reasons of safety and productivity. That is especially true, she said, in manufacturing sites, warehouses and other workplaces where heavy equipment is in use.
"In manufacturing, it's typically been, 'Leave the phone in your car or leave it in your locker,'" VanSoest said.
But she said the FedEx shooting is causing her to reconsider her position on the issue. Cell phones can be a dangerous distraction, she said, but they can also provide quick access to help in case of emergency.
"This is kind of making my mind do somersaults here," VanSoest told IBJ the day after the shooting. "We have to rethink this."•
Please enable JavaScript to view this content.