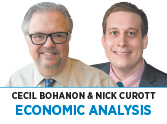 During the recent Democratic debates, U.S. Sen. Bernie Sanders once again refused to acknowledge the misery inflicted by socialist governments and falsely claimed that Nordic countries are models of the socialisms he has supported through his career. Serendipitously, the day after Sanders made his remarks, the Fraser Institute's annual Economic Freedom of the World report was released. The findings put to bed the idea that Scandinavia is a bastion of socialism.
The report uses a wide variety of objective data to assign each country an overall economic freedom score from one (least free) to 10 (most free). It is based on five categories—government regulation, freedom to trade internationally, size of government, legal system and protection of private property rights, and monetary policy. Essentially, this score represents how free-market or "capitalist" a country is.
The United States ranks fifth out of 162 nations, with a score of 8.01. Venezuela is 162nd, with a score of 2.58, beating out Libya and Syria for least free.
Denmark's score is 7.89, making it 13th; Finland's is 7.90 (21st); Iceland's, 7.74 (23rd); Norway's, 7.62 (32nd); and Sweden's, 7.56 (35th). Every Nordic country scores high in economic freedom because they are free-market nations.
The defining characteristic of socialism is collective ownership of property, particularly in productive resources of land, labor and capital. But the Nordic economies score very high on private property rights and private enterprise. Product markets are competitive and government regulation is low. Free-trade scores are high, both domestically and internationally.
Economically free countries, including the Nordic ones, are prosperous. Nations in the top fourth of economic freedom have an average per-capita income of $36,770, compared to $6,140 for those in the bottom fourth. Citizens of the freest countries live longer, have more political freedom and more gender equality, and report higher levels of happiness.
The only area where Nordic countries score low in economic freedom is in size of government. But even here, the example is misunderstood. The American left extols the idea of high taxes on the rich to support welfare spending. But the dirty little secret is that Nordic countries have much higher taxes on the poor and middle class.
The Nordic countries have capitalist economies with high tax rates and high levels of government spending. But to hold them up as an example of socialism is a disservice to those who have suffered under truly socialist regimes, and, besides—it just ain't so!•
__________
Bohanon and Curott are professors of economics at Ball State University. Send comments to ibjedit@ibj.com.
Please enable JavaScript to view this content.