Several restaurants and businesses have recently opened or are planning to open their doors in the north suburbs of Indianapolis. Here's a rundown:
Scenthound
Lake Worth, Florida-based Scenthound, a wellness-based dog grooming and routine care service, plans to open its first Indiana location March 24 at Clay Terrace in Carmel.
Doug and Sarah Davis will operate the store at 14400 Clay Terrace Blvd, Suite 180.
Scenthound, which has a $35 monthly membership program, focuses on dogs' skin, coat, ears, nails and teeth, which the company describes as the "five core areas of maintenance."
Blow-drying and haircuts are not included in membership packages, but they can be purchased separately.
"Both Sarah and I are passionate about pets, and Scenthound allows us to positively impact the lives of both beloved family pets and their owners," Doug Davis said in written remarks. "Additionally, with our growing family, we are excited about the idea of being our own boss."
Scenthound CEO Tim Vogel founded the company in 2015 after he spent more than a decade running a mobile grooming business called Pet Groomerie Mobile and a brick-and-mortar business that eventually evolved into Scenthound.
Scenthound introduced a franchise model in 2019 and has 113 locations open or under development in 12 states.
The company plans to open 27 new locations by the end of June and is looking to open 100 stores by the end of 2023.
Scenthound was named to the 2023 Top 200 Franchise list by Franchise Business Review. It recorded more than 20,000 new members in 2022.
The American Pet Products Association valued the pet spending market in 2021 at $123.6 billion. New York-based global investment management firm Morgan Stanley projects the figure will rise to $277 billion by 2030.
Don Rigo Mexican Bar & Grill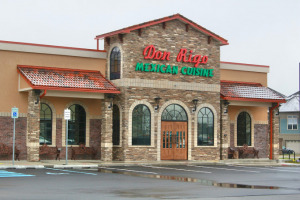 Greenfield-based Don Rigo Mexican Bar & Grill is set to open March 20 in a new freestanding building at 7299 E. 146th St. in Carmel.
Restaurateur brothers Enrique and Alfredo Melendez operate 14 restaurants under different names across Indiana, Michigan and Ohio, including a Don Rigo at 1336 N. State St. in Greenfield.
The restaurant's menu includes lunch specials, quesadillas, burritos, enchiladas, tacos, fajitas, appetizers, margaritas and tequila.
The restaurant is named after the Melendez family patriarch.
Regalique
Regalique, a gourmet food and wine boutique, opened Feb. 13 at 110 W. Main St., Suite 120, in the Carmel Arts & Design District.
Regalique, owned by Jexy and Tim Rowe, offers European wines, beers, gourmet foods and specialty gifts.
The shop also offers a wine concierge service for people looking to discover different kinds of wines.
Regalique is open from 11 a.m.-7 p.m. Monday through Saturday and noon-5 p.m. Sunday.
Slapfish
Seafood restaurant Slapfish opened Feb. 18 at 11547 Yard St., Suite 820, in Fishers.
Slapfish offers a mostly seafood-focused menu, with an emphasis on sustainably-sourced fish. Menu items include fish tacos, burritos, grilled fish bowls and other items, including a children's menu.
The Fishers location is the third Slapfish restaurant opened by Mark and Lauren Weghorst.
The couple previously opened Slapfish restaurants in 2019 inside Broccoli Bill's grocery store at 15009 Gray Road in Noblesville and in 2020 at 345 Massachusetts Ave. in Indianapolis.
The Fishers location is open seven days a week from 11 a.m.-9 p.m.
Celebrity chef Andrew Gruel founded the company in 2011, originally operating out of two food trucks. Gruel has appeared on multiple Food Network television shows, including serving as a judge on the show Food Truck Face Off.
The Slapfish chain is based in the Los Angeles suburb of Fountain Valley. It has 17 locations: one in Arizona; six in California; one in Georgia; three each in Indiana and Utah; two in New Mexico; one in South Carolina; and two in Utah.
Sweetgreen
Los Angeles-based salad chain Sweetgreen opened its third central Indiana location Feb. 21 at 711 E. 116th St., Suite 300, at The Yard at Fishers District.
Sweetgreen specializes in salads, bowls with proteins and veggies, and sides that lean heavily toward farm-grown items such as cauliflower, tomatoes and potatoes. The restaurant's seasonal menus rotate five times throughout the year.
The company intends to open 1,000 locations by 2030. One of the three founders of the trendy, 16-year-old chain has referred to it as "the Starbucks of salads."
Sweetgreen has also opened restaurants in the past year at 157 E. New York St. in Indianapolis and at the Fashion Mall at Keystone. The fast-growing chain is also planning a location in Bloomington.
Siam Star
Thai restaurant Siam Star Asian Express opened in January at 890 E. 116th St., Suite 155, in Carmel.
The restaurant's menu offers multiple noodle options, chicken and vegetable entree meals, fried rice, desserts, boba tea and lunch options.
The restaurant owned by James Ly and Vicky Koonchanok is open 11 a.m.-3 p.m. and 4:30 p.m.-8:30 p.m. Monday through Friday and 11 a.m.-8 p.m. Saturday.
Recovery Cafe
Recovery Cafe Hamilton County, a non-alcoholic gathering space, opened March 2 at 7050 E. 116th St., Suite 101, in Fishers.
The cafe serves coffee and baked goods and offers support and resources for people living with alcohol or drug addiction.
Seattle-based Recovery Cafe Network launched in 2016 and has more than 50 locations nationwide, including 15 in Indiana.
Smitten Kitten
Smitten Kitten Cat Cafe, the first cat cafe in Hamilton County and the second in the Indianapolis area, opened Jan. 31 at 7852 E. 96th St. in Fishers.
Smitten Kitten Cat Cafe, operated by Holly Moss and her son Collin Fields, follows a similar format to other cat cafes around the world.
Customers order coffee, tea and snacks in a traditional cafe setting where they will be able to watch cats through glass in a second room.
Those who reserve time online—a half-hour for about $9 or an hour for $18—will be able to enter the second room and visit adoptable cats provided by the Hamilton County Humane Society and another animal shelter.
The world's first cat cafe opened in 1998 in Taiwan, and the concept later became popular in Japan before eventually coming to the United States in 2014 in San Francisco.
Nine Lives Cat Cafe opened in 2016 at 1315 Shelby St. in Fountain Square. Other cat cafes in Indiana include River City Cat Cafe in Evansville, Black Forest Cat Cafe in Fort Wayne, Lazy Cat Lounge in Lafayette and The Region Cat Cafe in Merrillville.
Namaste Cat Cafe plans to open this year in Carmel and Westfield.
Please enable JavaScript to view this content.