Cat enthusiasts will have a new place to hang out—and maybe bring home a new four-legged friend—when Indiana's sixth cat cafe opens later this year in Fishers.
Holly Moss of Westfield plans to open Smitten Kitten Cat Cafe by the beginning of December at 7852 E. 96th St. The storefront, which is part of a strip of shops east of Interstate 69 near Walmart Supercenter, used to be home to United Package Liquors.
It will be the second cat cafe in the Indianapolis area after Nine Lives Cat Cafe opened in 2016 at 1315 Shelby St. in Fountain Square. Other cat cafes in Indiana include River City Cat Cafe in Evansville, Black Forest Cat Cafe in Fort Wayne, Lazy Cat Lounge in Lafayette and The Region Cat Cafe in Merrillville.
The world's first cat cafe opened in 1998 in Taiwan, and the concept later became popular in Japan before eventually coming to the United States in 2014 in San Francisco.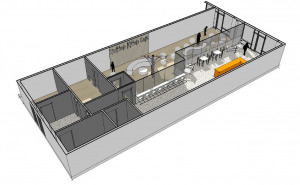 Smitten Kitten Cat Cafe will follow a similar format to the rest: Customers will order coffee, tea and snacks in a traditional cafe setting where they will be able to watch cats through glass in a second room. Those who reserve time online—a half-hour for about $9 or an hour for $18—will be able to enter the second room and visit adoptable cats provided by the Hamilton County Humane Society and another not-yet-determined animal shelter.
"It's just to hopefully get some more kitties into nice homes," Moss said.
Moss is working to get Smitten Kitten Cat Cafe running with her 20-year-old son Collin Fields, who uses his artistic and graphic design skills to help market the business, and Al Wilkie, an independent investor.
She decided to start the cat cafe to help her son adjust to life with autism.
"One of his favorite things is his cat [named Rue]," Moss said. "We were trying to find something that we could work together with him to get him out of the house, socialize, start working, and help him overcome his challenges associated with his autism."
Moss and her son chose the name Smitten Kitten Cat Cafe after they filtered through 72 different possibilities.
The 2,500-square-foot business will be split almost evenly between the coffee and cat cafes with the cats getting slightly more space.
Tables and a shelf will be in place near a glass partition separating the traditional cafe from the felines' domain so customers can pull up a chair and enjoy their drinks while watching cats pounce, frolic and sleep.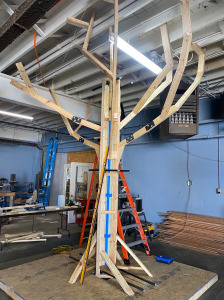 The centerpiece of the cat cafe will be a 9-foot-tall cat tree that is being constructed by Indianapolis-based 900 North Studios.
People cannot bring their own cats to the cat cafe, but they will be able to mingle with more than a dozen felines who will be fixed, socialized and ready for a permanent home. All adoption fees will go directly to the providers of the cats.
Noblesville-based Noble Coffee & Tea Co. will provide coffee and tea for Smitten Kitten Cat Cafe, which will sell prepackaged cakes, pastries and pies from various local vendors.
Moss, who works as an internal auditor for Indianapolis-based Calumet Specialty Products Partners LP, finalized a five-year lease in August.
The cafe will be open six days a week and employ 12 to 15 part-time employees. If the location is successful, Moss hopes to eventually expand to other locations in Hamilton County.
"[Customers will] get to enjoy the cats," Moss said. "And even if they don't visit with them, maybe they'll see what they like and come back and possibly adopt one later."
Please enable JavaScript to view this content.