Hoosier businesses are bracing for the toughest test many of them have ever faced.
Concerns about the spread of COVID-19 have put in peril thousands of businesses, from restaurants and hotels to airlines and manufacturers of consumer goods.
"I've been doing this since 1982, and I don't have anything that I can draw from that's going to help me anticipate or prepare for this," said Jay Jaffe, a bankruptcy attorney at Faegre Drinker Biddle & Reath, who's expecting a wave of new clients.
The turmoil is leaving almost no industry untouched but is especially devastating to the hospitality industry—including hotels, restaurants and conventions—which is one of Indianapolis' key industries.
Cancellations or postponements of major spring sports events and conventions downtown already have stripped this winter and spring of an estimated $60 million economic impact.
And Indianapolis events with an estimated collective impact of $440 million face an uncertain future, including the May 24 Indianapolis 500.
Veteran Indianapolis hotelier Jim Dora Jr. estimated that the occupancy rate of his Crowne Plaza at the Indianapolis International Airport is in the low-20% range.
"Our product has a one-day shelf life—sell it today or never sell it again in the history of man," said Dora, president of Indianapolis-based General Hotels Corp. "So, while we may climb our way out of this whole … we will not make up for these losses."
Gov. Eric Holcomb on March 16 directed restaurants, bars and nightclubs across the state to close—except for delivery and carryout—through at least the end of March.
The same day, Mayor Joe Hogsett ordered movie theaters, fitness centers and other highly populated gathering places to close. Other central Indiana mayors took similar actions.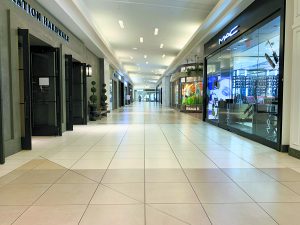 Patrick Tamm, president of the Indiana Restaurant and Lodging Association, said about 14% of Indiana residents work in the restaurant or hospitality industries, and many will need assistance paying their bills.
But many of their employers won't be in a position to offer much help. Restaurants operate on notoriously thin profit margins, which raises the specter of widespread bankruptcies.
"If you are in a high-labor-intensive business and you rely on cash flow to pay your bills—which is the case for most restaurants and hair salons—you can't muscle through the next six months and then go for a business loan," said Michael Hicks, director of Ball State University's Center for Business and Economic Research. "You are going to have to lay people off this week, probably."
Manufacturing slowdown
Hicks said manufacturers, which employ more than half a million Hoosiers, already were feeling the impact of COVID-19 before its sweep across the United States in recent weeks.
The first outbreak was in China late last year, throwing a wrench in worldwide supply chains and altering operations for such Hoosier firms as Columbus-based Cummins Inc., which makes diesel engines, and Indianapolis-based Hurco Cos., which makes computerized machine tools.
The Indiana Department of Workforce Development reported that manufacturing jobs in the state declined by 4,800 in December.
"If the disease never came to Indiana, that's what we would be facing," Hicks said.
National indexes show that two-thirds of U.S. manufacturing firms are experiencing reduced orders, he said—a slowdown he predicted will lead half of Indiana's manufacturers to idle some workers in the next two months.
On top of reduced demand, manufacturers are racing to adapt to the social-distancing protocols recommended by local, state and federal health officials.
To protect workers, Honda on March 18 announced a one-week closure for six plants in Canada, Mexico and the United States, including its 2,500-worker Greensburg factory.
A day earlier, Detroit's three automakers—which employ 15,000 workers in Indiana—agreed to partial factory shutdowns, deep cleaning of equipment and longer periods between shifts. The moves headed off United Auto Worker demands for U.S. plant closures because of the COVID-19 threat.
In the trenches
Small businesses across the state are gearing up for extended shutdowns—or at least weeks of lean business.
Silver in the City closed its Massachusetts Avenue and Carmel gift shops on March 17. Though it will continue to sell online, those sales historically accounted for only 3% of annual revenue.
Owner Kristin Kohn expects to miss out on at least $185,000 in brick-and-mortar revenue over the next month.
"I think this thing is going to really hurt Indianapolis small businesses," said Kohn, who opened her Indianapolis store in 2000. "We have no idea how long this is going to go for."
However, Kohn said she thinks her company, which has 14 full-time employees and 30 part-timers, will survive. She's hopeful that, during this tough stretch, her bank will extend her business a larger line of credit.
"Even if we have to go deeper into debt, we'll work with our bank and our financial advisers to find out how long it'll take us to climb back out of that," she said. "It won't be as profitable a year … but I think we will be here at the end of it."
Heather Givans, owner of the quilting store Crimson Tate at 845 Massachusetts Ave., said this was a rough year for her store even before COVID-19. She said construction of the nearby Bottleworks District mixed-use development has hindered traffic and access to her store.
She's opting to close to slow the spread of the virus and is hoping to offset some of that lost business through online sales and creating new products—including kits for people to quilt from home.
Even so, she said, "I'm very concerned, and I'm not really sure how to plan, to be honest with you."
"Because, you know, am I planning for two weeks? Am I planning for three months? Those are two totally different business models—two totally different ways of approaching how we stay afloat."
M. Kim Saxton, a clinical professor of marketing at Indiana University's Kelley School of Business, said small businesses need to swiftly embrace online sales.
"If you haven't modernized and you don't have robust online capabilities, now's the time to get it together and do it as quickly as possible," she said.
Even as they focus on maximizing sales, small businesses also need to gather documentation to seek anticipated federal disaster relief, government officials say.
Indianapolis Mayor Joe Hogsett and Indy Chamber CEO Michael Huber said March 18 that they expect the state to gain approval for federal aid through the U.S. Small Business Administration's Economic Injury Disaster Loan program.
"My message to all of our suffering small businesses is simple: Use this time to prepare all documentation you'll need to quickly apply for this federal relief," Hogsett said.
The Indy Chamber launched a so-called Rapid Response Hub on March 16 to direct small-business owners to various resources—including online coaches from the Indiana University Kelley School of Business who can help with the loan applications.
Predicting pain
Reggie Stewart, owner of Reggie's Motorworks, a Noblesville auto repair shop specializing in European cars, is hopeful his firm will qualify for aid.
In the meantime, he has his hands full keeping his shop open while imposing sanitizing protocols.
He said he knows the weeks ahead will be anything but business as usual.
"It just seems like [car servicing] is going to be put on the back burner for a while," he said. "It's going to be incredibly painful."
Indianapolis-based Alliance Home Health Care, a 29-year-old senior care provider with 100 employees, is facing a big headwind: Because of illness fears, many clients are afraid to let anyone in their homes, and many retirement facilities have closed to visitors.
"We are on the wire, that it could go either way," owner Kimberly Bremer said of Alliance's ability to stay in business.
"This is the first time … that we've questioned if we're going to be able to stay afloat, because our whole business is based on people."
Amy Peddycord, owner of Invoke Studio, a yoga studio at 970 Fort Wayne Ave., has halted in-person sessions and replaced them with web courses, some free to the community and others just for members.
"I always say that our brand is community rather than fitness," she said. "I think the online approach can make people's lives healthier and happier during all this."
Invoke is offering online-exclusive memberships during the shutdown, with money going toward helping pay instructors, most of whom are contractors.
Businesses of all stripes need to think through how they can adapt to the new reality, experts say.
"It's a triage process, just as hospitals are doing with the sick that come in," said Todd Saxton, husband to Kim Saxton and an associate professor of strategy and entrepreneurship in the Kelley School.
"It's [determining] what the things are that absolutely need to be done to prevent getting shut down or having to close the doors permanently. And that might require some new ways to think about how you interact with customers or clients."•
Please enable JavaScript to view this content.