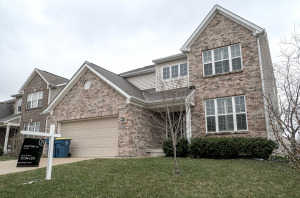 When Katherine and Brenden Czech bought their Fishers home in 2015, the Indianapolis-area residential real estate market was a different world. Mortgage interest rates were extremely low and had been for years. And there were lots of places to pick from.
"The house we purchased was on the market for a year before we bought it," Katherine said.
But not even today's higher interest rates and rising inflation could slow the sale of the Czechs' home in highly-desirable Fishers.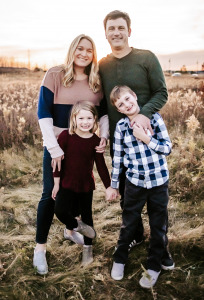 The Czechs, who bought their home for $275,000 back in 2015, recently put it on the market for $425,000. In three days, the same house that once languished in the listings for a year sold for $432,000.
The couple's experience is reflective of the continued strength of the Hamilton County housing market and a slight rebound in real estate sales in the broader Indianapolis market since the first of the year, even as interest rates continue to rise and recession fears linger.
While the volume of sales has fallen off considerably since last year's red-hot market, the number of days a house stays on the market has dropped in recent weeks—a development that many see as a sign of the market stabilizing.
Closed sales in the 16-county central Indiana area sank from 2,309 in February 2022 to 1,850 in February 2023, a decline of 19.9%, according to the latest monthly data from the MIBOR Realtor Association. But that was considerably better than the 31% year-over-year decline seen in January. But from January to February, the number of sales climbed from 1,538 to 1,873. And the median number of days a house stayed on the market dropped to 18 in February, down from 39 in January—the lowest level seen since November.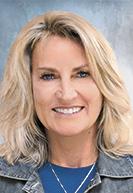 Jamie Hall, a broker with Carpenter Realtors said the market continues to have considerable life.
"Like every other business, we're supply and demand driven," she said.
Some experts believe the current market will continue to put sellers in the driver's seat, though not quite as firmly as before.
"Expect negotiations to be in sellers' favor once again this home shopping season, but not nearly as unbalanced as we saw in 2021 and early 2022," said Zillow home trends expert Amanda Pendleton.
Local brokers concur.
"The news has been talking doom and gloom, but it hasn't been," Hall said. "I think that, going forward into spring and summer, it will be better than what some analysts were thinking. Sales aren't going to be insane like last year, but more like a normal, balanced market with both buyers and sellers."
Still, the number of new listings is more of a trickle than a flood.
Zillow reports that, nationally, the flow of new listings was down 27.8% year-over-year in December, before improving to a 16.7% annual decline in January.
Home values nationwide are down 4.2% from their peak in July of 2022, but still more than 6% higher than a year ago.
According to Zillow, the typical monthly mortgage payment in Indianapolis is $1,325, compared to $1,675 nationwide.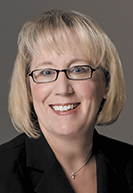 "The Indianapolis market has been more stable and resilient than many of the pandemic boomtowns, in part because it has remained affordable," Pendleton said. "Affordability has become the defining challenge of today's housing market."
One thing suppressing the number of sellers is the fact that homeowners who got their current 30-year mortgage at a 3% or 4% interest may be less than enthusiastic about trading up. Not only would a bigger house cost more, it would also have to be financed at an interest rate of about 6.65%.
"I think we'll see a lot of remodels and add-ons," said Jacqueline Graham, a real estate agent for Century 21 Sheetz. "They'll add another bedroom or a bonus room. Because the alternative might be to go from a $1,200 monthly house payment to $2,100. That's pretty hard to swallow."
Optimism for spring sales
The recent rebound after a slow winter has the National Association of Realtors predicting that a pickup may be on the way.
If inflation eases faster than expected, mortgage rates could decrease. With this possibility in mind, the association forecasts an increase of 5% in home sales in this year's second quarter.

"The Midwest region, with relatively affordable home prices, has held up better," said Nadia Evangelou, the NAR's senior investment & director of real estate research. "Home sales have been affected less by higher mortgage rates compared to other areas of the country. Thus, this region will perform better than the national level in 2023."
Provided, of course, that mortgage interest rates really do drift downward in the coming weeks and months.
But there's no guarantee this will actually happen.
"In just the first two weeks of February, mortgage rates shot back up by as much as ¾ of a percentage point, erasing much of the decline from their peak, and proving that no one can count on a consistent downward trajectory for rates this year," Pendleton said.
Shelley Specchio, CEO of MIBOR Realtor Association, said the housing market is in a peculiar position.
"There is strong buyer demand, but higher interest rates and the yo-yo economic data we see month-to-month is constraining activity," she said. "Sellers who are ready and prepared to sell will likely find willing buyers. The challenge remains helping first-time buyers into the market."
While things like mortgage rates and other macroeconomic trends will be important this spring and summer, local brokers say they will still take a back seat to the traditional three indicators that decide whether a property sells or not—location, location, location.
For instance, when it comes to a home's desirability, things like hardwood floors, a new HVAC system and a big bonus room count for nothing compared to whether the property sits in a high-quality school district.
Hamilton County has the added bonus of being the place where most executives transferred to Indianapolis end up locating, creating a large, mostly economy-proof cadre of motivated buyers and sellers cycling in and out of the market.
"People don't realize the amount of relocations we have in Indianapolis," Graham said. "There's a million of them. They come in for four or five years, then move. They buy into really good areas because they don't want to lose money each time they move."
Advice for buyers, sellers
Hall's advice to potential buyers interested in such properties (or any Indy-area property, for that matter) remains pretty much the same as it was last year, and the year before. In a nutshell, be ready to move quickly on a house you like.
"Have a preapproval letter," she said. "Do your research on where you want to live, how much you want to spend, and listen to your Realtor. Educate yourself on the neighborhood and the school system, if that's important to you."
The advice for sellers, however, is a bit more nuanced. Though Hamilton County properties are still moving quite nicely, brokers say that the era of showing a home without even bothering to empty the kitchen trash can are over. It's still possible to sell a house in the right location within a few days, but there's more prep work involved.
And for goodness sake, don't overprice.
"Pricing is everything," Graham said. "Before, we used to be able to price it at any amount and get multiple offers over list. Now buyers are a little bit savvier. If you don't sell the first weekend, that's the kiss of death. Because now you're chasing the buyer with price reductions."
Better to attract multiple potential buyers with a reasonable price, then see if they'll offer more.
"I tell people, 'I can get you more for this house if it's priced right,'" Graham said. "But overpricing is not going to get you that money."•
Please enable JavaScript to view this content.