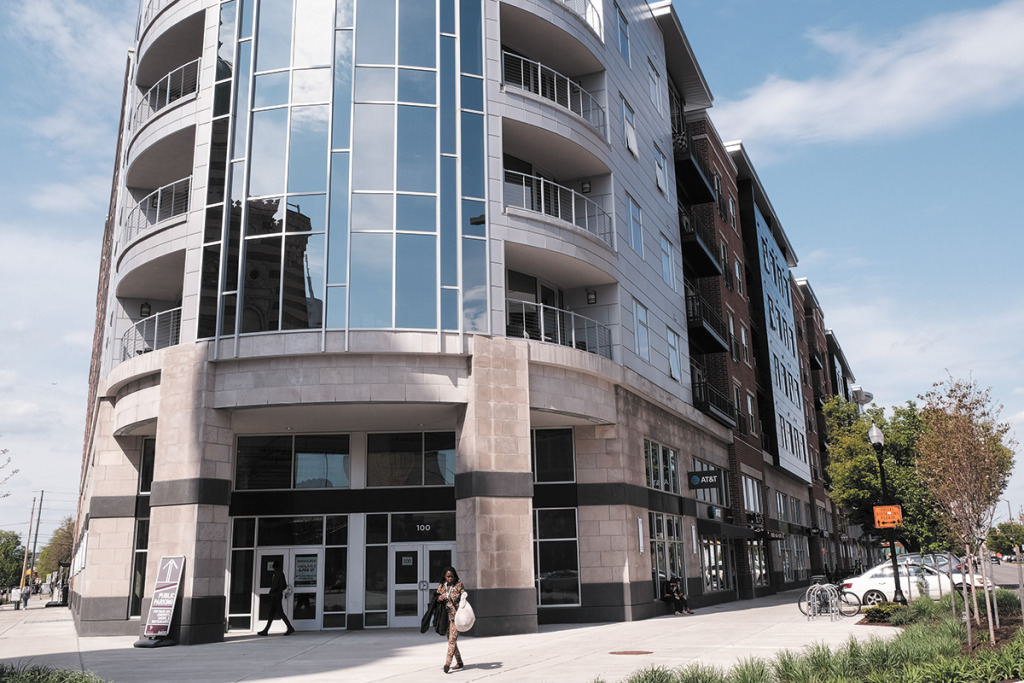 Retailers along Massachusetts Avenue are bullish about the corridor's future, even after the pandemic forced some retailers and restaurants to close, leaving more vacancies than usual.
Many businesses along the street that anchors the Mass Ave Cultural District in downtown's northeast quadrant have returned to a semblance of normalcy. Some, however, have maintained limited hours or remained closed entirely until capacity limits and other health-related restrictions are lifted.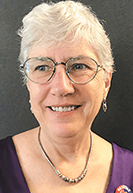 And the opening of the first two phases of the $300 million Bottleworks District—in a former Coca-Cola bottling plant—has brought increased traffic not only to the far end of the street, but all along it.
"Mass Ave is on the road to recovery," said Meg Storrow, owner of architecture firm Storrow-Kinsella Studio and board president for the Mass Ave Merchants Association. "We're cautiously optimistic that the businesses that have survived are going to continue to survive, and maybe even prosper" over the coming months.
At least 15 spots in a key, seven-block stretch of Mass Ave are vacant, including three that came online in late 2018 as part of the Penrose on Mass apartment project but have yet to sign their first tenant. Others, including highly trafficked spots in the 400 and 800 blocks, are looking for new users after their previous occupants closed or moved to new locations.
There are about 115 retailers and restaurants along the street, plus dozens of service-oriented businesses and office users.
Storrow said the vacancies are higher than in a typical year—a fact she attributed to the pandemic. But she added the vacancies haven't curbed interest in the district from visitors or potential tenants. Several of the vacant spots are "now turning over and opening with new businesses," she said.
For example, whiskey bar and speakeasy The Exchange, at 301 Massachusetts Ave., opened in September, followed by The Garage Food Hall at Bottleworks in early January. Trust Hardware, a 24-hour hardware and home store, opened in mid-April at 911 Massachusetts Ave. The former Kreuger's Tavern at 323 N. Delaware St. reopened this week as The Oakmont Restaurant and Bar, under new ownership.
Other spots along the corridor are also getting serious looks, brokers say.
Beth Patterson, principal and director of retail for locally based brokerage Bradley/Resource Commercial, is marketing three vacancies at the Penrose on Mass apartment development, in the 500 block of Massachusetts Avenue. They include a 6,700-square-foot end-cap space and two smaller spaces farther north.
Patterson said she's hopeful a restaurant will move into the corner spot, but the other two spaces have been under consideration by a variety of parties, including retailers that have expressed serious interest. She declined to identify potential tenants.
"I would say, as long as everything continues to go like it's going right now, I believe we're going to have at least two of the vacancies filled" or under contract in six to eight months, she said.
The mixed-use Penrose development filled a void in what is otherwise fairly dense development along the avenue. Patterson said the project was a "big win" for the corridor because it created opportunities for new retail concepts, just as the Bottleworks entertainment, residential, hotel and office development has started doing.
"A lot of vacancies that came about because of the pandemic are … going to get filled," she said. "I think by having Bottleworks kind of anchor that north area, it brings around more retail, and that's what people want."
'Vacancies will fill in'
Steve Delaney, a retail broker with the Indianapolis office of Los Angeles-based CBRE, said Mass Ave has "recovered quite well" from the pandemic, with restaurants and stores "booming," despite continued restrictions that limit occupancies and require social distancing.
He said the pandemic led to the closing of many less-successful concepts across the city—including in Mass Ave—to make way for replacements.
"Once the world gets back, I think the vacancies will fill in," he said. "Sometimes, you know, the weaker concepts go away—the ones that couldn't adapt … but the strong ones have survived."
It's hard to pinpoint how lease rates are faring, given the variety of types of spaces. But industry experts estimated that base rents are at $25 to $33 per square foot per year. Patterson said the figure often varies based on buildout allowance, move-in dates, and a variety of other factors. But she said Mass Ave remains "one of the prime areas" downtown.
And Robyn Swihart, owner and broker at Indianapolis-based Equivis Commercial Realty, said the fact that few deals in the district are being brokered with massive discounts bodes well.
"We're not really seeing discounting and incentivizing just to secure deals," she said. "It only makes sense that it's taking a little bit longer for some of those spaces to lease up. I don't find it concerning."
Bottleworks backbone
Amanda Mauer Taflinger, who owns Homespun: Modern Handmade, said her foot traffic is generally back to 2019 levels, although visitor spending still has some room for improvement, particularly on weekdays.
"The weekends have been stronger than they were before, which is great," she said. "But through the week, it's kind of hit or miss. Some days are low—painfully low—then other days are unusually high. But I think things are kind of averaging out."
Homespun took on at least $160,000 in debt during the pandemic to stay open, including $60,000 in Paycheck Protection Program loans that she anticipates will be forgiven. The other $100,000 will likely have to be paid back in full.
Taflinger said the addition of Bottleworks, which sits directly across the street from her store, has been helpful as she looks to repay that loan.
"We have this monthly payment hanging over our heads for a while, but hopefully, with the increase in foot traffic from Bottleworks, we'll be in a unique position that we'll be able to manage that," she said. "But that's just like a lucky situation where that happened to open as we were coming out of [the pandemic]. So that's a boon for us."
Businesses throughout Mass Ave are likely to lean on Bottleworks for increased foot traffic—even those at the opposite end of the street. Silver in the City, for example, saw a recent increase in traffic from both Bottleworks and the NCAA Tournament.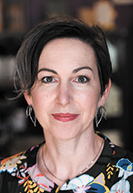 Owner Kristin Kohn said March was nearly back to 2019 levels, and April has been off to a strong start. She said she's optimistic Bottleworks' "big splash" will continue as new phases are opened.
"Sometimes, the initial excitement after a few years might wear off, but it also might not," she said. "I think it's part of a trend that will continue to contribute to the ongoing growth and development in the [corridor]. The area continues to be on an incline; it always continues growing and improving and attracting more people to it."
Delaney, who is one of the brokers working to fill Bottleworks spaces, said the foot traffic is likely to be a big boost for years.
"Because of Bottleworks, I think you're going to see more people drawn from downtown to come out there as an alternative to dining," he said. "Particularly the convention traffic, which now virtually all stays downtown. It just brings new energy and vitality to Mass Ave."
Lofty goals
Even with Bottleworks, however, Mass Ave stakeholders still see challenges on the horizon. They also have lofty goals.
Those include more affordable housing, a stronger balance between restaurants and other retail and the possibility of using more of the street and sidewalks for outdoor dining—which occurred last summer when indoor dining was restricted.
The pandemic also spurred an effort by the Mass Ave Merchants Association to shore up its organizational structure, financial footing and possibly its mission. Members will vote in May on new bylaws that would allow the organization to pursue not-for-profit status. And the group will reach out to businesses surrounding the corridor to build its roster..
"We realized last year during the pandemic how small an organization we are," said Storrow. The group has about 100 members, she said, all paying about $200 a year in dues. "We did a lot of work last year and realized that it was a wake-up call for how much more we could be doing to help our businesses."
"Our vision is to continue to develop our strengths, and enhance our livability and our sustainability," Storrow said. "We're not there yet. Even though we may be healthier than many places in the city, that doesn't mean we have depth.
"We have a lot of fragility, as last year demonstrated to everyone—not just Mass Ave, but any business that thrives on attracting people."
As part of that, the association is in the process of "morphing" into a larger organization that still has a strong retail focus, while opening membership to other types of businesses, including property owners, developers and even neighborhood residents "that want to support the avenue, so that we can more robustly support the things that make it a great destination."
Storrow said the association's biggest initiatives include beatification, social outreach, partnerships and the creation of more events that highlight the avenue.
Another project Storrow hopes the merchants association can tackle is partnering with groups like the Riley Area Development Corp. to bring more affordable housing to the area surrounding Mass Ave, as well as finding ways to recruit more small businesses to invest in the corridor.
"What I would envision is a place where there's a balance between neighborhood and neighborhood retail," she said. "Even though housing costs are high, we still want to partner with [Riley] on developing affordable housing. We still need to continue our efforts to recruit the small entrepreneurs and help grow those businesses. I think our vision is to continue to develop our strengths, and enhance our livability and our sustainability."
Terri Skipper, executive director of Riley Area Development, said some projects are already in the works but declined to share details because they haven't been finalized.
"We're always on the lookout for land that we can add affordable housing to," she said. "We can tell that the opportunities are shrinking, but the needs are growing."
She said the area's existing affordable housing is in high demand and has strong occupancy "that helps demonstrate the viability" of projects on the table.
Road changes?
The merchants association is also considering whether to pursue opportunities that came last May when the city closed part of Massachusetts Avenue. The temporary move allowed restaurants to spread tables farther onto the sidewalk and into the street, creating bigger patio areas that allowed for more social distancing.
"We'd like to think about how we can capture some of the benefits of the street closure—not everything that it did, but a lot of businesses survived because they had the outdoor dining program and they would love to have that option again," Storrow said.
In fact, many of the businesses that benefited the most from the street closure, which came as a directive from the Mayor's Office with little input from merchants, were some of the most ardent opponents of closing the road.
Storrow said any changes would have to include contingencies for parking access, while reducing and reallocating existing parking spaces along the road itself. If such a plan came together, she said, some of that space would be used for pedestrian access and more outdoor dining.
"We would work on that on a block-by-block basis," she said. "Our concept is that each block would be an outdoor room," with signage at each intersection and a specific configuration "depending on the actual businesses that are there."
Sherry Seiwert, president of Downtown Indy Inc., said she supports the effort to consider new uses for Mass Ave.
"I think that a number of cities that have done similar things … will [take] a look at doing it permanently," she said. "It requires a plan to better understand what the consensus of property owners is. There's a number of considerations you have to take into account."
Those include logistical challenges like how deliveries are made and where people park—considerations that weren't necessarily front of mind when the road was closed last year.
"While [that] road closure probably was done in haste, I thought it was a great exercise in trying to figure out if people would continue to visit those restaurants, which really needed those footfalls," Seiwert said. "I thought that it was successful. Again, it was done very quickly. But we did see a number of patrons seem to enjoy just being able to walk around and enjoy the avenue without the concern of vehicular traffic."
It's not clear how much reconfiguring Mass Ave would cost—or who would foot the bill. Discussions are still in the early stages and remain largely unexplored by the merchants association, Storrow said.
What comes next?
Business owners like Homespun's Taflinger hope that one goal will be more emphasis on non-restaurant retail.
While there is a fairly even split between restaurants and other retail (not including Bottleworks, which is restaurant-heavy), Taflinger said non-restaurant retailers are sometimes given the short end of the stick when it comes to marketing to foot traffic and out-of-town visitors.
The proliferation of new restaurants in recent years, she said, could also mean less business for long-established restaurants, because diners have more options than before. The fear is common among booming dining districts, both in Indianapolis and beyond, experts say.
"Having that variety is great, but at some point, it can almost be too much," Taflinger said. "I love all the options, but Indianapolis is a small city."•
Please enable JavaScript to view this content.