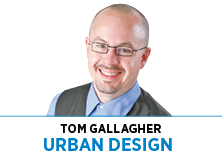 Indy has now had electric scooters on the streets for a year. I suspect it seems longer because of the outsized commotion they have caused in our city and across the country.
It's hard to prepare for new, unanticipated technologies. Far more predictable is how we are likely to react once they are on the scene—because we've been here before.
News headlines from 100 years ago referred to a different disruptive technology menacing the streets: automobiles. Urban streets weren't prepared for this enticing technology driven by untrained, unlicensed and untested novices. Cars were demonized, emotions ran high, people took sides, and our cities were forever changed as a result.
Before cars arrived, streets were public spaces full of life, leisure and commerce, with a multitude of means for getting us around. Priority was given to allowing pedestrians to move about as they pleased. By the 1930s, the car industry had flipped the message, turning pedestrians into the menace. With neither side conceding, streets were divided into demarcated lanes and the skirmishes for territory began.
As exercised as people are about scooters now, keep in mind that we might very well soon be dealing with Uber helicopters and personal hoverboards before autonomous vehicles arrive en masse. Clearly, we will not be able to endlessly divide our streets into slivers of specialized uses. Perhaps finding some shared ground—literally and figuratively—on scooters, we might discover a better way forward. Here are some thoughts for consideration:
◗ Personal mobility. The data is beginning to come into cities from their pilot and active e-scooter programs. It is becoming clear that, while they are certainly used during leisure time, scooters are also functioning as a consequential means of transportation and an extension to other, more established alternative forms. Taking scooters seriously, Portland, Oregon, is seeking ways to extend the system in ways that improve inclusivity and equitable opportunity.
◗ Personal responsibility. As unfortunate as it is, there will always be people who make bad decisions or simply make mistakes. According to an IndyStar report, more than half the injured scooter riders Indianapolis EMS responded to admitted to consuming alcohol before riding. Yet the prevailing sentiment seems to find fault with the scooter companies.
I know of no city that has banned cars due to a drunk driving death, yet Nashville, Tennessee, nearly canceled its scooter program after a man with a blood alcohol level of two times the legal limit fatally crashed his scooter.
This is not to suggest the scooter companies are off the hook. They have a responsibility to provide safe and well-maintained vehicles. As providers, they also have a responsibility to test and advance the technology. Consider three-wheeled scooters, for example—an existing technology that might provide more stable rides and be less likely to fall over when parked.
◗ Public streets. I've heard reasonable arguments for where scooters belong: on the sidewalk, on the Cultural Trail or on the street. All have some merit but can't escape one reality: When it comes down to it, 100-year-old thinking still governs. Streets have been remade for cars, making them dangerous places for everyone else.
Recently updated, the research report "Dangerous by Design," published by Smart Growth America, provides compelling data. To put the findings in context, astoundingly, nearly 400 people per year in the United States since 2013 have died in a mass-shooting incident. During that same time, approximately 5,000 pedestrians per year were struck and killed by drivers.
Fortunately, creating safer pedestrian spaces really comes down to just two relatively simple changes: reducing vehicular speed and giving back some space to everyone else.
While it is unlikely that we will be able to completely go back to the open streets of a century ago, the solutions for safer streets—for pedestrians, for cars, for scooters and for whatever comes next—will include taming automobiles and remembering that streets are, before all else, our most abundant public space.•
__________
Gallagher is a principal and urban designer with Ratio and a professor-in-practice of urban design at Ball State University. Send correspondence to TGallagher@ratiodesign.com.
Please enable JavaScript to view this content.