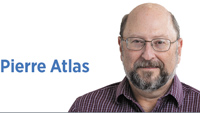 The Israeli-Palestinian conflict is a struggle between two peoples claiming the same land. Conflict resolution will ultimately require two states, one Israeli and the other Palestinian.
Although there were always Arab and Jewish voices for coexistence within a single state, the conflicting nationalist aspirations overwhelmed such possibilities from the beginning. These rival nationalisms emerged simultaneously in the late 19th century.
Arab nationalism asserted that the Arab people (Muslims and Christians) should have their own sovereign state separate from the Turkish-based Ottoman Empire. Jewish nationalism, or Zionism, asserted that the Jewish people, scattered around the globe, should have a state in their ancient homeland.
Geographically, today's conflict between Israelis and Palestinians is being fought over territory whose formal boundaries were drawn by the British after World War I and codified into international law by the League of Nations Mandate for Palestine. The mandate existed from 1922-1948 and encompassed what is today Israel, the West Bank, Gaza and Jerusalem.
While a small number of indigenous Jews had always lived in the Holy Land, Zionism was a modern, European nation-building project. As European Jews immigrated to Palestine and purchased land from absentee Arab landowners in the late 19th and early 20th centuries, tensions with indigenous Palestinian Arabs rose. By the 1930s, with the Arab world being divided into separate states, a distinctly Palestinian Arab nationalism demanding its own statehood emerged in the context of struggle with Palestine's Jews and British overlords.
The British understood back in 1937 that the just and practical solution to this conflict was the creation of two states with special status for Jerusalem. Their Peel Partition Plan proposed that 20% of Mandate Palestine would become a Jewish state, 80% an Arab state linked to Transjordan (today's Jordan), with Jerusalem remaining under League of Nations control. The Palestinian Arabs and surrounding Arab states (except Transjordan) rejected it outright.
The 1947 UN Partition Plan, which divided the Palestine Mandate into Jewish and Arab states and made Jerusalem an international city under UN control, was also rejected by the Arabs. Instead, they went to war. Jordan captured and annexed the West Bank and the eastern half of Jerusalem, and Egypt took the Gaza Strip. The majority of Palestinian Arabs became refugees. Indigenous Middle Eastern Jews and European Holocaust survivors went to the new state of Israel.
Had the Arab side willed it, an independent Palestinian state in the West Bank and Gaza with East Jerusalem as its capital could have been established when the war ended in 1949. Instead, when Israel captured those territories from Jordan and Egypt in 1967, the 2 million Palestinians living there (many refugees from the 1948 war) came under Israeli military occupation.
Over the past five decades, Jewish settlements have taken over increasing amounts of land in the West Bank. After Israel unilaterally withdrew from Gaza in 2005, Hamas turned it into a launching pad for attacks on Israel. In response, Israel has blockaded Gaza, causing much hardship for ordinary Palestinians.
I wrote my doctoral dissertation on political struggles in pre-1948 Palestine and have spent decades studying this conflict. I believe the solution lies in two secure and viable states, sharing Jerusalem.
Today, both Islamist Hamas and right-wing Israelis (including Prime Minister Benjamin Netanyahu) want their own, one-state solution.
But as neither Israelis nor Palestinians will abandon their rival nationalist aspirations and as neither side can completely defeat the other, a compromise two-state solution within what was British Mandate Palestine remains the only practical resolution to the conflict.•
__________
Atlas is a professor of political science and was the founding director of The Richard G. Lugar Franciscan Center for Global Studies at Marian University. Send comments to ibjedit@ibj.com.

Click here for more Forefront columns.
Please enable JavaScript to view this content.