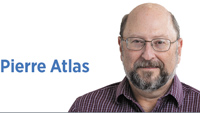 As America's longest war ended, I thought of my former Marian University political science student Jason L. Morris, from Brownsburg. After obtaining his law degree from the Indiana University Maurer School of Law, he joined the Marines as a JAG attorney, deploying to Afghanistan in 2009.
I interviewed Morris for my Real Clear Politics column shortly after he returned from Afghanistan, and last week I asked him once again for his thoughts. Today, Morris is a partner in the Southern California law firm of Newmeyer Dillion LLP and is a lieutenant colonel in the Marine Reserves.
In 2009, then-Captain Morris served as the judge advocate for Second Battalion, Third Marines. One of his jobs was to help build the rule of law in Nimroz and Farah provinces in southwestern Afghanistan as part of America's counterinsurgency strategy. Their area of operations was the size of Vermont, but the Marines had just three rifle companies to cover its entirety.
Morris in the RCP column said of his efforts to help Afghans govern themselves by training prosecutors, "We were hamstrung to a point because the local security situation was pretty bad. If local Afghans don't feel safe enough to go to work, you can't get much done." As an example, he noted that Farah's chief prosecutor had difficulty recruiting local prosecutors because they were afraid of being killed by the Taliban.
In that 2009 column, I argued that, even if we committed the necessary resources, our counterinsurgency strategy still might fail because, ultimately, success depended on the Afghans siding with their government over the insurgents.
"President Karzai is viewed as illegitimate and hopelessly corrupt by many of his own people—and the legitimacy of the national government is critical to the success of any counterinsurgency strategy," I wrote. "Many basic elements associated with sovereignty and minimal governance will need to be created from scratch. Counterinsurgency alone will not overcome these deficits."
After nearly 20 years, with about 2,400 American troops killed, 20,000 wounded, and $2 trillion, our counterinsurgency strategy failed.
"I had no idea things would devolve this quickly," Morris told me last week, "but it seemed certain to get bad after we completely withdrew. I was skeptical that the Afghan forces, particularly those in provinces remote from Kabul, would have the ability or will to be self-sustaining after our departure."
As Morris reflected on the end of the war, it became personal. "My battalion lost 11 young men, and many more lost limbs and bear permanent scars because of their service. I think of them often. I hope their families and the families of all service members who served in Afghanistan, particularly those whose loved ones died there, don't feel like the events of the last few weeks take away from the meaning or value of their loved ones' sacrifices."
My former student has mixed feelings about the war. "I feel regret for the promises we made that we were unable to keep. I feel sadness for the men and women who lost their lives, their limbs, and who are permanently affected by their experiences in Afghanistan."
And yet, he said, "I feel proud that our men and women did the best they could do under difficult circumstances, and I hope others who served in Afghanistan feel pride in their service despite what's unfolded in the last several weeks. On the other hand, it's difficult to evaluate what all of those individual sacrifices amounted to."•
__________
Atlas, a political scientist, is a senior lecturer at the Paul H. O'Neill School of Public and Environmental Affairs at IUPUI. Send comments to ibjedit@ibj.com.

Click here for more Forefront columns.
Please enable JavaScript to view this content.