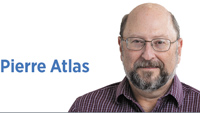 It will be days or even weeks before we know whether Benjamin Netanyahu will be able to form Israel's next government and once again serve as prime minister. There are 120 seats in the Knesset, which means that 61 seats are required to form a government in Israel's parliamentary system. No single party has ever won an outright majority in the country's history, not even in the heyday of the Labor Party's hegemony. Every Israeli government since the first Knesset elections in 1949 has been a coalition of parties.
Given that the ongoing political wrangling in Israel is a moving target, there is no point in speculating here about what the governing coalition might look like or even if a third election will become necessary. Instead, I would like to make some observations about an existential question that has long vexed Israel, which will only become more pressing in the aftermath of the recent elections.
Israel is a Jewish state with an indigenous Arab minority—those Palestinians who remained in what became Israel in 1948. Today, they constitute about 20% of Israel's citizenry. Arab Israelis (many of whom prefer to be called Palestinian citizens of Israel) have full voting rights and are politically and legally distinct from Palestinians in the West Bank or Gaza.
What does it mean to be a non-Jew in an officially Jewish state? Will Israel be a state for all its people—where all citizens have full social as well as political equality—or will it be a Jewish "ethno-nationalist" state that formally privileges its Jewish majority over its non-Jewish minority? These are questions that have confronted—and confounded—the state since 1948. And they might now be placed on the front burner following last month's election results: The Arab Joint List (a combination of Arab parties and Israel's longstanding Arab-Jewish communist party) will become Israel's third largest party in the next Knesset.
The Joint List has endorsed Netanyahu's rival, Benny Gantz (the leader of the center-left camp), but declared that it would not serve in a Gantz government; instead, it will seek to be a major player in the opposition. If Israel's third largest party is marginalized and ignored, this will only exacerbate tensions between the country's Arab and Jewish citizens.
Arab citizens (Palestinians, Druze and Bedouin) have formal political equality in Israel and a near-record 60% of them voted in the last elections for mainstream Zionist as well as Arab parties. Israel's Palestinians have more political rights than the citizens of many Arab states, and certainly more so than Palestinians in the territories. But Israel's Arab minority does not enjoy the same socioeconomic opportunities or civic equality with the Jewish majority, and Arab towns often receive less government funding than Jewish towns. The Joint List's demands include greater equality of treatment for Israel's Arab communities.
If Israel wants to bolster its claim to being "the Middle East's only democracy," then it will need to address the existential question of what it means to be a non-Jew in a state that seeks to be both Jewish and democratic.
Much of the international media attention focuses on the leadership struggle between Netanyahu and Gantz. It's safe to predict that one of these men will become the next prime minister, either in the coming weeks or after another election (unless Netanyahu is convicted of pending corruption charges). But with Israel's Arab minority politically mobilized and energized as never before, people interested in Israel should keep an eye on this development as well.•
__________
Atlas is a professor of political science and director of The Richard G. Lugar Franciscan Center for Global Studies at Marian University. Send comments to ibjedit@ibj.com.

Click here for more Forefront columns.
Please enable JavaScript to view this content.