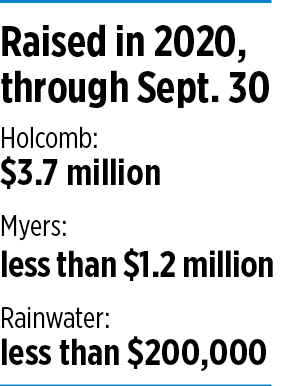 Even as he's worked to lead the state through the coronavirus pandemic, Gov. Eric Holcomb has managed to raise millions of dollars for his reelection campaign.
Through the third quarter of the year, Holcomb raised more than $3.7 million (on top of $7.2 million he started the year with), and he was sitting on more than $6 million on Sept. 30 for the home stretch until Election Day on Nov. 3.
Among his biggest donors are some of the city's highest-profile business leaders, people like Herb Simon and Michael Browning, as well as others who stay under the radar, including GOP heavyweight Al Hubbard.
Holcomb's total is quite a haul compared to that of his Democratic opponent, Dr. Woody Myers, who raised less than $1.2 million through the end of the third quarter, after coming into the year with a paltry $15,000.
But it's quite a bit less than previous candidates for governor have raised, particularly those seeking reelection.
In 2008, then-Gov. Mitch Daniels had raised $8.4 million through the third quarter (after starting the year with $6.8 million). In 2016, then-Gov. Mike Pence's reelection campaign had raised $5.9 million through the third quarter—even though he was picked over the summer to run for vice president and the GOP selected Holcomb to replace him on the ticket.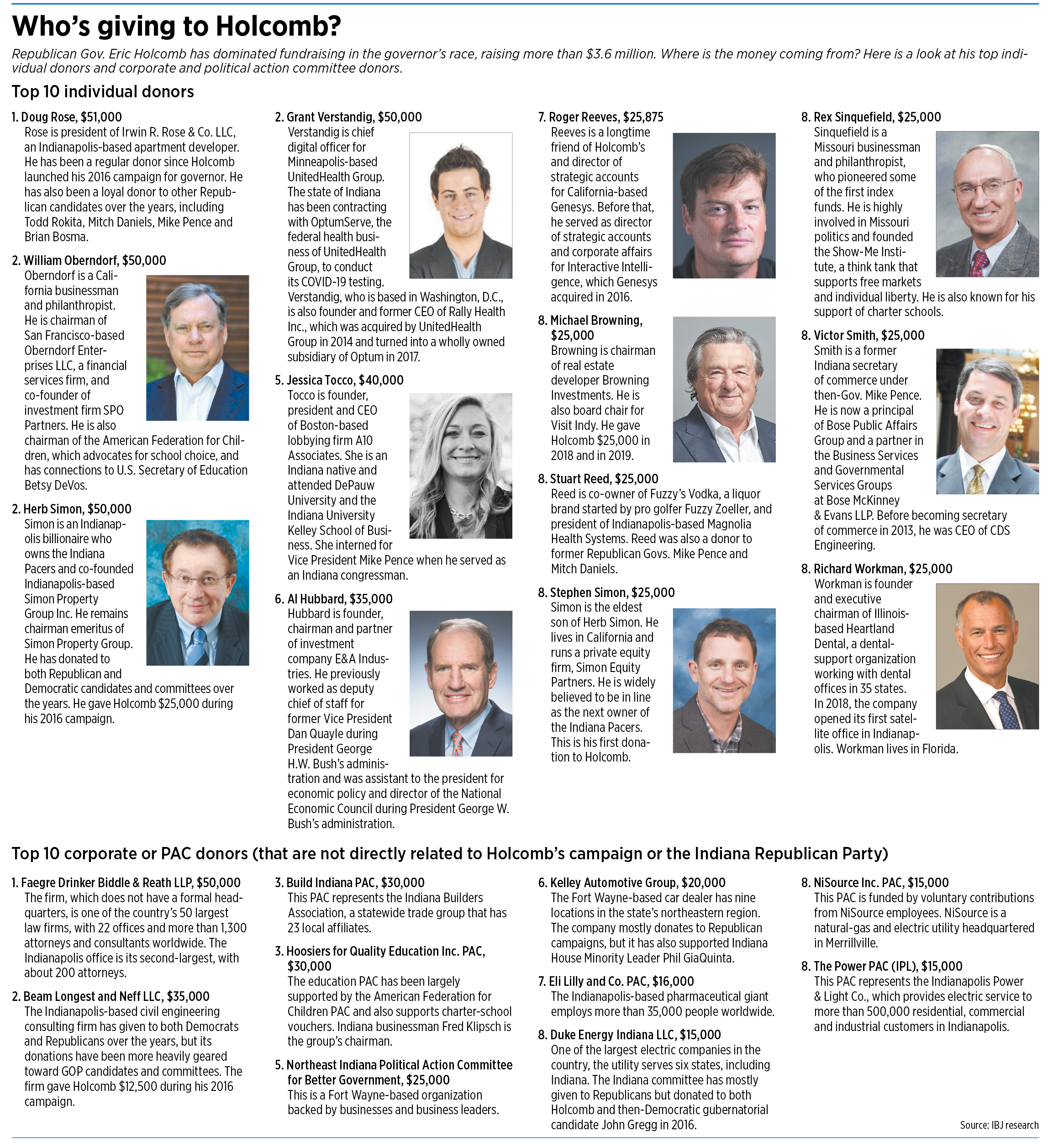 And Pence's (and then Holcomb's) opponent, John Gregg, had raised $9.4 million through the third quarter in 2016.
But COVID-19 has created a fundraising challenge that past candidates have not had to navigate.
The pandemic stopped in-person events in the spring and early summer—key fundraising periods in a governor's race—then limited larger gatherings even when in-person events resumed.
As a result, Holcomb's campaign has done a mix of in-person and virtual fundraising this year. And Myers has relied primarily on virtual events.
But the reduced fundraising might be about more than the pandemic—and it might not be problematic.
Paul Helmke, a former Republican mayor of Fort Wayne and professor at the Indiana University O'Neill School of Public and Environmental Affairs, said candidates just need to raise enough money to stay competitive—and it appears Holcomb has certainly succeeded in that.
"It's not just what your numbers look like; it's compared to what your opponent can raise, too," Helmke said.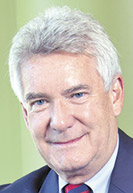 The biggest contributors to Holcomb's campaign are two fundraising vehicles the Indiana Republican Party has used for collecting donations—the Team Holcomb Joint Fundraising Committee and Team Holcomb Political Action Committee, which have collectively added more than $1 million to Holcomb's campaign account. The state party account contributed another $200,000.
The Republican Governors Association Right Direction PAC has given Holcomb $500,000, and his running mate, Lt. Gov. Suzanne Crouch, has transferred $250,000 to his campaign.
In addition, Holcomb has more than 80 individual and corporate donors who have contributed $5,000 or more this year.
Some of his top individual donors are household names in the Indianapolis business community, including Simon, owner of the Indiana Pacers; Herb Simon's son, Stephen Simon, the presumed future owner of the Pacers; Hubbard, the founder of investment company E&A Industries; former Indiana Secretary of Commerce Victor Smith; and Browning, one of the city's most prominent real estate developers.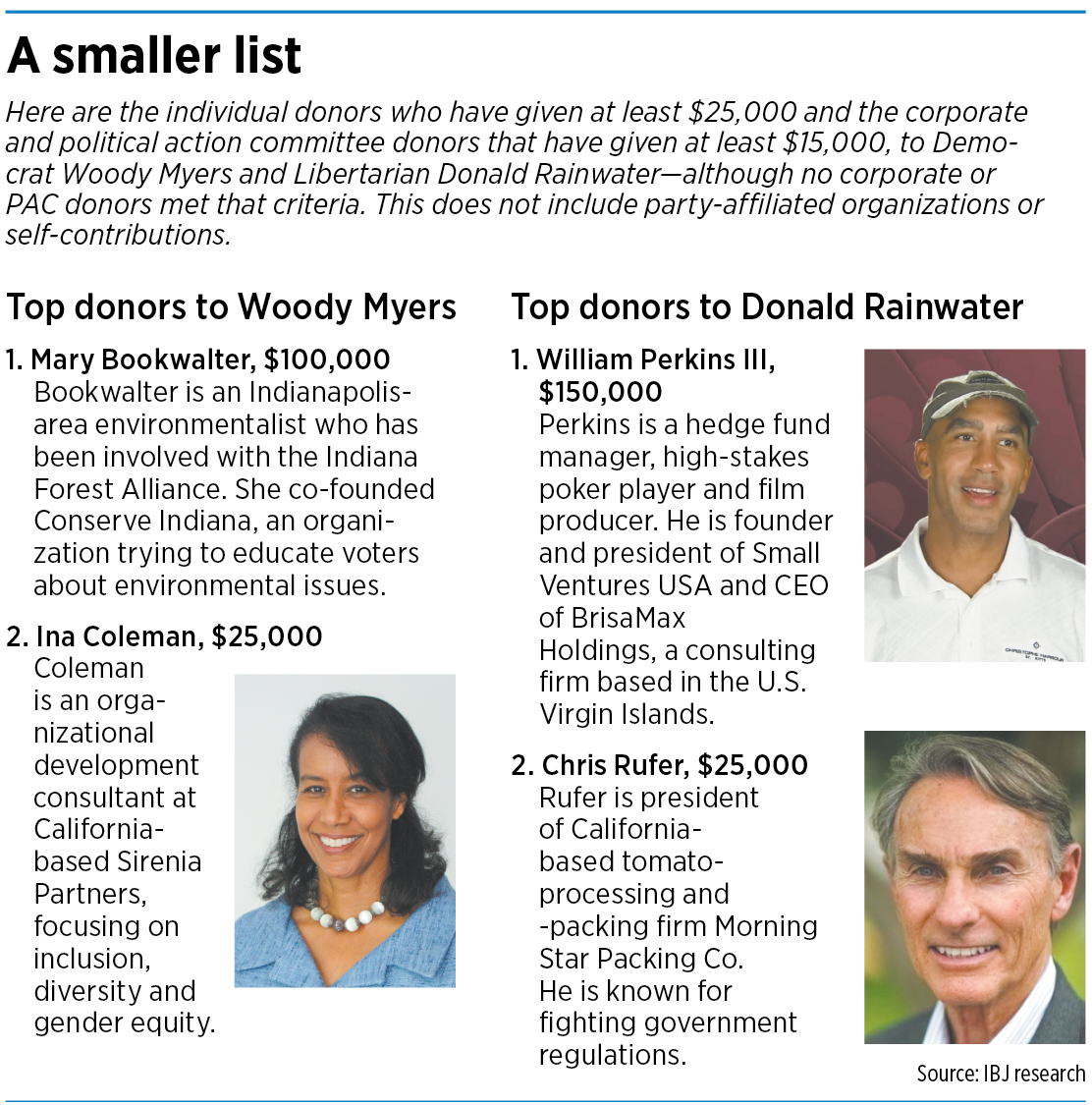 The highest individual contributor is Doug Rose, president of Irwin R. Rose & Co. LLC, an Indianapolis-based apartment development company, who has given $51,000 this year.
Other top donors are from outside Indiana and are big proponents of charter schools and school vouchers, including Missouri businessman Rex Sinquefield and California philanthropist William Oberndorf.
Kokomo native Jessica Tocco, who gave Holcomb $40,000 this year, said she contributed because of Holcomb's strategy for economic growth.
Tocco, who runs a lobbying firm with offices in Washington, D.C., Boston and Indianapolis, has known Holcomb since he worked for then-Gov. Mitch Daniels.
"He's worked at all levels of state government… He really understands what it takes to get stuff done," she said. "I'll always want to support him and what he's doing."
Tocco doesn't live in Indiana anymore, but said she'll always have a presence here because of her family and her business.
"I see on a daily basis with my company how different Indiana is," she said. "I love seeing the progress the state has made."
One of Holcomb's top donations has raised some eyebrows about influence over the governor. Holcomb received $50,000 from Grant Verstandig, chief digital officer for Minneapolis-based UnitedHealth Group, on March 4. On April 28, the state announced it would contract with OptumServe, the federal health business of UnitedHealth Group, to conduct its COVID-19 testing.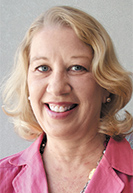 Julia Vaughn, policy director for watchdog organization Common Cause Indiana, said the timing and size of the donation "raises red flags."
"That's not just a large contribution; it's humongous and one that wouldn't go unnoticed, which is exactly the point if you want to get a lucrative contact," Vaughn said. "The Holcomb campaign can explain it away all they want, but it looks like pay-to-play."
Holcomb has previously said he was not involved in selecting OptumServe for the contract. Instead, he said, the Indiana State Department of Health awarded it.
Sheila Krumholz, executive director for the Center for Responsive Politics, said a single donation, even if it is large, isn't enough to prove a "pay to play" situation.
"Donations are not corrupting in and of themselves; they are merely evidence of a relationship," Krumholz said.
"But influence given in exchange for a donation corrupts the process," she said. "Unusually large donations can signal an unusually close relationship or an outsized effort at quickly building that relationship for transactional purposes."
Holcomb's war chest is also filled with big contributions from some well-known businesses in Indiana, including Eli Lilly and Co. and Faegre Drinker Biddle & Reath LLP. He's also received $15,000 from the political action committees for three different utility companies—Duke Energy Indiana, NiSource Inc. and Indianapolis Power & Light Co.
Helmke said campaign donations can make it more likely that a politician will take the phone call or the meeting with the individual or company. But he said it doesn't guarantee the politician will agree with big donors' point of view or do what they want.
"If you give big money," he said, "you're generally going to get some access."•
Please enable JavaScript to view this content.