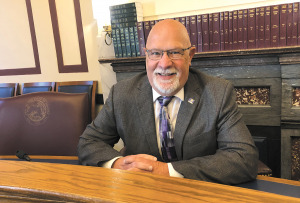 Rep. Tim Brown is ending his nearly 30-year career as a state lawmaker next year, leaving behind a legacy to fill as the state's lead budget architect.
The Crawfordsville Republican was first elected in 1994. He spent the past eight legislative sessions as chairman of the House Ways and Means Committee, leading the passage of three balanced state budgets and keeping Indiana's reserves healthy.
Brown, or "Doc" Brown as he is called around the Statehouse, came to the Legislature during his career as an emergency physician at Franciscan St. Elizabeth Health in Crawfordsville, from which he retired in 2015. During his time at the Statehouse, Brown played a role in several health care and tax-related bills, including co-authoring the $1.2 billion road-funding package in 2017.
What were some of your biggest accomplishments since you took office?
Over 28 years? I mean, the biggest thing is seeing the change in Indiana. Yeah, I mean, we were in the bottom third of lower economic growth, and now we're in the top 10. So, to see that change in Indiana has been huge.
What did you think when you were appointed to take lead on the budget?
Well, the first year, I said I felt great. I mean, everybody came in with expectations not very high. We had a little bit of money, and we were able to do a few things and balance the budget and go home. So, I felt great. I thought, "Gosh, this is not too bad." This last session, I think with both the state money projections and the federal money, I mean, we answered a lot of questions and were able to look at construction and infrastructure in our state long term. I feel very happy about what we've done.
Do you have any advice for the next chair of Ways and Means?
Do it your way. I mean, everybody's a little different and has a little bit different personality. I do think the chairman of Ways and Means has to take the whole state into consideration. So, sometimes you can't think necessarily, 'Oh, I'm from Crawfordsville," or, "I'm from District X." You have to think of the whole state, and how it's going to impact the whole state.
What do you think you've learned as a state lawmaker for the past 28 years?
To be flexible—to not get in a hurry. Learn to take things in stride and also to realize that a lot of the issues we talk about, we talk about again, year after year after year, so don't worry about the getting it all right this year.
You had a critical motorcycle accident in 2018. Did you think at the time, you couldn't come back from that and be here today?
I don't know. I think when I initially came back in January after it, I thought, "Yeah, I can go; I can go do it." Then, I look back and see how I was acting or thinking and, like, now, I couldn't have handled it. I wasn't quite ready then. So, no, I have changed a lot since the six to 12 months after that.
Going into the session next year, do you plan to draft any bills?
Tax cuts. We're looking right now—Indiana is doing very well. From our projections, I mean, that's it. Our forecasts—we're ahead of our forecasts and looking at how to give money back to people.•
Please enable JavaScript to view this content.