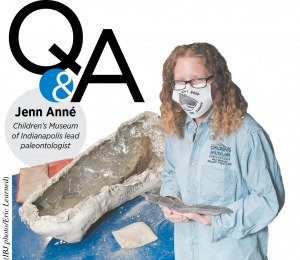 Jenn Anné, lead paleontologist and manager of the Natural Science Collections at The Children's Museum of Indianapolis, recently returned from Wyoming where she and her team dug for fossils to bring back to the museum. The trip garnered more than two tons of findings that will eventually be on display at the museum.
Tell us a little about Jurassic Mile in Wyoming.
So the Jurassic Mile, it's literally a mile spread out in Wyoming. And the reason it's called the Jurassic Mile is that … it's Jurassic rocks. So that's the middle time period for your dinosaurs and other extinct animals. We have an area that's marine called the Sundance Formation … but then we also get your kind of stereotypical terrestrial environment—so, what people think of when they think of out West dinosaur hunting.
Is the area reserved for only theChildren's Museum to dig? How often do teams go?
We go out once a year because you have a very limited dig season. … We're the only ones who dig on that Jurassic Mile because it's land we lease, but the bigger area is called the Bighorn Basin and it has for many, many years been known for its various fossils and geological formations.
What did the team find this year?
The jacket, which is the thing we encase the fossils into to ship them, was 3,600 pounds. That's 1,000 more pounds than my Honda Fit. … We found a femur that's over 5 feet long, we have a scapula that's about 4 feet long, lots of toe bones. … We find lots and lots of shed teeth from the meat-eating dinosaurs.
Approximately how old are these fossils?
The dinosaur stuff is about 150 million years old, and the Sundance stuff is a little older, maybe 160 million now, give or take a few million years.
When will visitors to the museum be able to see these fossils?
So actually, if you go down right now, you'll see us prepping some of these fossils. So how we prep is, we work the same way that they're going to be mounted, so they tend to be mounted kind of from the hips out, because the hip is where a lot of the weight is going to be bearing. So they have to make all the metal armature for that. That's what we've been doing. … We're working currently on the tibia, the femur, the big sacral block is in there. And then I'm also currently working on another hip jacket.
Did you always want to be a paleontologist?
Yep. I think most paleontologists are just the kids who never grew out of that [dinosaur] stage. According to my parents, because I don't remember, I've liked them since I was 2. I've loved dinosaurs and Legos my whole life, and now I get paid with both because we actually use Legos as part of the molding and casting experience. … And I was lucky that I never had anybody tell me I couldn't do it because I was a girl.
What's your favorite dinosaur?
Allosaurus. … Allosaurus fossils are very common for Jurassic North America. We actually have some from our site, which makes me very happy.•
Please enable JavaScript to view this content.