What does the nation need to do to curb gun violence?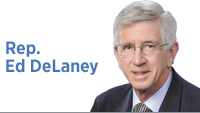 Surely, Gov. Eric Holcomb has more heart than this. After the references to "prayers and thoughts," our governor's reaction to the ongoing mass murders in our country was that we need to "harden" our schools.
Our governor put forth little detail. But Donald Trump, the National Rifle Association and the rest of the leadership of the Republican Party spelled it out. Let's put multiple armed officers at a single entrance to our schools. Let's keep all but one door locked. Let's double down on teaching first-graders to be in fear, and let's arm our teachers. This will all work out, and if it fails, we'll have stationed tourniquets in the halls. If the millions of tax dollars already spent on all of this doesn't suffice, spend more.
Now, for my thoughts and prayers. I think of my first-grade teacher, Sister Mary Dolorosa, digging in her long black garb to fish out a concealed weapon. She was aged and smart but hardly agile. And she should never be asked to do such a thing. I remember a chanted phrase from the Ninety-Fifth Psalm: "Harden not your hearts." Well, that is precisely what the Republican message is: Avert your eyes from the dead and wounded, lest you offend your allies and lest you need to act to protect our children, our shoppers and our congregations.
Governor, your party's reaction to Uvalde has also reminded me of one of the nastiest political tricks: Blame the weak while protecting the strong. The list of those blamed for the deaths in Uvalde grows apace.
For a brief moment, even the Trump faction focused on the murderer. We blamed a teacher who opened (but then closed) a door that didn't lock. And the governor of Texas has decided the local school resource officer is not a hero after all. Lately, we broaden the attack to include the head of the local school safety effort and the officers bunched up in the school hallway. Sell assault weapons, but leave others to die or be defamed. As to how you handle the strong, the list of those exonerated is long. Thus, the gun store owner who sold a gun to a callow 18-year-old gets off. It is fine to sell an assault weapon accompanied by hundreds of bullets. Especially if the brand in question is advertised to youth. The Texas Legislature gets off, too. After all, it presumably passed laws protecting manufacturers of assault rifles, as has our General Assembly. Of course, it passed a safe schools (hardening) bill covering locks and tourniquets and training, as did our supermajority.
Of course, while mentioning the weak and the strong in this horrible saga, I do not want to forget a third category: the unmentionables.
The unmentionables are the gun manufacturers, lobbyists for them, and legislators who are at their beck and call. Shriven of their sins, but not blamed or called on to take effective action.
Never fear, if things get too serious, our supermajority or maybe even Congress might approve a modest increase in school safety funds, pass more red flag laws and approve more background checks. These have little overall effect. But no law will pass limiting the sacred assault rifles. Our hearts will stay hardened, but our schools can't be unless they become fortresses no one wants to visit.•
__________
DeLaney, an Indianapolis attorney, is a Democrat representing the 86th District in the Indiana House of Representatives. Send comments to ibjedit@ibj.com.

Click here for more Forefront columns.
Please enable JavaScript to view this content.