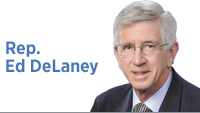 The Indiana Republican Party is in a messy bidding war to decide on its 2024 gubernatorial candidate. The field (Or is it a "scrum"?) features five candidates, none of whom seems dominant.
The incumbent governor, having kept his head down for years, is sitting out the race for now. While he has not criticized his lieutenant governor, he might have forgotten her name. The name is Suzanne Crouch. Holcomb's state party chair has jumped ship to help run the campaign of someone whose name Holcomb does seem to remember. The public has yet to get to know candidate Brad Chambers. Money can fix that. Eric Doden is left to fend for himself, so he is spending his time and money visiting conservative churches while filming ads. Holcomb has said nothing about our senator, Mike Braun. The governor might be waiting to see what Mike wants to be when he grows up. He walked away from a Senate seat. Last on the list, and far from least, is Curtis Hill. In this instance, Holcomb's silence seems to be wise. What can be said?
Historically, an incumbent governor and a state party chair would have worked hard to avoid this surfeit of candidates. This would seem to be a moment to press for unity and avoid the risk of a nasty primary or the selection of a weak candidate who gets maybe 30% of the primary vote. Keeping the party activists and county chairs happy would have mattered greatly.
How did this situation come to be? Let's set aside unpleasant explanations like weak leadership or incompetence and look to party politics and the mood of the moment for explanations. The simple fact is that the Indiana Republican Party is built on two pillars: wealthy donors and ideologically driven voters. Of course, it is buttressed by gerrymandering and by PACs that help from the outside. That is really all there is. Small donors and moderate voters are of little relevance.
The result is that the party chair walks away from his job and picks a well-funded candidate (Chambers) to support. So much for the idea of the chair as an honest broker. Without party or gubernatorial leadership, it begins to look like an auction where the prize goes to the highest bidder. The only winners will be the TV stations and campaign advisers, not the public or the folks who are ward chairs or serve in the party's county-level leadership. Too bad I don't own a TV station.
Doden and Chambers are almost solely supported by their own money. Hill is trying to run on a different fuel: anger. He might well corner a sizable part of the angry folks who follow Trump. Hill has the temperament and history for that.
That leaves Crouch and Braun to try a mixture of fuels: money and anger. They are showing a lot of both so far. What they are not showing is any concern for our schools, our declining college participation rate or women's health, including control of their own family planning. They are silent as to Trump's threat to democracy.
All this leaves an opening for the Democrats. There are, after all, many Hoosiers who care about something besides the size of a candidate's TV buy. Why would a moderate feel any loyalty to a party run like an auction?
Let the bidding begin! The minimum bid is $5 million or a very bad temper.•
__________
DeLaney, an Indianapolis attorney, is a Democrat representing the 86th District in the Indiana House of Representatives. Send comments to ibjedit@ibj.com.

Click here for more Forefront columns.
Please enable JavaScript to view this content.