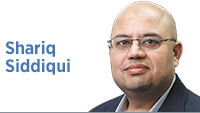 A new study by the Muslim Philanthropy Initiative at the Indiana University Lilly Family School of Philanthropy finds that some philanthropic foundations are not becoming more inclusive.
That's due to lack of knowledge about racialized communities like Muslim Americans, prejudice like Islamophobia, general bias against religious organizations, or because foundation members simply don't understand how these minority groups can further the foundation's philanthropic purpose. Racialized groups are seen as token recipients rather than as partners.
According to the Institute for Social Policy and Understanding—based in Washington, D.C., and Detroit—Muslims are one of the most diverse faith communities in the United States; they have no majority ethnicity or race. The Muslim not-for-profit sector is young, small and underfunded. Muslim-led not-for-profits lack funding from mainstream philanthropy.
The Lilly Family School of Philanthropy's Community Collaboration Initiative seeks to help these organizations through a three-year project focused on building and solidifying collaborations among Muslim American not-for-profits and helping them build bridges with external organizations. The CCI team launched the Year of Learning, a collaboration in 2021 among academics, practitioners, community leaders and the philanthropic community to bridge the gap between leaders of Muslim-led not-for-profits and mainstream philanthropy via a sustainable platform for honest and meaningful conversations.
A crucial component of the YOL was integrating knowledge and seeking action for change. Research demonstrates that identity plays a critical role in donation decisions, with individuals preferring to donate to their own racial, religious or other in-group. Muslim identity is highly stigmatized because of the increasing climate of Islamophobia. The YOL was an opportunity for the Muslim American community to showcase the impact of its community service work.
Although in recent years, foundations of all sorts and sizes have made commitments to advance racial equity and justice, good intentions can be undermined by strategic and administrative structures and processes that shape foundation decisions. It is important to recognize the ways in which institutional operating procedures reinforce racism and other forms of injustice in police departments, courts, and health and welfare agencies.
The study found among many funders a hesitation to fund religious communities, including marginalized and racialized ones. This reluctance stemmed from avoiding funding religious-conversion initiatives and from bias against faith. Focusing on societal problems is a key way to overcome this bias, a way to show that Muslim organizations fit within existing parameters of a portfolio.
The YOL resulted in engagement by the philanthropic grantors and a connection to Muslim-led not-for-profits. It brought participants closer to the multiplicity of the Muslim American experience while enabling honest conversations about the necessity of financial support and sustainable collaborations.
While many foundations participated, their number was small compared with the overall philanthropic sector. Successful efforts rest on whether foundations embrace diversity, equity and inclusion of Muslim Americans and other marginalized groups. The foundation world continues to hesitate in becoming fully inclusive.
Foundations need to see minority communities like Muslim Americans as partners who can bring vital knowledge in resolving problems that are an important part of the philanthropic values rather than as recipients of tokenized philanthropy.•
__________
Siddiqui is assistant professor and director of the Muslim Philanthropy Initiative at the Lilly Family School of Philanthropy at Indiana University, senior fellow at the Center for Global Politics and founder of the Center on Muslim Philanthropy. Send comments to ibjedit@ibj.com.

Click here for more Forefront columns.
Please enable JavaScript to view this content.