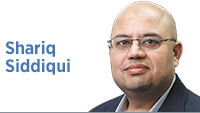 A recent issue of the Journal on Muslim Philanthropy and Civil Society includes an important issue on the contributions of Black American Muslims through philanthropy. This issue is guest-edited by Tyrone Freeman, a prominent philanthropy scholar.
The story of philanthropy by African Americans has largely been untold. For example, Sylviane Diouf shares how, from the early 1500s to 1867, nearly 12.5 million Africans were brought to the Americas as part of the slave trade. An estimated 10% of these enslaved people were Muslims.
While this might come as a surprise today, reports of Muslim and Islamic activities appear in plantations, courts, missionary and police records from those times and in official correspondence by President Thomas Jefferson, President John Quincy Adams and Secretary of State Henry Clay.
The largest concentration of enslaved Muslims was in Georgia and South Carolina. While many were forced to convert to Christianity, many enslaved Muslims practiced their faith in secret.
Central to their faith was the practice of Islamic philanthropy. Enslaved Muslim women would make sweet rice cakes to distribute to enslaved children every Friday and on "a big day" every year. Children would say the Arabic word "Ameen" three times and then eat the cakes.
One can imagine what these sweet white balls could mean to these enslaved children. Many of these children were separated, through sale, from their families; lived in oppressive conditions; and were expected to work to produce profit for the plantation owners. These rice cakes were known as saraka cakes. The word saraka is derived from the word sadaqah, which is a form of Islamic charity.
These are incredibly important and inspiring stories about how Americans, despite extreme difficulty and enslavement, sought to make the world around them a better place. But the stories are complicated to share.
On the one hand, we see the inspiring work of these amazing marginalized, enslaved and persecuted Americans trying to see how they can make the world a better place with the limited resources at their disposal.
On the other hand, we can never forget the context that they sought to make better. Slavery was a part of our nation's evil past that we should never forget—never forget to discuss and never allow to be erased from our national memory.
The reality is that philanthropy, like all human activity, is complicated. Behind every story of wealth is stories of inequality. To understand just the good part of philanthropy without understanding the context of why it is required gives only a partial view of society.
To truly make our community, society and nation better, we have to confront the real challenges it faces and has faced. Providing only a rosy view of the past and present leaves many behind, including our communities, society and country.
I am a scholar of philanthropy because I believe in its ability to enfranchise all people in the pursuit of a better world in a way that business and government cannot. However, I know I can't truly use the power of philanthropy for good without truly acknowledging, learning and understanding the bad that made it necessary.•
__________
Siddiqui is assistant professor and director of the Muslim Philanthropy Initiative at the Lilly Family School of Philanthropy at Indiana University. Send comments to ibjedit@ibj.com.

Click here for more Forefront columns.
Please enable JavaScript to view this content.