Call it the perfect "shipping" storm, or just an unprecedented convergence of growing consumer demand, a shortage of cargo shipping containers, a COVID-crimped supply chain and raging costs.
Whatever you call it, the global shipping industry is battling unparalleled delays and bottlenecks at ports and rail yards around the world.
Cargo Services Inc., an Indianapolis-based international freight forwarder and U.S. logistics provider, has been coping with the challenges for its clients in Indiana, Ohio, Illinois and Michigan since early 2020. The 32-employee firm acts as an intermediary between businesses and shipping lines to manage the import and export of goods by sea, land and air.
And the company's leaders expect shipping problems to continue into next year.
These days, cargo containers with vital supplies can get stuck in an ocean port for months—and that's only if you're lucky enough to find container space to ship your goods. At the same time, shipping costs are spiraling. In the past two years, the cost of shipping a 40-foot cargo container from Shanghai to New York has increased fivefold, to $13,434, according to London-based Drewry Shipping Consultants.
"The world that the international logistics companies are living in right now is unlike anything that we have ever seen in the 30-year history of our company," said Cargo Services Steve Fugate, co-owner and chief financial officer. He started the private company with co-owner John Rowe, also managing director, after they worked together at a British-based logistics company in Indianapolis from 1988 to 1992.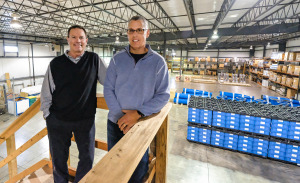 "We have always had disruptions, such as labor strikes at the port, congestion at a particular location, shortage of drivers, rail issues; however, each of those issues was always somewhat isolated, and the industry was able to modify and/or adjust," Fugate said in an email. "The issue now is that EVERY aspect of the international logistics chain, from a shipper's door to consignee's door, is damaged, stretched, overpriced, congested and exhausted."
The backups at shipping docks, rail yards, truck terminals and distribution centers are rattling supply chains from auto manufacturers to small retailers. The resulting parts shortages are disrupting assembly lines, leaving some store shelves empty or low on products and increasing the price of some consumer goods.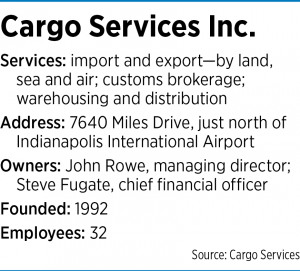 The nation's biggest gateways—including the top three: Los Angeles, nearby Long Beach and New York/New Jersey—have a varying number of ships waiting to dock at any one time. Smaller ports are filling up, too, as liner firms and their shipping clients seek ways around the logjam.
"It's literally like Legos, stacked on top of each other at the ports," said Jefferson Clay, director of global sales for Cargo Services. "We have one container that's been sitting in Los Angeles for 95 days, stuck in a stack somewhere. … It will be February or March of 2022 before we see some normalcy in the Midwest."
Increasingly fragile chain
The shipping industry's woes are a major illustration of how the world's supply chain can be more easily disrupted now than in past decades, said Kyle Cattani, chair of Indiana University's full-time MBA program and Indiana University's Kelley School of Business professor of operations and decision technologies.
"It does feel like a perfect storm at some level now," he said. "Supply chains are more global and interconnected than they have been. Much greater volumes are flowing in the last few decades. … When you get a jolt in the supply chain, it becomes much more impactful now than in the past."
That jolt can come not just from shipping complications, Cattani said, but also from manufacturing stalls. Overseas manufacturers are still struggling from the effects of COVID-19 production slowdowns, and the United States is importing much more than it's exporting.
"The imbalance is probably as lopsided as it's ever been," he said. "The U.S. economy is booming now and Asia's isn't."
Other contributions to vulnerability that have been building over the last few decades, Cattani said, are bigger and bigger ships, special equipment needed to load and unload them, and more traffic going through a limited number of ports that can handle these ships.
And, he said, supply chains are leaner, operate on less inventory and have become dependent on "just in time" delivery. Lean manufacturing produces automobiles and other products more efficiently, he said, but requires quick, timely deliveries.
"You get higher quality at lower costs when it works," Cattani said. But when it doesn't, like now, plants in Detroit shut down assembly lines because they don't have computer chips to build automobiles.
Consumers have been buying more goods, too, because they're using government stimulus checks, he said. "Right now, the system is stressed. We're seeing all the ripple effects."
The ups and downs and rapid changes have hit freight forwarders, or shippers, hard over the last 18 months.
For Cargo Services, 80% of its business is transported in shipping containers. These large, reusable steel containers are typically 20 feet or 40 feet long and are designed to be moved from ship to train to truck without unloading and reloading the container.
Cargo Services—which arranges for the shipping of books, pharmaceuticals, pipes, pumps, finished goods, sheet metal and other products—has partners in more than 80 countries that support its operations.
Freight forwarders first dealt with shutdowns in China in January 2020, when empty cargo containers started piling up on docks until workers could safely return to move them, creating a container imbalance globally, said Cargo Services' leaders.
Some of the largest U.S. docks had the lowest number of containers in years. Then, U.S. manufacturing shutdowns started in March, so containers didn't need to move; they sat idle in ports, storage yards and dock warehouses. Importers sometimes used airlines to move shipments, including personal protective equipment.
And in those early months of the pandemic, demand slumped for most consumer products because people were not buying cars, other big-ticket products or discretionary items, Cattani said.
The Great Restocking
Overall, 2020 was down for Cargo Services, a company that has seen consistent growth since its formation and weathered the 2008 recession, according to Cargo Services' Clay.
But as quarantines dragged on, people increased their shopping online, leading to some depleted warehouses and store shelves.
"Now, 2021 has become the year of the great restock, and everything is booming," Clay said.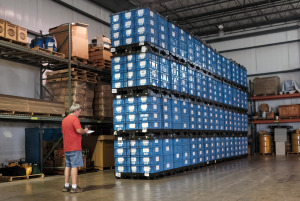 So far in 2021, Cargo Services' revenue for logisical management and other  services is up 47% over 2020 and 49% over 2019, Fugate said.
But the restocking rush creates its own problems.
A record surge of shipments landing on U.S. docks has resulted in a shortage of truck chassis on which to load the containers once they land. Plus, Clay said, there aren't enough truck drivers to haul the containers to and from shipping companies and the rail depots. "The longer they sit, the more congested it gets," he said.
Some efforts are addressing these problems.
"Truckers in Chicago, for example, are buying their own chassis, rather than using leased chassis. Container lines are buying new ships. People are manufacturing containers to help mitigate this down the road," said Clay, who joined Cargo Services in 2012 and works out of South Bend.
The steamship lines have been the "big winners in this process," he said, after they initially lost money. They formed three alliances and control vessel space, resulting in less volume and higher demand and, ultimately, higher prices, he said.
These three alliances, which control almost 90% of the world's transportation, are working together to put only enough volume, in terms of vessels and containers, in play to keep prices high and better enable them to make money, Clay said.
The ripple effects of the shipping congestion will continue through some point next year, and shipping prices for importers and exporters might never return to where they were, some experts say.
Giving clients bad news about price increases and delays is a challenge, Fugate said, but his experienced staff works hard to gauge the climate and help clients find as many creative solutions and alternative shipping methods as possible.
"Just doing what used to be a simple transaction now takes at least three times longer," he said, "and still our team has adjusted well."
Clay said he advises clients to plan for the worst, extend their lead time and delivery commitments to their customers, and increase their prices as they can. He strongly advises them to grab any available container space on vessels right away, despite the price, because prices have only gone up lately.
"We have no idea, though, what prices will be at the point of congestion going down," he said. "We see demand being strong until then, so that's driving up prices."
Hoping for stabilization
Jeffrey Smith, founder and co-CEO of MBG Brybelly Opco LLC, a Greenfield internet wholesaler and product development company, is one of those business owners struggling with shipping costs.
"In the past, 10% to 15% of the costs of goods was related to front-end shipping from China and India to here," Smith said. "Now, that's bloating up to 40%."
The 16-year-old business, formerly Brybelly Inc. until it was acquired this year, started as an internet retailer of gaming products selling across several e-commerce platforms and websites. Within two years, the company developed into a wholesaler and drop shipper of imported and domestic goods, including health and beauty, sporting goods, games and toys, and kitchen and pet supplies.
The higher shipping costs, Smith said, have raised the prices of Brybelly's products. "We're going to have to pass these costs onto the consumers. A lot of products aren't necessities, and they may pass on buying these products."
Fugate said it's difficult to gauge when the supply chain world might get back to a more normal rhythm, particularly because of stimulus money people are using to buy more goods from overseas. "If I were to guess, I would say the earliest could be mid- to late next year, but probably later," he said.
Cattani sounds a little more optimistic.
"I'm expecting [the supply chain is] going to struggle for the rest of the year, but will get better early next year," he said. "The supply side will start to iron things out. Early next year will be significantly better. Demand will decrease when spending decreases and Christmas is over."•
Please enable JavaScript to view this content.