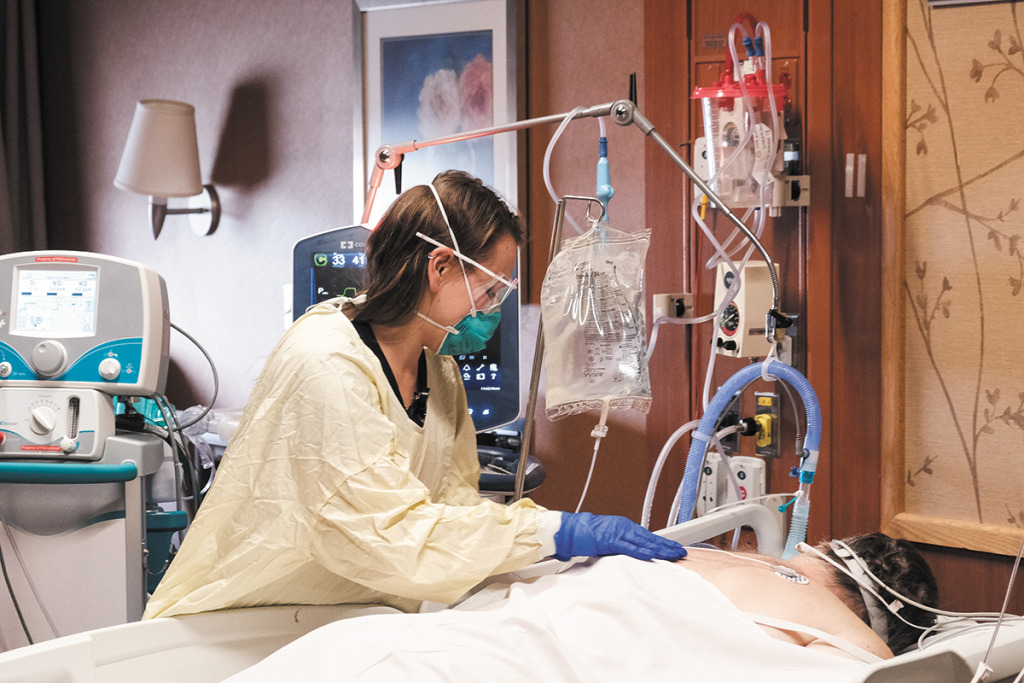 At Franciscan Health's Indianapolis hospital, the number of people being treated for COVID-19 shot up this week to about 40, double the number from just a month ago.
At Reid Health in Richmond, the surge of COVID-19 patients has gotten so severe that doctors have stopped accepting referrals from nearby hospitals and have started looking for ways to discharge other patients earlier than normal.
And at Lutheran Hospital in Fort Wayne, officials are wondering if COVID-19 patients could soon fill many of the hospital's 396 beds.
"We might get 20 patients today, 20 tomorrow, and 20 more the day after that," said Dr. Vishal Bhatia, the hospital's chief medical officer. "And if they keep on increasing, what do we do? There is a finite point to everything."
Across Indiana, the number of COVID-19 hospitalizations has been shattering records day after day, putting a strain on many hospitals and adding to the anxiety about how much longer the pandemic will continue.
The Indiana Hospital Association issued an unusually blunt warning this week, saying that medical facilities are struggling to keep up with patient loads.
It pointed out that hospitalizations across the state from COVID-19 have increased 143% since Oct. 1, and called on people to wear face coverings and practice social distancing. After hovering in triple digits for the past five months, hospitalizations stood at 2,544 as of Wednesday.
"All Hoosiers should be alarmed at the COVID-19 trends we are seeing across the state," the hospital association said in a statement.
Straining resources
Indiana ranks eighth-highest among all states for hospitalizations on a per-capita basis, according to the COVID-19 Tracking Report, a volunteer organization launched by The Atlantic to collect and publish data on outbreaks.
Nationally, more than 62,000 people were hospitalized with COVID-19 on Tuesday, up 40% in just two weeks, and the most the country has ever seen, the report said.
The number of Hoosiers hospitalized for COVID-19 broke through the 2,000 mark last weekend, after closing September at 919.
State Health Commissioner Dr. Kris Box said some hospitals are canceling or changing surgeries and other procedures to make sure they have the beds and staff they need to take care of patients.
The crush in hospitalizations in Indiana comes after the state lifted almost all pandemic-related restrictions on social gatherings and business activity in September. Gov. Eric Holcomb has told Hoosiers to wear masks and practice social distancing, but there are no penalties for not complying.
On Wednesday, Holcomb announced a new set of restrictions, effective Nov. 15, that would limit social gatherings to 25 people for counties with the highest rates of infection (coded red) and 50 people for those counties with the next-to-highest rate of infection (coded orange).
"This virus is unrelenting and will only gain momentum," Holcomb said.
COVID-19 cases are surging in nearly every region of Indiana, with the northern region recording the highest number of cases, along with Marion County and portions of southern Indiana, the hospital association said. Most counties across the state are coded orange at this time, meaning the positivity rate in those counties has grown to a range of 10.0% to 14.9% in the last seven days.
"Many hospitals are reporting staff shortages as the pandemic takes its toll," Brian Tabor, CEO of the Indiana Hospital Association, said in a statement.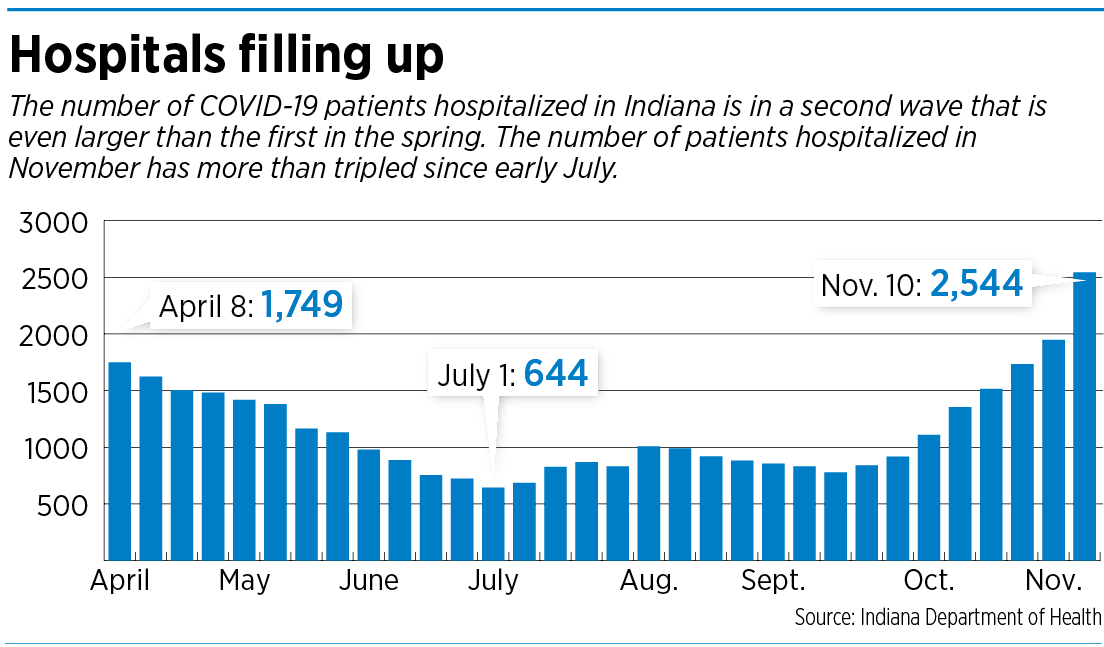 "Hoosier nurses, doctors and other front-line hospital staff have been working non-stop since the early spring. Please give these courageous health care heroes some much-needed relief by wearing a face covering, practicing social distancing, washing your hands, and staying home when you are sick. We need everyone to take these steps to relieve the enormous strain on the system at this critical time."
Several Indiana hospitals say COVID-19 patients fill less than 20% of their beds, but the number is changing by the day, and can climb by double-digit percentages in just a couple of weeks.
Testing the limits
Experts say there's no magic formula for determining how much of an increase in patient load is too much. Hospitals that are near capacity often can't tolerate even a 10% increase in patients, while hospitals that are half empty can easily deal with that increase, said Eugene Litvak, CEO of the Institute for Healthcare Optimization, based in Newton, Massachusetts, which helps advise hospitals on how to manage their capacity.
"It could be 5%, 10% or 30%," Litvak said. "It depends on the hospital."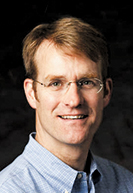 Franciscan Health is seeing "a significant uptick in inpatient COVID patients," and is nearing an all-time high in hospitalizations, said Dr. Christopher Doehring, vice president of medical affairs.
But the issue goes beyond raw numbers, he said. COVID-19 patients typically require at least a week of hospitalization and sometimes much longer, he said, compared with the average inpatient stay of about five days.
"So, you can see if the number of these COVID patients keeps going up, it has kind of a compounding effect on hospital capacity, because of that longer length of stay," Doehring said.
Goshen Health in Elkhart County reported 44 patients on its COVID-19 unit this week, a record, accounting for nearly half of the hospital's 107 staffed beds.
"Some patients who need important surgeries are having their procedures delayed because COVID-19 patients are filling our intensive care unit beds," Dr. Dan Nafziger, chief medical officer at Goshen Health, said in statement. "We've had to transfer some patients because we didn't have enough beds."
At nearby Elkhart General Hospital, about 92 patients this week, or about half of the census, are COVID-19 patients, and the hospital on Tuesday had to divert ambulance traffic, according to TheGoshen News.
"We don't have any other place to put our patients," Dr. Michelle Bache, vice president of medical affairs at Elkhart General told the newspaper.
Preparing for onslaught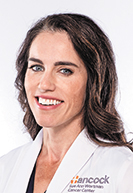 Some Indiana hospitals began adding capacity or dedicated units for COVID-19 patients earlier this year, when the first wave was occurring, to avoid becoming overwhelmed.
Over the summer, Hancock Health set up a dedicated unit with 60 beds and oxygen units on the second floor of its new medical clinic off of Interstate 70's Mount Comfort Road exit, about 10 miles west of its Greenfield hospital. The unit is for patients who need hospital care, but don't require intensive care or ventilation.
"So we have quite a bit of ability, with a separate oxygen utilization, should we need to go there," said Dr. Julia Compton, CEO of Hancock Physician Network.
Even in hospitals that have only admitted a handful of COVID-19 patients, officials are concerned the numbers might spike, especially as the weather turns colder and people begin to gather indoors for holidays gatherings.
Johnson Memorial Health has fewer than a dozen COVID-19 patients under its roof most days, and with 65 staffed beds, things are manageable for now, said Dr. David Dunkle, the system's CEO. But that could change with little warning.
"I'm not going to lie to you," Dunkle said. "I'm worried."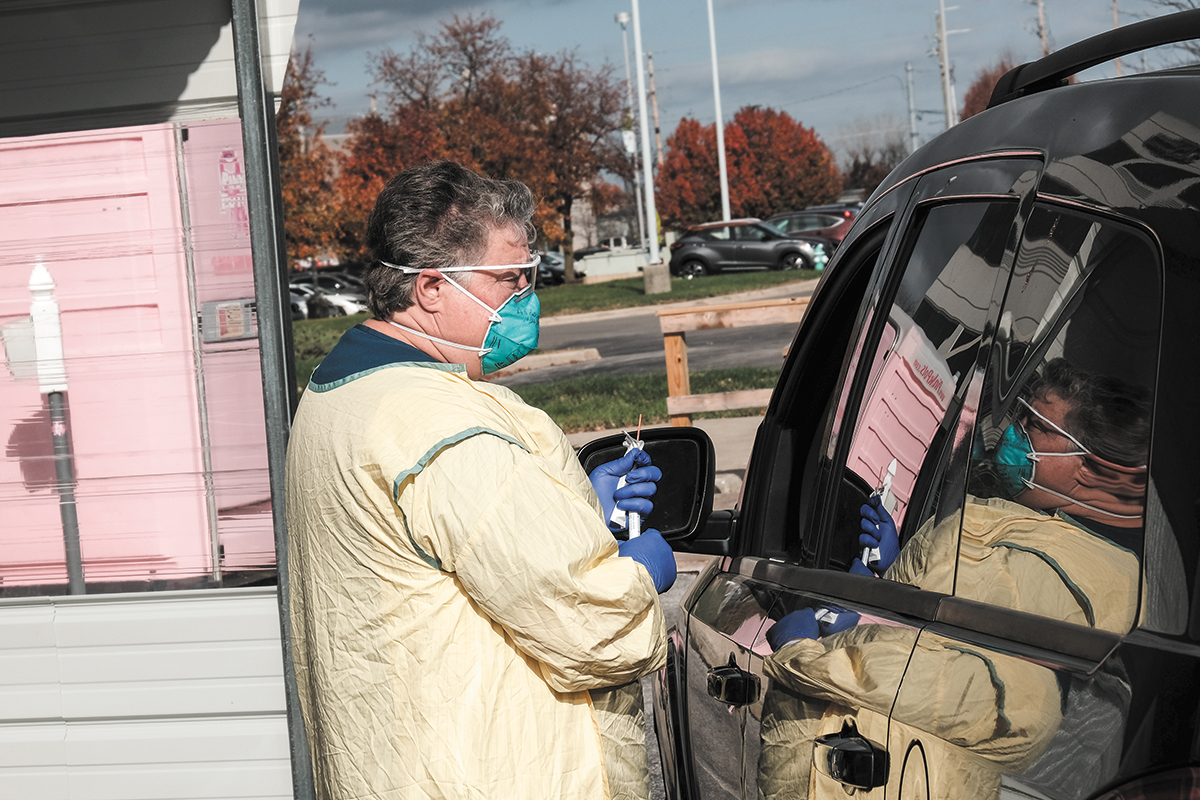 Staffing challenges
It's hard to know which hospitals are feeling the biggest squeeze. The Indiana Department of Health lists the total number of hospitalizations and admissions statewide, with daily updates, on its web dashboard. But it does not break down the information by region, county or hospital. It also keeps a running tally on the percentage of intensive care beds and ventilators available.
As of Tuesday, 30% of ICU beds were available across Indiana, a 23% decrease compared to Oct. 1. The number of available ventilators remained high, at 77%.
That said, each hospital has surge capacity that it can access to handle larger influxes of patients, the state hospital association said. Early in the pandemic, Indiana hospitals were able to double ICU capacity.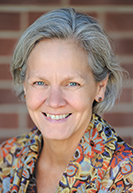 In central Indiana, the large hospital systems say they still have plenty of beds and are not afraid of hitting capacity in the near future. They say the crunch is not about beds, but whether they have enough medical and nursing staff to tend to patients. Hospitals have been hit hard with staff members who have been forced to quarantine or isolate after getting infected or being close to someone who had the virus.
"We have the beds. Staffing is the issue," said Dr. Robin Ledyard, chief medical officer of Community Health Network.
She said the Indianapolis-based system has been admitting three to five people every day for the past week, and now has 81 positive cases at its six hospitals, along with 25 people admitted who are awaiting testing results.
But while the number of patients at Community Health is climbing, staffing levels are not keeping pace. As of last week, about 160 of the system's 16,000 workers were quarantined or isolated after getting infected or spending time with someone who later tested positive.
At Indiana University Health, the state's largest hospital system with 16 hospitals, about 700 staff members are now under quarantine and unable to work—a sizeable slice of the system's workforce of about 35,000.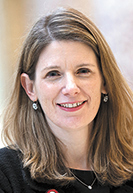 The decrease is causing problems in various units, said Dr. Michele Saysana, chief quality and safety officer. "When you start to get down to unit levels, if you're trying to staff units, and you have even four or five people calling in, that creates a big challenge."
The problem is not yet so severe that IU Health has had to cancel any elective surgeries, she said.
Box, the state health commissioner, said last week that hospitals and health care workers in Indiana are "needing support now more than ever."
Earlier this year, the state began recruiting retired and out-of-work health workers as part of a "health care reserve workforce" to help relieve staff shortages at hospitals and nursing homes. But the reserve workforce has been overwhelmed with requests in recent weeks and has told hospitals it can't guarantee any reinforcements.
In the meantime, Gov. Holcomb has activated the Indiana National Guard to help relieve overwhelmed workers at all of the state's 534 nursing homes and senior communities.
Wide variations
Some Indiana hospitals say they are doing the best they can to cope with an onerous situation. At Reid Health, which operates a single acute-care hospital in Richmond, near the Ohio border, COVID-19 patient volumes have been climbing sharply, into the high 70s in recent days, making this wave even bigger than the original surge in March and April.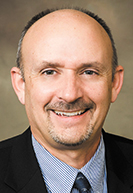 Feeding that is a steady stream of people visiting the emergency room with COVID-19 symptoms. Reid Health's ER is now admitting as many as 70 people a day, many of them COVID-19 patients–up from 30 to 40 during normal times, said Dr. Thomas Huth, Reid's vice president of medical affairs.
"The problem is, we don't have 60 or 70 beds available most days. We started out today with five open beds," he told IBJ in an interview Tuesday.
The only way to deal with sharp increase, he said is to "to add space creatively." And one way to do that is to discharge certain patients more quickly than under normal circumstances—if they are up to recovering from home or another health setting.
Reid Health, the largest hospital in east-central Indiana, has also stopped taking referrals from hospitals in nearby counties.
But other hospitals say they have yet to feel anything like the squeeze at Reid Health.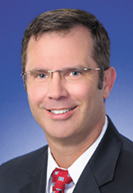 Ascension Indiana, for example, said that while its COVID-19 hospitalizations are increasing, "the numbers that we're seeing in the hospital aren't going up as fast as the numbers you're seeing in the state as a whole," said Dr. Stephen Swinney, chief clinical officer of the Indianapolis-based system.
He said Ascension Indiana has the ability to flex its capacity to meet higher demand by bringing in extra nurses from clinics and administrative offices to help in the hospital as needed.
Riverview Hospital in Hamilton County said it has spent "considerable time" in the past 10 days refining its plans for another COVID-19 surge. So far, it has been able to handle all COVID-19 patients, without worrying about stretching its capacity.
"We did this in the spring and found that it kept us from being overwhelmed," Dr. Eric Marcotte, chief medical officer, said in an email to IBJ. "With new treatments and ways to care for patients, these plans are simply being refined and improved."•
Please enable JavaScript to view this content.