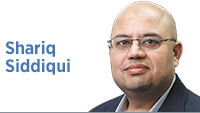 Indiana has a strong and vibrant Muslim community. It has established houses of worship, educational institutions, food pantries, medical clinics and other not-for-profits that do social good. A recent survey by the Muslim Philanthropy Initiative at the Indiana University Lilly Family School of Philanthropy suggests that the average Muslim American household gives (money and time) more than the average American household, that 85% of these donations remain in the United States, and that Muslim Americans give to both Muslim-led not-for-profits and organizations outside their faith community at similar rates. Their top priority remains domestic poverty alleviation.
If you are a not-for-profit leader (regardless of faith), these donors are interested in supporting your organization. However, research shows that the top reason people give is because they are asked. In fact, The Fund Raising School at the Indiana University Lilly Family School of Philanthropy teaches us that when you ask these donors and how you ask them increases your chances of success.
In a few weeks, Muslim Hoosiers, like 1.6 billion Muslims across the world, will observe the Muslim holy month of Ramadan. This is an important time of year to engage with Muslim Americans. During this month, Muslims fast from food and water daily from sunrise to sundown, typically read more Quran, and often engage in voluntary evening prayers. They are regularly reminded during this month that Prophet Muhammad was the most generous in Ramadan.
Research suggests that many Muslims save the bulk of their charitable contributions for the most spiritual month of the year, the month of Ramadan; therefore, this is an important time to solicit from Muslim families and philanthropists.
Muslim-led organizations intensively fundraise during Ramadan, capitalizing on the theological importance of this sacred month to prospective donors. Research suggests that Muslims typically donate more in Ramadan than at any other time of the year. This might be because of scriptural promises of reward, increased solicitations in their communities, and higher levels of optimism and well-being during the month.
One novel study of Muslim-majority countries and stock market returns found that returns were substantially higher during Ramadan, suggesting that higher returns in Ramadan could be explained by changes in investor psychology, whereby increased optimism and life satisfaction affected investor sentiment. Another study of Iranian Muslims found a 154% increase in organ-donation willingness in Ramadan.
Overlooking Muslim donors because your organization is not faith-based deprives you of needed financial resources that can further your mission and ignores research that shows Muslims prioritize giving locally and do not discriminate against organizations that are not from their faith community. Not understanding how to engage with Muslim donors and potential customers during Ramadan is a lost opportunity.
Consider learning more about Muslims and Ramadan. Learn more about Muslim practices, priorities and traditions. Inviting a Muslim to a wine tasting event might not work anytime but inviting them to a lunch or coffee won't be effective during Ramadan. Waiting to engage with them until Giving Tuesday or a year-end campaign will deprive you of important funding. Understand that, while Muslims are spiritually renewed and engaged during Ramadan, they are physically weakened and tired due to the additional worship and caloric deprivation.
Being inclusive and having empathy can lead to greater donations for not-for-profits and profits for businesses while also making us a better society.•
__________
Siddiqui is assistant professor and director of the Muslim Philanthropy Initiative at the Lilly Family School of Philanthropy at Indiana University, senior fellow at the Center for Global Politics and founder of the Center on Muslim Philanthropy. Send comments to ibjedit@ibj.com.

Click here for more Forefront columns.
Please enable JavaScript to view this content.