Only a small portion of Indiana voters typically cast ballots by mail, but that is expected to change this summer. State officials have taken unprecedented steps to make it easier to do so.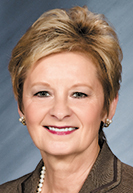 In response to the coronavirus pandemic, Indiana Secretary of State Connie Lawson and Gov. Eric Holcomb delayed the primary election from May 5 to June 2, and the Indiana Election Commission voted to offer voting by mail to everyone.
As of April 22, the state had more than 12,400 positive cases of COVID-19 and 661 deaths.
Normally, Indiana voters are required to provide a reason they want to vote absentee, such as being required to work the entire 12 hours polls are open or having a disability.
With that restriction, few Hoosiers vote by mail.
Since 2012, absentee ballots have accounted for only 3% to 6% of total votes in Indiana elections. In the 2016 primary, 3% of ballots were cast by mail. In the general election that year, it increased to 5%.
But that percentage is expected to increase significantly this year. The election commission made the process easier because state officials want to avoid crowds at the polls. The City-County Council in Indianapolis even voted to mail absentee applications to all registered voters in Marion County.
The number of requests for absentee ballots has already exceeded the 2016 primary's mail-in numbers. For that primary, about 53,800 people voted by mail. So far this year, more than 91,400 registered voters have requested absentee ballots.
Supporters of a vote-by-mail system are hopeful the temporary expansion in Indiana opens the door for a permanent no-excuse policy. Two-thirds of states already allow no-excuse vote by mail, and five states conduct elections almost completely by mail.
But the increase in voting by mail could cause delays in vote tallies and other administrative hiccups as officials adjust to the higher volume.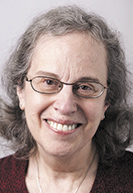 "It's going to be an interesting challenge," said Marjorie Hershey, political science professor emeritus at Indiana University.
Lawson has already warned the public to be patient.
"You know, we have never experienced anything like this before. But I have to tell you, I am very encouraged by what I'm hearing from election workers around the state," Lawson said in a press briefing April 16. "We're going to keep marching forward, and we are going to make sure that Hoosier voices are heard on June 2."
Models to learn from
The good news for Indiana and other states trying to promote voting by mail to protect the public health is that five states——Colorado, Hawaii, Oregon, Washington and Utah—have been conducting elections almost entirely by mail for years.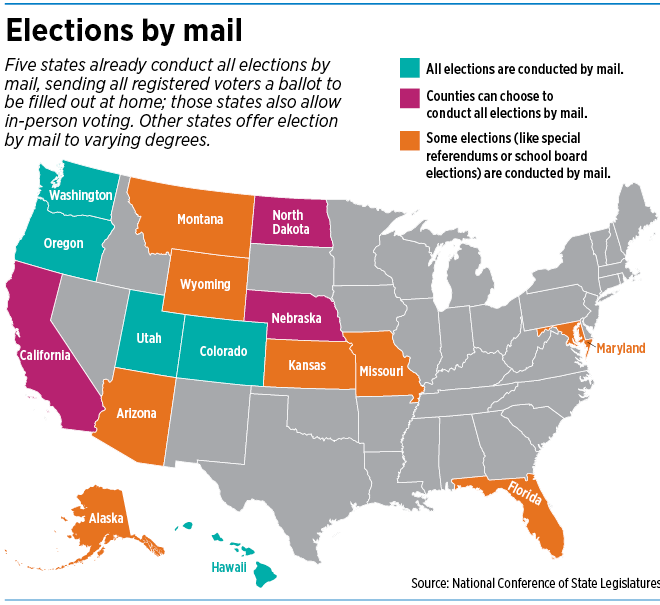 Oregon has been doing it the longest, since 2000.
Limited in-person voting is offered in those states, but it is mostly used for voters who need assistance or had trouble voting by mail for some reason.
"If there were any serious red flags that have come up so far [in those states] … we ought to have heard about them, and we haven't," Hershey said.
Jocelyn Bucaro, director of elections for the Denver Elections Division, said her state's vote-by-mail system works well. Less than 10% of Denver voters cast a ballot in person.
"It's cost-effective; it's convenient for the voters," Bucaro said. "It provides a lot more resiliency in our election systems."
Advocates for voting by mail say it gives people time to research candidates and make educated choices and it's more convenient.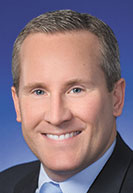 "We think it's a positive step," Indiana Democratic Party Chairman John Zody said. "Anytime we can expand the right to vote, we think that's important."
Voter turnout could also increase and costs could be reduced, but election experts say those benefits are not guaranteed.
For example, Colorado and Washington typically have high turnout levels, but other factors like same-day voter registration can influence that as well. And voter turnout is still far from 100% of registered voters. Voter turnout in Oregon in 2018 was 61%.
"I don't think they solved the turnout problem," said Chad Kinsella, assistant professor of political science at Ball State University.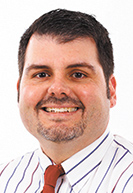 Bucaro said her office has seen a reduction in expenses, but a mail-in election can still be costly during the transition, when a significant number of polling locations and mail-in ballots are both used.
"You're basically running two different types of election at once," she said.
Colorado switched to voting by mail in 2013. As a result, Denver's costs for the 2016 election were half as much as the 2008 election, Bucaro said.
The downsides
Even supporters of voting by mail acknowledge that it takes longer to count ballots and report results. But the length of the delay can vary based on state policies.
In Colorado, for example, ballots must be received by 7 p.m. on Election Day and officials can start processing ballots 14 days earlier. Other states allow ballots that are postmarked by Election Day but arrive later to be counted, which can further delay results.
In Indiana, mailed ballots must be received by noon on Election Day.
Bucaro said her office typically receives about 60% of mail-in ballots before Election Day, so those can be counted in advance.
But votes are not tabulated until after polls close, and she said it's usually one or two days after the election before unofficial results are available.
She said the timeliness trade-off is "well worth it" for what she believes is a better system for voters.
Other downsides to voting by mail can be the loss of tradition of going to a polling place and the potential for a ballot to get lost in the mail.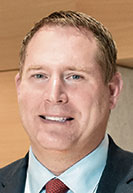 Indiana Republican Party Chairman Kyle Hupfer said he expects "robust voting on Election Day in person" simply because people like going to their polling places to cast a ballot. Indiana is still allowing seven days of early in-person voting as well as in-person voting on Election Day.
"I think it's about freedom and liberty and tradition," Hupfer said.
To cut down on ballots getting lost in the mail, some states have implemented ballot-tracking tools and offered secure drop boxes for submitting ballots. In Indiana, voters can either return the ballot in the mail or hand deliver it to their county election office.
Nationally, some conservatives, including President Donald Trump, have also questioned the security of voting by mail and threat of voter fraud.
But experts say security isn't a concern. In fact, voting by mail might be safer than voting on machines because it is all on paper and cannot be hacked.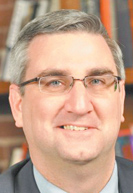 Holcomb and Lawson have both said they believe the election will be secure, even with the expansion of voting by mail.
"I have a high level of confidence in the integrity of our election process," Holcomb said at the April 16 press conference.
And studies have shown that voter fraud, even where a majority of ballots are cast by mail, is rare.
Hershey said one problem might be group home settings, where one person could gather all the ballots, fill them out and send them in with forged signatures. But she said officials should be able to see the signature doesn't match the one on file for the voter.
"I don't think that voter fraud should be a major concern," she said. "We have to accept a certain amount of risk, and this is not a big risk, as far as I'm concerned."
Kinsella said his fear would be someone in a household filling out ballots for everyone who lives there and asking the others to sign their ballots without looking to see whom they voted for.
"There's no perfect system," he said. "There's good and bad with everything."
Way of the future?
The big question is whether Indiana will permanently loosen its restrictions on voting by mail or ever shift completely to a vote-by-mail system.
Indiana officials are staying focused on the primary for now, but some experts anticipate open voting by mail will need to be an option in November because concerns will likely still exist about large gatherings of people.
"It has to be a possibility that they're thinking about, given the unknowns with this virus," Kinsella said.
Hupfer said Republicans supported making the change for the primary because they "didn't want someone to be put in a position where they felt uncomfortable," but their opinion on the general election will depend on the conditions closer to that date.
And he said he doesn't expect the state to shift to a completely by-mail system.
Democrats, on the other hand, are hopeful the state will start that transition.
"It's not an overnight thing that we could go to an all-mail-in election," Zody said. "But we think it's a safe way to go."
Kinsella said it's unlikely the state will expand to voting by mail, but "all bets are off at this point." This June primary "is a really big trial to see how well or how not well this goes."
Hershey said she would like the state to transition to vote by mail, but the current political climate might not allow it. "We're going to see some real pushback against mail-in voting in Republican-controlled states."•
Please enable JavaScript to view this content.