Indiana's unemployment rate hit record lows in January and February, yet labor participation remains stagnant as the state and country continue to grapple with workforce shortages.
The state's unemployment rate dropped from 2.7% in December to 2.4% in January, and it dropped again to 2.3% in February, according to the Indiana Department of Workforce Development.
However, the state's labor force participation in January remained at 61.9%—a record low for at least the last 46 years—and it rose slightly to 62.1% in February.
IBJ asked DWD Commissioner Fred Payne about the state's workforce priorities going forward.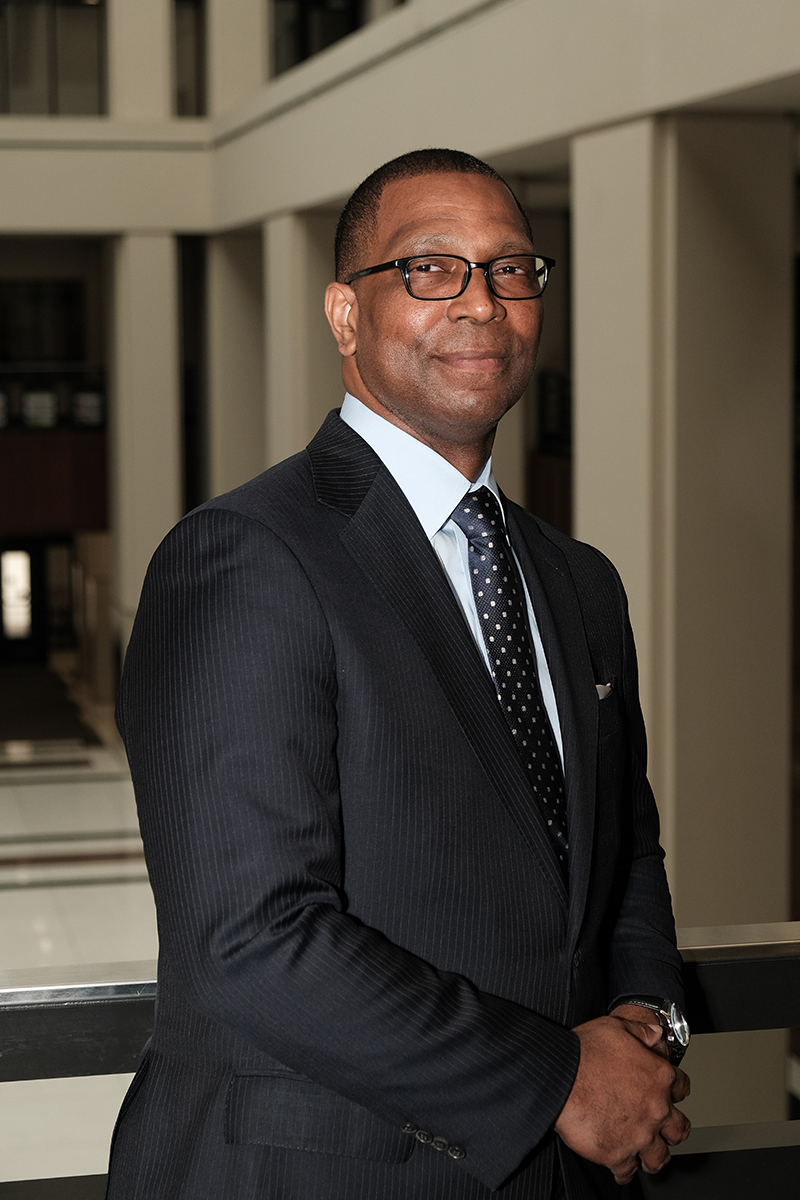 Should the state be focusing more on workforce participation now that unemployment is at record lows?
Right now, in our agency, we have several priority areas and one of our priority areas is increasing labor force and labor participation. So, the way that we're going about doing that is to try to ensure that the people who are available to work and [are] not working, and those who are looking, that they have the job skills that they need or the education that they need to actually requalify for some of those jobs that are out there.
We have somewhere close to 152,000 to 153,000 open jobs right now. And when you look at an unemployment rate of 2.3%, we have those two things together, you have what I think is a lot of opportunity. … I think we have close to about 93,000 people who are in that pool that we're trying to ensure that we can move them to jobs. When we look at that group of people, we want to make sure that they have the education training that they need and that we're pointing them to where the jobs are.
A couple of things that we have in place to do that: One is our Workforce Ready grant program that provides tuition-free [help], in most cases, to individuals who are looking to upskill and to provide them with some training. The other thing that we're doing is, we're trying to make sure that we have a talent network, where we can have employers that are part of our Hoosier Talent Network, and so it has some artificial intelligence where we can do some job matching for individuals.
What else is DWD doing to bring people back into the workforce?
When we talk about the people who've left the workforce, there are different levels and different categories of [workers]. And so, our approach to engagement with them is a little bit different based upon why they left the workforce. We have the baby boomer retirees, and then we have individuals who retire a little bit early, who hadn't anticipated leaving the workforce. When we look at our retirement numbers today, we were really forecasted to be at this place in 2025. So, our retirement has been accelerated a little bit. And then we have a group of people who were dual-income households, who are now single-income households. And then we have individuals who are reassessing their education and their training level, and they're actually out of the workforce because they are getting more education and more training. And then there's people who have left the workforce to care for loved ones, whether it's to care for children or to care for our elderly parents or relatives.
Some of them are going to come back just as, you know, as a result of why they left. So, some of those individuals who left the workforce for a short period of time to maybe care for children or to care for some other loved ones, they'll eventually come back, and we want to make sure that we provide them with an on-ramp with the training that they need. The individuals who obviously left for training purposes, their goal was to come back … stronger than they'd left. So our focus there, again, is to make sure that we are directing them to where the high-wage, high-demand jobs are, and what education and training is needed to get those jobs and to provide them with some financial assistance to do that.
For those people who are generally out, we have kind of a focused approach. But we're using some of our online tools to direct them to different types of training. Let's say an individual who is out of the workforce [doesn't] have a high school diploma. And let's say, all of a sudden, they find themselves unemployed, and they want to apply for unemployment. They apply for unemployment. They're now engaging with our system. And we have a catered outreach approach to that individual based upon their education level and letting them know exactly how and where they can get a high school equivalency as quickly as possible and what jobs would match their skill level. So, we're doing that targeted approach to some groups; the other groups, we're making sure that we provided the resources there for them to move to their next level.
Does DWD advertise these opportunities to people who have left the workforce? How do you get people to engage with you?
When it comes to the advertising approach of making sure that people know the resources that are available, we do quite a bit with partners, and we do quite a bit on the government level. … We're utilizing our partners around the state, not-for-profits, religious organizations, because we know that people tend to trust their religious organizations and the ministers and the people that they engage with on a day-to-day basis. So, it's a lot of word-of-mouth there. We believe that one of the best ways to get in and to get information to people is by having direct engagement in the community and with those organizations.
How do you make sure the retraining offered fits the skills needed in advanced industries?
We're making sure that we're engaging directly with employers, because they know best how to train the workforce. And we want to make sure we're providing work-based learning opportunities and apprenticeship opportunities across the board that fit that employer's needs. But while it's fitting the employer's need, it's also providing the central training that that individual, him or herself, would need for some economic mobility. So, we are trying to make sure that we're rethinking that. That's where the engagement with our educational institutions, our employer partners and some of our not-for-profits is really starting to pay off, because the engagement with all of those entities will inform us on how we need to … provide some of that training to, you know, reskill people who have either left the workforce or [are] in the workforce [and] need to be trained a little bit more for the changing nature of the jobs.

Does retraining an employer's current workforce help with retention and shortages?
Oh, absolutely, it does. One of the things that the data shows us, and even through my own experience in industry, is that, when individuals find, or they see, that an employer is investing in their well-being, and their well-being is a part of their development within that company, there's a loyalty to that company because the company has shown that there's a direct investment in that person. So, there's a direct correlation between a company's retraining individuals and retention. … And what that does is, it's sort of contagious and grows. Right? Individuals see it happening and they want to be a part of our employers in Indiana.
I've heard from employers that, right now, it's an employee's market, and that's why it's kind of hard to find employees because everybody's hiring. How does that change how you approach workforce development and meeting labor needs in the state?
It's for sure [that], when you have more jobs than people, it is considered to be an employee's market. But that's required employers to get really creative on their recruiting and retention. It's just the nature of them being competitive. … We've seen employers offer incentives for training. We've seen them offer incentives for education. We've seen employers change their approach to education reimbursement and pay money upfront for the education and for the tuition, instead of it being just a reimbursement that impacts a person's direct money that they have. They're able to buy commodities and take care of their families. So, employers are changing all that. Employers are also expanding the radius area from which they hire and the pool that they hire from. Some of them had these small hiring radiuses. … Many of those same employers, if you go back to 2018 and 2019, it was just a small group of employees that they were recruiting from out of state. Now that pool has grown, so they're doing that quite often, and [being more flexible].
All of that is a result of what you identified as sort of an employee's market because, as in a response to the things that employees are saying, [flexibility is] important to them. Not all employees are saying that they need a higher wage as being important to them. Some of the work-life things that we just talked about are important to them—job flexibility, really understanding their career paths.
We are partnering with an education institution right now. And our goal is to pilot with a small group to develop pathways for employees when they come into the company. … That's a small project that we think will pay dividends. And we're also engaging with an educational institution here to focus a little bit more on single parents and trying to increase their completion rate for training after school.
Shifting gears to unemployment, where does the state stand with the backlog in applications for unemployment compensation and appeals? Is that under control now?
One of the things we do is, we track the number of unemployment filers on a week-to-week basis. And so, what we have now is, our most recent week, we had … approximately 3,500 initial claims filed. That is close to pre-pandemic numbers on initial [filings]. And we still have to make sure that we are addressing some of the appeals that we have to work through, so we are resolving many more appeals that are coming in.
We are still trying to hire administrative law judges so that they can adjudicate some of those cases on the appeal side, and they can move them to completion. So, we are in a much better position now than we were in 2020.
(DWD reports the number of pending appeals stood at 5,192 at the end of February, down from 21,666 a year earlier.)
What does it mean for the state to have a low unemployment rate, based on the most recent numbers? Did you expect to hit a record low now when Indiana hit a record high two years ago?
We [hit] the highest level of unemployment we had in April of 2020. Now, we've hit the lowest unemployment rate that we've had since we've been tracking unemployment rates since 1976. That shows the resiliency of our Indiana workforce. That shows that the people of Indiana wanted to and they have gone back to work.•
Please enable JavaScript to view this content.