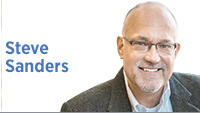 A serious university sets an example for how sensitive matters can be handled with integrity and reasoned judgment. A serious university is not swayed by political pressure.
A serious university demonstrates fairness and due process before taking punitive action against a faculty member or student.
Having pulled a tenured professor out of the classroom for the rest of the semester, evidently to appease protesters and quell controversy, Ball State University has raised questions about whether it is a serious university.
Last month, business professor Shaheen Borna called campus police after a black student, Sultan Benson, refused his request to change seats in the classroom. The police arrived, and Benson left to avoid further confrontation.
Before going further, let's stipulate a few things.
First, this was a serious error in judgment by professor Borna. Since there are no indications Benson was being disruptive or threatening, Borna's decision to call police seems ridiculous.
Second, implicit bias is real. Attitudes and stereotypes often negatively affect how people of color are treated.
Third, people of color rightly suspect they might not get fair treatment from police. Too many have ended up injured or dead at the hands of officers who grossly overreacted or used excessive force.
We can assume all these things are true, but still question how Ball State has treated Borna.
Borna deserved a reprimand, and he got one from Ball State President Geoffrey Mearns, who called Borna's actions "a gross error of judgment" and "an unwarranted overreaction."
Borna apologized to Benson and the class and continued to teach. But last week, Ball State effectively suspended him for the rest of the semester—though the school claims it's not a suspension. ("Dr. Borna has not been suspended," a spokesman told me by email.)
Word games aside, removing a professor from his teaching duties sure looks like some form of disciplinary action.
The evidence does not indicate Borna acted from racist motives. This appears to have been a bad decision by an old-school professor who has been teaching more than 35 years and is accustomed to having his authority respected.
But even if you disagree with that, here's the point: Borna has tenure, which is intended to protect professors against politically motivated threats to their employment. Tenured professors can still be disciplined for cause. And so, if Ball State believes Borna is unfit to teach or that he mistreated Benson because of race, it should have the courage to say so and prove it in a disciplinary proceeding.
But trying to prove such things would be difficult, messy and could lead to litigation. Ball State hasn't charged Borna with any misconduct. Apparently, it was more expedient to suspend him while absurdly denying that he was suspended.
Meanwhile, the university speaks in Pablum. "This decision is in the best interest of Dr. Borna and the university," according to its statement. The decision will "ensure that we provide continuity in the curriculum, eliminate any unnecessary distractions, and help our students complete the appropriate course expectations."
Let's be candid: Ball State threw Borna under the bus. It did so because it needed to appease those who were demanding he be forced into "early retirement." Perhaps he still will be.
Controversies over matters of diversity and inclusion on today's campuses can rarely be handled without everyone going to Red Alert. Further, today's universities believe they can't afford to offend too many paying customers. Apparently, those realities prevented Ball State from giving a veteran professor the benefit of a disciplinary process with some integrity.•
__________
Sanders is professor of law at the Indiana University Maurer School of Law in Bloomington. Send comments to ibjedit@ibj.com.

Click here for more Forefront columns.
Please enable JavaScript to view this content.