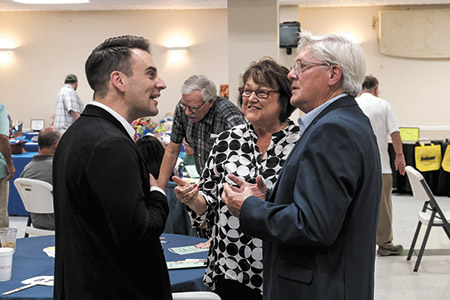 The latest Democrat to jump into Indiana's 2020 gubernatorial race calls himself a "newbie" in politics. In fact, he didn't even think about running for governor until about seven months ago.
He has never held elected office—his only campaign experience is an unsuccessful bid for an at-large seat on the Indianapolis Public Schools Board in 2014—and his only time working in government was an eight-month stint as an economic adviser for former Republican U.S. Rep. Luke Messer.
But Josh Owens, the 34-year-old CEO of tech firm SupplyKick, doesn't see any of that as a bad thing.
Instead, he says his experience working with a diverse set of stakeholders in the business community will translate to working with lawmakers in the opposite political party. And he says his business and education background is already generating excitement from both Democratic Party insiders and from Hoosiers not usually involved in campaigns.
"I think there is a really clear path to victory for our campaign," Owens said. "It doesn't mean that it's easy, but there is a clear path to victory here, and that's what excites me. That's why I'm in this race."
With his bid, Owens becomes the first tech exec to seek the state's highest office. He's also the first openly gay candidate for governor. And he's one of the youngest candidates in recent memory (although Democrat Evan Bayh was even younger).
His first challenge will be the primary. Woody Myers, a former Anthem executive and state health commissioner, has also announced his candidacy.
"This is a governor's race filled with ground breaks: I'm the first physician to run for governor since Otis 'Doc' Bowen [who served from 1973 to 1981]. I am the first African American to officially run for the state's top office," Myers said in a statement to IBJ. "However, the 'firsts' are not what's important. We need to do more to help all Hoosiers access health care, make living wages, receive top-quality educations and breathe clean air."
Myers also has less political experience than most gubernatorial candidates, although he served as health commissioner under two governors and a New York City mayor. And he ran unsuccessfully in the 7th District congressional primary in 2008.
He also worked for several insurance companies and is now a health care consultant, with a portfolio of unrelated companies.
But Myers' jump into the governor's race is far less surprising than Owens' move, which seemed to come out of nowhere.
Owens is certainly not the first person to run for governor without experience in elected office. Republican Gov. Eric Holcomb hadn't held an elected office before winning in 2016. Neither had Mitch Daniels. And Democrat Jim Schellinger also tried to jump directly from the business world to the Governor's Office with an ultimately unsuccessful campaign in 2008.
But none of them were so new to politics. Holcomb had worked for former U.S. Sen. Dan Coats and Daniels (and ran the latter's re-election campaign) and had been appointed Gov. Mike Pence's lieutenant governor. Daniels was an old political hand, having served in the administrations of two presidents, an Indy mayor and a senator.
And Schellinger, who worked for CSO Architects, had been connected to the Indiana Democratic Party for years and already had the backing of several well-known players, including former Indiana House Speaker John Gregg and former Indianapolis Mayor Bart Peterson, when he announced his campaign.
'The right moves so far'
Despite his inexperience, Owens has already found some support among longtime Democratic Party insiders. His campaign is working with Wildfire Contact senior strategist Tim Henderson, who managed Gregg's 2016 gubernatorial campaign, and Adam Kirsch, a former executive director of the Marion County Democratic Party and former deputy field director for Schellinger's campaign.
"I think attracting support and talent of well-known Democrats is going to be critical to the state of his campaign," said Democrat Jeff Harris, who also worked on Gregg's 2016 campaign and managed now-presidential hopeful Pete Buttigieg's unsuccessful bid for state treasurer in 2010. "He's making the right moves so far."
Harris is not involved with either of the Democratic campaigns this year.
The advantage to being new to politics means you have less of a track record that could be used against you, and voters have lately liked outsiders, said Paul Helmke, a former Republican mayor of Fort Wayne and a professor at the Indiana University O'Neill School of Public and Environmental Affairs.
"Bottom line, it cuts both ways," Helmke said. "Somebody who hasn't been tarnished by politics has a good message to sell, but they have to know how to sell it."
Experts say the key to success will be name recognition, something Owens will have to work on.
"I think it's tremendously difficult to get known, to build trust, to get that base of support that you need," Harris said.
For now, the Indiana Republican Party and Holcomb's re-election campaign aren't concerned, at least not publicly.
"To be honest, it's not really what we're watching right now," said Indiana GOP Chairman Kyle Hupfer, who is also Holcomb's campaign manager.
Owens, and other political candidates who have come from the business world, often tout their private-sector experience as a strength.
And Owens has a list of accomplishments to point to during his time with SupplyKick—the employee count doubled from 2017 to 2018; revenue grew 335% from fiscal years 2015 to 2017; and the company, which helps businesses increase sales in marketplaces like Amazon, has continued to add clients. Owens was also named an IBJ Forty Under 40 honoree earlier this year.
'A whole different world'
But politics and business can be two very different arenas.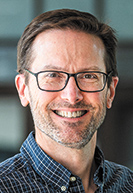 "The rules for getting ahead in business are not exactly the same as they are in politics," said Robert Dion, associate professor of political science at the University of Evansville. "That doesn't mean that a person can't succeed in both areas, but some of the skills that work so well in one field don't always translate easily to the other."
Harris described politics as "a whole different world."
"Anyone who's not been in campaigns before, it is a steep uphill climb," he said.
Andy Downs, director of the Mike Downs Center for Indiana Politics at Purdue University Fort Wayne, said even having experience running for a smaller office can be helpful when launching a statewide campaign. Ultimately, he said, someone can't understand how it works until they do it.
"You don't know what it's like to be a candidate until you're a candidate," Downs said. "The moment that every news organization wants to have a chat with you, it is just a very, very different thing."
He said there are a couple of paths to being successful—winning over powerful party insiders and/or raising a lot of money to get the campaign message out to as many voters as possible.
A third possible path is to find a way to use data to target voters online less expensively.
Downs said Owens' experience recruiting investors could help him when it comes to fundraising, but added that getting someone to invest in a private business or product is much different from getting someone to give to a political campaign, because that donation means publicly aligning with a party and a candidate.
"He's basically selling himself—that's the product now," Downs said.
Owens, who does not plan to self-finance his campaign, said he's already traveling the state and attending Democratic Party functions, like a gathering of young Democrats in Hamilton County and the Jefferson Jackson Dinner in his hometown of Shelbyville, to talk to voters and build up donations.
"You'll continue to see that energy and that commitment from this campaign," he said. "I think people have responded very positively to that already."
But even if Owens is successful, he'll find the way government operates is quite different from how private companies work.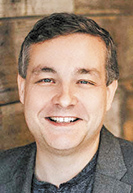 "It's often joked about the speed differences, but it's real," Fishers-based ClearObject CEO John McDonald said.
McDonald waded into the public-policy realm a few years ago as he started to speak out about social issues like LGBTQ rights. Last year, he helped create a trade and lobbying organization for the tech sector—the Indiana Technology and Innovation Association.
He blamed the slowness of government on the checks-and-balances system, which automatically creates more hoops to jump through.
"It becomes very difficult and time-consuming to get things to move in one direction or the other," McDonald said.
Another difference he quickly realized was lawmakers' lack of understanding about tech-sector problems.
"We need to spend a lot of time explaining, helping them understand the unique problems that tech businesses have," he said.
'Uniquely different candidate'
Owens' campaign at the very least seems to be intriguing to the tech sector.
"It's definitely having the effect that I think he was hoping for, which was to create a buzz around a uniquely different candidate in every possible way than what we've seen before, I think, on that stage," McDonald said.
But just because tech leaders might be excited to see someone from the industry on the ballot, it does not mean their support is guaranteed. That's partially because Holcomb and the Republican-led Legislature are relatively well-regarded in the tech community.
"They always answer the phone," McDonald said. "They always pause to listen and understand how we're looking at the problem."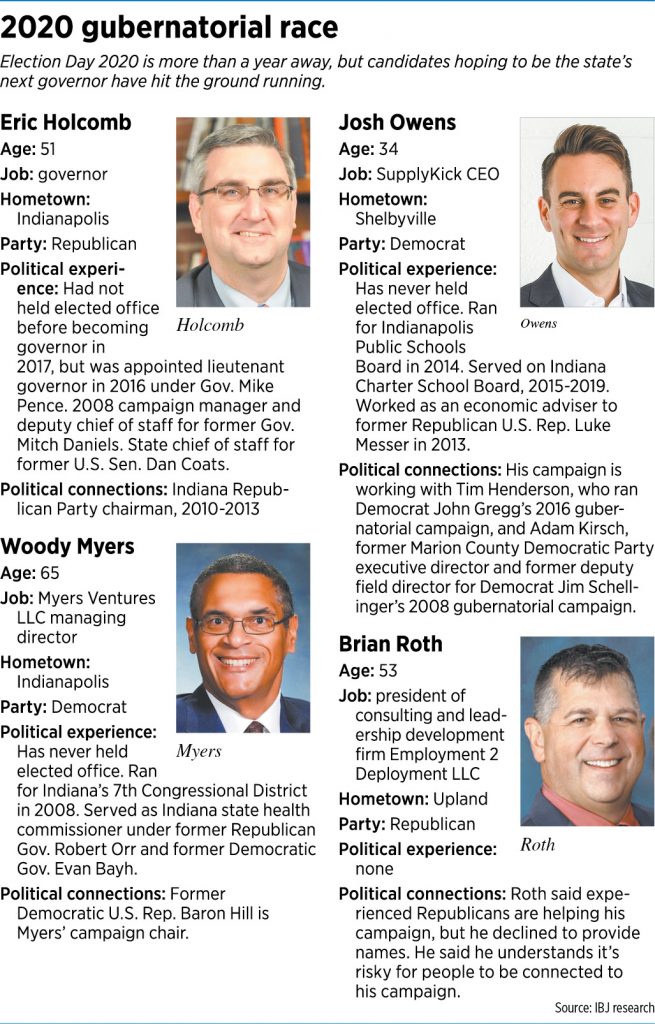 And at TechPoint's annual Mira Awards gala this year, Holcomb received the Trailblazer Award, which recognizes leaders for being inspiring and innovative.
McDonald said he's unsure whom he will support. It will come down to where the candidates fall on policies.
Even if Owens isn't successful, McDonald said, he hopes the campaign will encourage others in the tech industry to run for office, whether at the local or state level.
"One of the encouragements that we often give to technology leaders is, at some point it'd be great if we could stop having to explain the tech business to legislators and become the legislators," he said.
Another potential roadblock for Owens will be his party affiliation—which is already a discussion point among Democrats.
In addition to working for Messer, Owens also donated $100 to the Marion County Republican Party in 2014.
But Owens said he never considered himself a Republican. Instead, he viewed himself as an independent who came from a conservative town and upbringing.
Owens said years ago he thought he could help the Republican Party become more inclusive and welcoming to all, but "obviously that was naive."
He said he realigned his political leanings after the Republican-controlled Indiana General Assembly in 2015 approved the Religious Freedom Restoration Act, a law many LGBTQ individuals believed allowed others to discriminate against them, and after President Donald Trump was elected in 2016.
"I do firmly believe the Democratic Party is the one that has the right values for the state of Indiana," Owens said.
'Not a six-month effort'
The May 2020 primary is about seven months away, which political experts say isn't much time for relatively unknown candidates to build name ID.
But the other Democrat already in the race—Myers—and the one publicly talking about joining—Gary state Sen. Eddie Melton—also aren't widely known statewide.
"There is still time left to do the work to get the nomination," said Dion, the political science professor. "But it would be better if a person started earlier and raised more money, because Gov. Holcomb is not going to be a pushover."
Harris, who also worked on Democrat Jill Long Thompson's gubernatorial campaign in 2008, said the deciding factor in the primary between Thompson and Schellinger was that Thompson had the edge on name recognition from the start. Thompson won the primary by roughly 1 percentage point.
And after Gregg's failed run for governor in 2012, Harris said, Gregg almost immediately kept building his name recognition throughout the state in preparation for another campaign.
"It's not a six-month effort," Harris said. "It's a multiyear effort."•
Please enable JavaScript to view this content.