Let's say it right upfront: It's too early to know whether hydrogen power will ever catch on for widespread use. High costs and lack of infrastructure pose significant challenges.
Even so, Columbus-based Cummins Inc. is bullish on hydrogen's possibilities to power everything from buses, trains and trucks to industrial equipment. The company famous for its diesel engines has invested hundreds of millions of dollars in hydrogen technology over the past year or so, while at the same time acknowledging it doesn't know when, or if, these investments will pay off.
The bet is based on the premise that hydrogen can play a vital role in slashing emissions in highly polluting industries under pressure to reduce them. Unlike fossil fuels, hydrogen burns cleanly when mixed with oxygen in a fuel cell.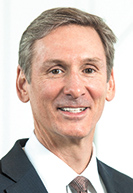 "We believe [hydrogen power] is a very substantial opportunity for the planet and for Cummins," CEO Tom Linebarger said during an online program called Hydrogen Day that the company hosted Nov. 16 to tout its hydrogen investments. "The transition to a hydrogen economy will impact many industries."
Cummins has been exploring hydrogen fuel cells for more than 20 years, but the company's first serious investment in the technology came in September 2019, when it spent $235 million to acquire an 81% interest in Toronto-based Hydrogenics Corp., which makes hydrogen fuel cells and hydrogen-generation equipment.
It followed that with two investments of undisclosed amounts in Vancouver, British Columbia-based Loop Energy, which makes fuel-cell electric range extenders for use in vehicles like trucks and buses.
And this month, Cummins formed a joint venture with Netherlands-based NPROXX, which makes high-pressure hydrogen storage tanks.
Amy Davis, president of Cummins' New Power Segment, said the company is stepping up its hydrogen investments as global interest in climate issues accelerates. Cummins' New Power Segment includes both hydrogen and electric power—Cummins launched its first electric power trains last year, starting with bus fleets.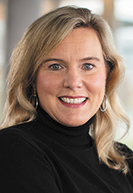 "The climate crisis has taken a much deeper, more meaningful shift over the past five years," Davis said. "You're starting to see people really committing themselves on the corporate side and the government side."
The company is investing in multiple types of hydrogen technology. It's investing in fuel cells—technology that creates electricity by combining hydrogen and oxygen in a chemical reaction. It's also investing in two types of electrolyzers—technology that uses electricity to split water into oxygen and hydrogen. The hydrogen gas then can be liquified or compressed and used to power fuel cells.
Cummins' hydrogen investments are drawing widespread attention, in part because hydrogen power itself is hot right now.
"It's a topic of very, very high interest from the investment community" because of its potential to help reduce carbon emissions, said Matthew Elkott, a transportation equipment analyst at New York City-based financial services firm Cowen Inc.
"There are many regions around the world that have their own carbon-neutral goals. Europe is very aggressive on that front," Elkott said. "Hydrogen is one vehicle to get us to those goals, those targets."
Trendy topic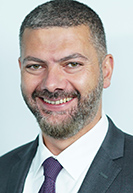 Cummins' Hydrogen Day drew about 2,000 viewers. Stephen Volkmann, an equity analyst at New York City-based Jefferies Financial Group, said that's more participation than any other analyst event he's seen in nearly 30 years. Typically, such a presentation would attract a couple of hundred people, he said.
As further evidence that hydrogen is hot, Volkmann referenced Nikola Corp., a Phoenix-based startup that is developing electric- and hydrogen-fuel-cell-powered vehicles. The company went public in June and saw its shares more than double in price within days.

"It was a big event, and when things like that happen, people take notice," Volkmann said of Nikola's public debut.
Cummins said its goal is to generate at least $400 million in revenue from electrolyzers by 2025. It already has a few projects in the works.
In Washington state, the Douglas County Public Utility District is building a hydrogen-power facility expected to be operational in 2021 that will use a Cummins electrolyzer.
Cummins is also supplying the electrolyzer for a plant in Becancour, Quebec, that's expected to come online within a few months.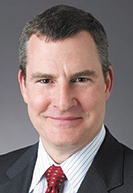 But Cummins isn't expecting hydrogen power to be a profitable part of the company anytime soon.
The company forecasts that, between 2020 and 2022, its New Power Segment will lose a total of $500 million as measured by so-called EBITDA—earnings before interest, taxes, depreciation and amortization.
That's a relatively small sum for Cummins. Overall, it reported EBITDA of $3.6 billion in 2019, with the New Power Segment losing $149 million.
The company hasn't said when the segment might begin to turn a profit. That will depend on how quickly the technology is adopted. And Cummins and others acknowledge that the industry must solve formidable challenges if hydrogen is to gain widespread adoption.
Cummins' focus
Cummins, which has its own goal to become a carbon-neutral company by 2050, is focused on what's called green hydrogen—hydrogen that's produced by an electrolyzer that's powered by renewable energy such as hydroelectric, solar or wind.
Right now, only about 1% of the 70 million tons of hydrogen produced each year is considered green. Most of the rest is produced using natural gas, which contributes to carbon emissions.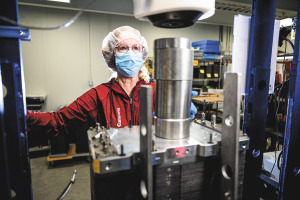 Currently, Cummins says, hydrogen produced with natural gas costs $1.50 to $2 per kilogram—an amount that can power a passenger car for about 60 miles. In comparison, green hydrogen costs $5 to $6 per kilogram.
"It is still pretty cost-uncompetitive at this stage," said Jesse Kharbanda, executive director of the Indianapolis-based Hoosier Environmental Council.
The current lack of hydrogen infrastructure is another challenge.
"The problem is, who would build a [hydrogen refueling] station if there's no [hydrogen-powered] trucks out there?" Volkmann said. "Who would buy a truck if there's no stations out there?"
The Hydrogen Council, an industry group Cummins belongs to, predicts that only 2.5% of heavy trucks will behydrogen-powered by 2030. In comparison, the council and Cummins predict that 10% of trains and buses will behydrogen-powered by then. The difference in adoption rates is in part because trains and buses typically return to a fixed base where they can recharge daily—unlike long-haul heavy trucks.
Cummins says it could capture about 15% of the hydrogen market as it develops.
Linebarger said government incentives could help spur private companies' interest in building this infrastructure. He also said that, in order for green technology to become cost-competitive, government needs to place a cost on carbon.
Carbon cost, or carbon pricing, refers to a variety of tactics designed to reduce carbon emissions by spurring clean-energy production.
Volkmann said he doesn't put much stock in Cummins' hydrogen market predictions because some of the variables around hydrogen adoption lie outside the company's control. "If we don't have a price on carbon, it's going to be tough, and that's out of their hands."
Kharbanda, too, said that, while green hydrogen shows promise, it's too early to know which green technology might emerge from the pack.
"There's just a tremendous amount of innovation happening, really driven in the European Union and China by public policy and driven in the U.S. by a combination of state policy and demand preferences," Kharbanda said. "It's extremely difficult to forecast."•
Please enable JavaScript to view this content.