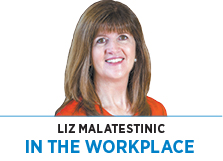 With the ongoing concerns about staffing issues, many employers may have missed the news about unions: They're back. That's an overstatement, of course, but the increase in unionization efforts over the last year has been eye-opening. Or at least, it should be.
Certainly, we are long past the days when unions held incredible sway in this country. Union membership numbers experienced a deep decline since their heyday of the 1950's, when roughly one out of three workers was a union member. By 2021, only 10.3% of the labor force belonged to a union, with most of those individuals working in the public sector. Indiana's union participation rates were even higher than the nation's in the 1950s and 1960s, but we experienced the same dramatic decline as the rest of the nation over recent years.
There are many reasons union membership declined so precipitously, but most obvious was the shift from a manufacturing economy to one driven by the service sector. Manufacturing jobs have traditionally been those with the highest levels of union participation, and whether it was due to outsourcing, offshoring or increases in technology, many of those jobs disappeared. In northwest Indiana, where I grew up, steel mill jobs accounted for nearly 30% of total local employment in 1969. That had dropped to 8% by 2002.
It made big news when the first Amazon fulfillment center voted to unionize in April 2022, but nowhere has the recent uptick in unionization been more evident than at Starbucks stores nationwide. It was just this past December when a lone store in Buffalo, New York, voted to unionize. Over 100 stores have voted to unionize since then, with more than two hundred more filing petitions for representation elections. Recently, a Starbucks in Clarksville became the first in Indiana to file.
The trend isn't limited to Starbucks, however. The National Labor Relations Board recently reported that petitions filed for union representation elections in the first six months of fiscal 2022 were up 57% over the same period in 2021. Unionization efforts at large employers like Amazon, Trader Joe's and Apple have made the news, but 80% of the petitions filed have involved companies with 50 or fewer employees. Industries that haven't traditionally been considered labor-friendly have also felt the impact, including health care, retail, transportation and higher education. It's worth noting that while union participation levels in Indiana remain low, those numbers increased somewhat last year.
What is the cause for this resurgence of interest? As Jason Greer, a former field examiner for the NLRB, told CNBC, "COVID was everything." Workers were expected to work in person during the pandemic, despite their fears and family concerns. Those in public-facing jobs had the added burden of dealing with a stressed-out and sometimes unreasonable clientele. Workers felt that far too much was asked of them without commensurate rewards, and many left those jobs. Those who stayed became more vocal about their concerns.
Another factor might be generational. According to Gallup, 77% of workers ages 18 to 34 approve of labor unions. Couple this with the fact that younger workers occupy many of the lower-paying jobs, which come with few benefits and erratic scheduling, and it's perhaps not surprising that this group is seeking its voice when it comes to conditions of their employment.
There are also political considerations. Under the Biden administration, the NLRB is proving itself to be very supportive of unionization—some would argue aggressively so. Proposals currently under consideration could significantly limit employer options in responding to unionization campaigns. Furthermore, any action that could be considered a potential unfair labor practice is now much more likely to be investigated.
The best defense is to be proactive. Ask yourself: Are your employees treated with respect? Are your policies fair and consistently applied? Are your schedule expectations reasonable? Do you offer encouragement and constructive feedback? Do you keep the lines of communication open? Do you act on employee complaints or hope they'll just go away?
Start by listening with empathy. When Howard Schultz recently headed back to Starbucks for yet another stint as CEO, one of the first things he did was embark on a listening tour. Time will tell if it helps, but one wonders if perhaps his labor troubles could have been avoided by scheduling that listening tour a year or two ago.
__________
Malatestinic is a teaching professor in human resource management at the Indiana University Kelley School of Business at IUPUI.
Please enable JavaScript to view this content.