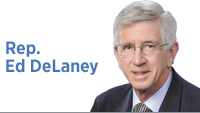 I am very much an observer when it comes to holiday cooking. But I do get asked to check on the turkey from time to time. Even the best bird is ruined if overcooked because of neglect. Well, it is time to look into the oven and see what the state's property tax caps have done to public education funding and what can be done to compensate for any shortfall.
The bad news is that the tax caps have hurt the 93% of our kids in traditional public schools. The good news is that state government is in a position to help.
The General Assembly rightly responded to the firestorm over escalating property tax rates that festered for years and reached a crescendo about 15 years ago. The solution promised a grand bargain: The state would cap property taxes at 1% of assessed value for homeowners but would take on the full cost of operating schools. Buses and buildings would still be paid out of local property taxes. The sales tax rate went up in turn.
A number of legislators warned that this bargain needed to be watched, that adjustments would be needed. Just like the family holiday turkey might need to be turned.
What has been the result? School districts do not have enough money to support our teachers. Indiana teaching professionals are in the bottom ranks when it comes to increases in teacher pay since 1999. As the chart shows, we were average in teacher pay for decades, but the Great Recession and the complete Republican takeover of state government in 2010 have ended that. Teacher pay is falling off a cliff.
So what is the Republican supermajority doing to help? The answer is equivalent to looking through the glass door of the oven, rather than using a thermometer to know precisely the temperature of the turkey.
It has tried two old-time techniques: fiddle around the edges and pass the buck to the locals.
First, lawmakers came up with a complex plan that would let some 290 school districts decide whether to share a modest pension saving with teachers. It will be hard to measure the impact, if any.
How are lawmakers passing the buck? We have fostered a growing last resort that lets districts hold referendums to raise tax money to boost teacher pay as well as buy buses, hire administrators and pay for school safety. Again, it will be hard to measure the impact. The citizens will often, but not always, respond positively. Districts with less in the way of property can choose to pay higher taxes or short-change their students. Meanwhile, legislators watch with arms folded across their chests.
By the way, the Legislature's fiddling isn't limited to the tiny help that came with the pension cost shift. Lawmakers have also gone negative by cutting the added support directed toward poorer students while raising the basic support given to all kids. Everyone is given a "choice," Republicans say. Move to a richer neighborhood if you can, or just live with shrinking support for your kids.
As a young man, I read the "Conscience of a Conservative," by Barry Goldwater. Years later, I got to cross-examine him in court. I remember one thing he said in his fight against a federal role in education. He asserted, correctly, that every state had enough money to support public education. What he didn't know was that Indiana would walk away from the responsibility that comes with having the means to act.•
__________
DeLaney, an Indianapolis attorney, is a Democrat representing the 86th District in the Indiana House of Representatives. Send comments to ibjedit@ibj.com.

Click here for more Forefront columns.
Please enable JavaScript to view this content.