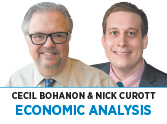 The Corporate Social Responsibility debate has been a pervasive topic in business education for over a century. The debate is often couched as a conflict between the shareholder view, which holds that the social responsibility of business is "to increase its profits," vs. the stakeholder view that the social responsibility of business is to serve the needs of "customers, suppliers, employees, the community and shareholders."
Business Roundtable, an association of large U.S. corporations, recently released, with some fanfare, a new statement on the purpose of a corporation that moves away from "shareholder primacy and embraces a commitment to all stakeholders."
On one level, we think this is unfortunate; on another level, we think it is irrelevant. Today, we'll examine why this might not be as earth-shattering as some are making it out to be.
Despite what some would have us believe, under the shareholder theory, corporate managers do have responsibilities to customers, employees, suppliers and the community. They are embedded in laws, specified by contracts and directed by what Milton Friedman called "ethical custom."
But more important, shareholder-focused corporate managers must incorporate stakeholders' interests because failure to do so inevitably harms the long-run financial interest of shareholders. Treating stakeholders well is in the financial interests of the shareholders.
As Columbia University finance professor J.C. Bonbright noted in 1926, "… as every hard-headed business teacher would admit, if you try to make the biggest profits in the short run you will not be doing the most good to society. But that is because you will not be doing yourself the most good. … The businessman who tries to higgle his wage-earners down to the last farthing or who says mean things to his stenographer may be richer next year, but in 10 years he will be a pauper."
Compare this to an IBJ interview of Tom Linebarger, CEO of Columbus, Indiana-based Cummins Inc., who signed and provided input for the new Business Roundtable statement. Linebarger told IBJ that serving the full spectrum of stakeholders might crimp companies' quarterly profits but doing so sets them up for long-term success and profitability. He noted that, when Cummins got state incentives to expand a Seymour engine plant, the company funneled the incentives into improving education in the community. That was a better long-term investment, he said, than using the incentives to show a higher profit in the short term.
Shareholders vs. stakeholders? A distinction without a difference?•
__________
Bohanon and Curott are professors of economics at Ball State University. Send comments to ibjedit@ibj.com.
Please enable JavaScript to view this content.