A top Indiana Republican lawmaker is warning schools to prepare for 15% less in base funding per student if all classes are taught virtually this fall.
Indiana Senate President Pro Tem Rodric Bray sent a letter to school leaders on Thursday that said there's "no guarantee" schools that choose not to resume any in-person classes due to pandemic health and safety concerns will receive 100% of the expected funding.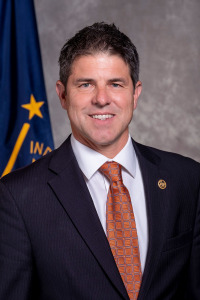 Under state law, schools receive only 85% of their per-pupil funding for students who receive at least half of their instruction virtually.
In June, Gov. Eric Holcomb promised that K-12 schools would not face cuts in state funding for the next school year and said he supported the Indiana Department of Education's decision to fund schools at the regular rate for all students, regardless of whether they were receiving instruction virtually or in-person.
Holcomb also said at the time that his administration and leaders of the Indiana General Assembly were in agreement on this issue.
"I think it's very important as we move through the coming months to know that there is some certainty," Holcomb said during the June 17 press conference.
In the letter, Bray acknowledged there is a commitment to provide 100% of funding for students choosing virtual education this fall. But he reminded school leaders that state lawmakers still have to approve that change in the funding formula.
"I believe there is a strong appetite for making that change," Bray wrote in the letter. "However, there is no guarantee such an exception will be made for schools that don't give families the option of in-person instruction in a school building."
He said schools that don't offer any in-person classes should expect to operate under the existing funding formula, which would mean 15% less in funding per student.
"I know it is difficult to operate with uncertainty," Bray wrote. "My hope is this letter may provide a bit more clarity as schools begin to open across Indiana."
The new guidance from Bray could cause a significant issue for some schools. Indianapolis Public Schools, for example, plans to keep brick and mortar schools closed and operate under an all-virtual format until at least October due to concerns about COVID-19.
A spokeswoman for Holcomb did not immediately respond to IBJ's request for comment.
Indiana Superintendent of Public Instruction Jennifer McCormick, a Republican, said she and other school officials were "extremely disappointed" with Bray's letter.
"The fluidity created by this pandemic has already added undue burden to districts who are focused on establishing and maintaining safe learning environments for students and staff," she said in a written statement. "A potential 15 percent cut per pupil is not sustainable at a time districts are working hard to create multiple learning platforms. Penalizing districts who cannot offer onsite instruction leads to dangerous decision making. I urge Governor Holcomb to honor the promise he made to Hoosier children to provide sustainable funding to K-12 schools, by calling a special session to address this concern. We must do better for our children and families."
Please enable JavaScript to view this content.