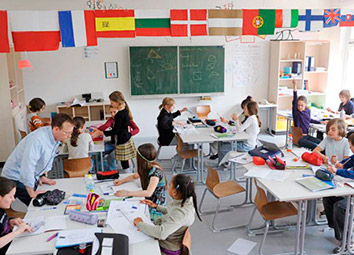 Gov. Eric Holcomb announced Wednesday that K-12 schools will not face cuts in state funding next school year despite significant revenue shortfalls after the coronavirus pandemic closed businesses and caused unemployment rates to soar.
Holcomb and state lawmakers have agreed to move forward with the current budget, he said during a scheduled video conference. That includes maintaining the planned $183 million increase in school funding.
The state is expected to end the fiscal year with a nearly $2 billion budget shortfall, said Indiana Office of Management and Budget director Cris Johnston—a big enough shortfall to potentially deplete the state's surplus.
Funding for K-12 education accounts for about half of the state's spending—more than $7 billion a year. Budgets for other state agencies have already been reduced and plans were released last week for public universities to take a 7% cut, worth $103 million.
Early in Indiana's coronavirus response, state leaders said K-12 funding would not change under the current budget. But their promises didn't initially extend beyond this year. The Indiana General Assembly is scheduled to set a new two-year budget in the upcoming legislative session, which is set to start in January.
School districts have been looking to lawmakers for financial assurances as they put together plans to reopen in the fall. New safety precautions recommended by the state could be costly to implement, and State Superintendent of Public Instruction Jennifer McCormick has cautioned that federal relief likely won't go far for most districts.
Holcomb also said he supports a decision by the Indiana Department of Education last week to protect schools from losing funding for students who choose to take classes online. Typically, online students are funded at 85% of what brick-and-mortar schools receive.
Holcomb, a Republican, is up for re-election in November.
Chalkbeat is a not-for-profit news site covering educational change in public schools.
Please enable JavaScript to view this content.