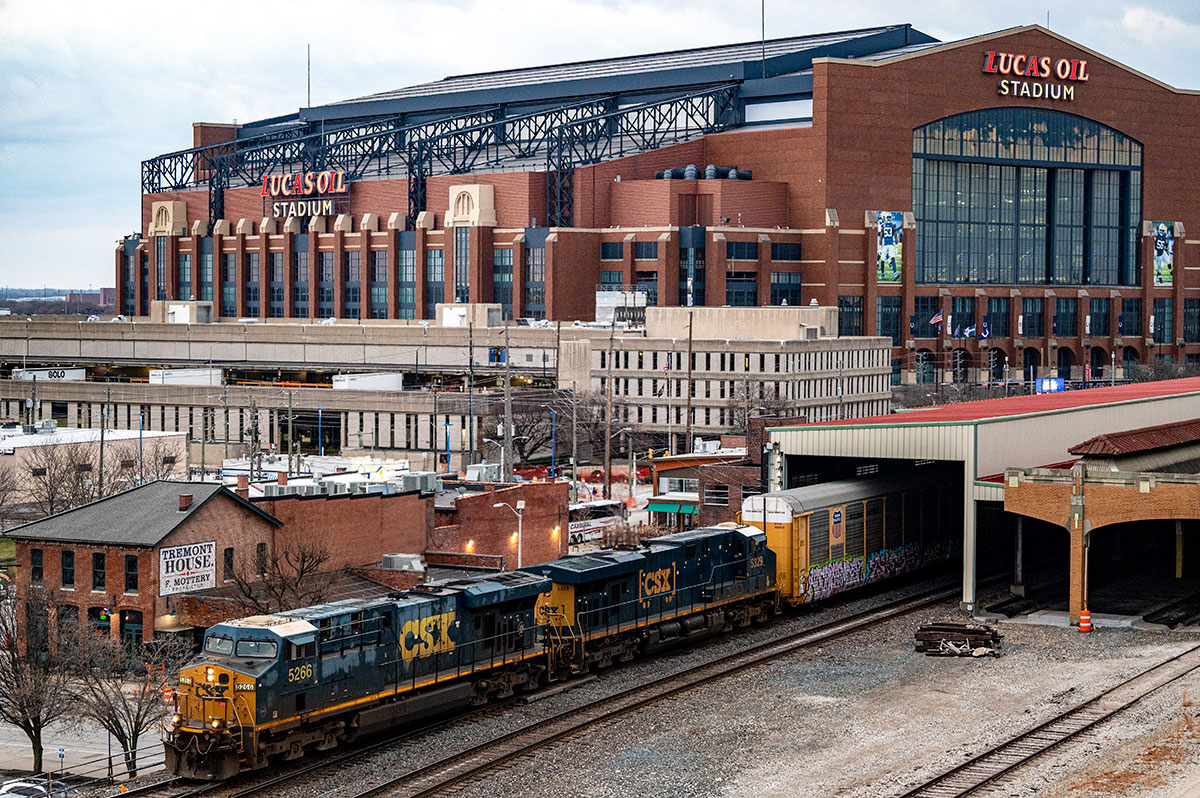 When a train derailed in the rural town of East Palestine, Ohio, on Feb. 3, spilling hundreds of tons of toxic chemicals, first responders evacuated 2 square miles—or more than half the town's 4,800 residents, who were advised to find temporary shelter.
In downtown Indianapolis, where train lines hug the eastern and southern boundaries of the city's Mile Square, a similar evacuation would affect tens of thousands more people—maybe more than 100,000—including office workers, residents, business owners and visitors, depending on the time of day.
It's a doomsday scenario that's unlikely to occur—though it was also considered highly unlikely in Ohio.
But a toxic spill on the tracks just north of South Street could mean the evacuation of at least a dozen office towers, hundreds of smaller buildings, as many as 25,000 residents, and guests at more than 20 hotels. What's more, three sporting venues—Gainbridge Fieldhouse, Lucas Oil Stadium and Victory Field—and the Indiana Convention Center are all within sight of downtown tracks.
"These accidents are rare," said Bill Beranek, who has led Marion County's Local Emergency Planning Committee since 1982. "But … I think about that scenario every day because those are big tankers.
"I would rank a train derailment as probably the top of the threats that downtown faces, in terms of [size] of the threat and the possibility of an accident occurring."
The Local Emergency Planning Committee is a group responsible for determining the appropriate response plan for any number of transportation disasters, including hazardous material spills on roadways or railroads.
Beranek said part of the reason he has remained involved with the organization for more than 40 years is because he is "concerned about" a derailment and leak occurring in the county—downtown in particular.
That's not to say he thinks an incident is bound to happen, particularly with the slower speeds required of trains passing through the city's core—about 15 to 25 miles per hour.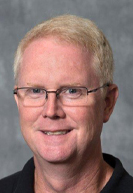 And Eric Dietz, a professor and security expert at Purdue University, said that, while the East Palestine derailment has reignited an interest in discussing the risks of rail safety, he'd prefer to see trains moving hazardous materials over semitrailers.
Still, he said, local officials need to be prepared.
"Like so many problems, this is a matter of risk management," said Dietz, who was the founding executive director of the Indiana Department of Homeland Security.
"We need to go through a process to allow us to manage these risks in an appropriate way—one that factors in our entire community," he said. "This recent issue with rail safety reinforces the needs to get information quickly and adequately to first responders so they can protect the community and themselves."
That's important because rerouting hazardous materials around cities—or even downtown—isn't terribly practical given that many companies that ship or receive hazardous materials are in urban areas. Plus, moving routes simply puts a different group of people at risk.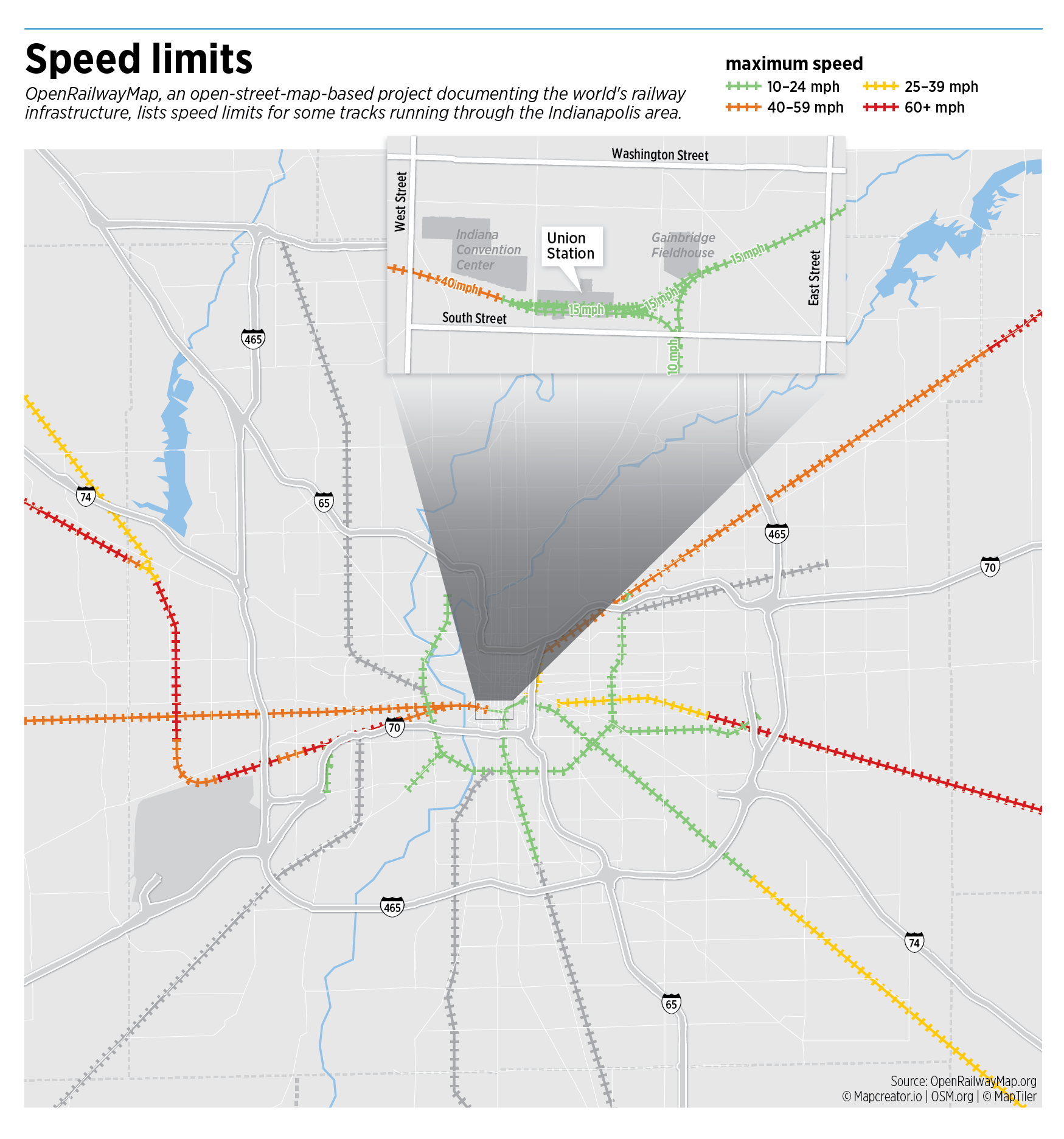 Difficult to track
Train derailments are rare. According to the Association of American Railroads, an industry trade group, 99.9% of trains complete their trips without incident.
And not every train carries dangerous chemicals. Many of the tanker trains that travel through Indiana transport only basic chemicals like petroleum-based lubricating oil for industrial and motor vehicle uses.
But some carry a variety of highly flammable liquids and poisonous gases, including ammonia, nitrous oxide and even vinyl chloride, one of the highly toxic chemicals spilled in the East Palestine derailment. All are used in common industries like manufacturing, health care and construction.
"It is a challenge that we have an economy that requires the movement of those things to drive and create aspects of industry," said Ehren Bingaman, managing principal of Florida-based consulting firm TransPro and a professor of transportation design at Ball State University.
"I personally have confidence in the safety record of freight rail providers," he said. "But unfortunately, accidents sometimes happen, and the [situation] in Ohio is terrible. It's definitely a good opportunity to do a comprehensive checkup of our infrastructure network and safety understandings."
According to the Indiana Department of Transportation, 29% of all cargo that passed through Indiana in 2018—the most recent for which data is available—was considered hazardous material.
But hazmat shipments generally go unnoticed in the communities through which they travel, largely by design. Rail companies—including Jacksonville, Florida-based CSX Transportation and Indianapolis-based Indiana Rail Road Co., the two major carriers that go through Indianapolis, and Atlanta-based Norfolk Southern, which operates in other parts of the state—generally keep their shipping manifests confidential to mitigate security risks, Bingaman said.
The companies don't provide manifests to state or local governments, although some officials are authorized to request shipment information.
The state is only preemptively notified of a hazmat shipment if it meets a federal designation as a high-hazard, flammable train, which means it contains either 35 total or 20 consecutive tank cars loaded with a Class 3 flammable liquid, a category that includes materials that in a liquid phase have a flash point at or above 100 degrees.
About a dozen high-hazard trains go through the state each week, but generally only cross through Indiana's northernmost counties, according to the Indiana Department of Homeland Security.
Stephen Jones, who was appointed state fire marshal by Gov. Eric Holcomb last year, said the rail situation is similar to the transportation of hazardous waste by truck, which doesn't require notice to state and local governments, either.
"We don't know at any given time—on the road or on the rail—when these [materials] are going through, unless we specifically ask," he said. "There's so much of it that goes through the state all the time, and it's not just being brought through on high-hazard trains. We have semi loads all the time with hazardous materials, and rail lines have hazardous materials all the time. In my world, pretty much every train is carrying" dangerous materials.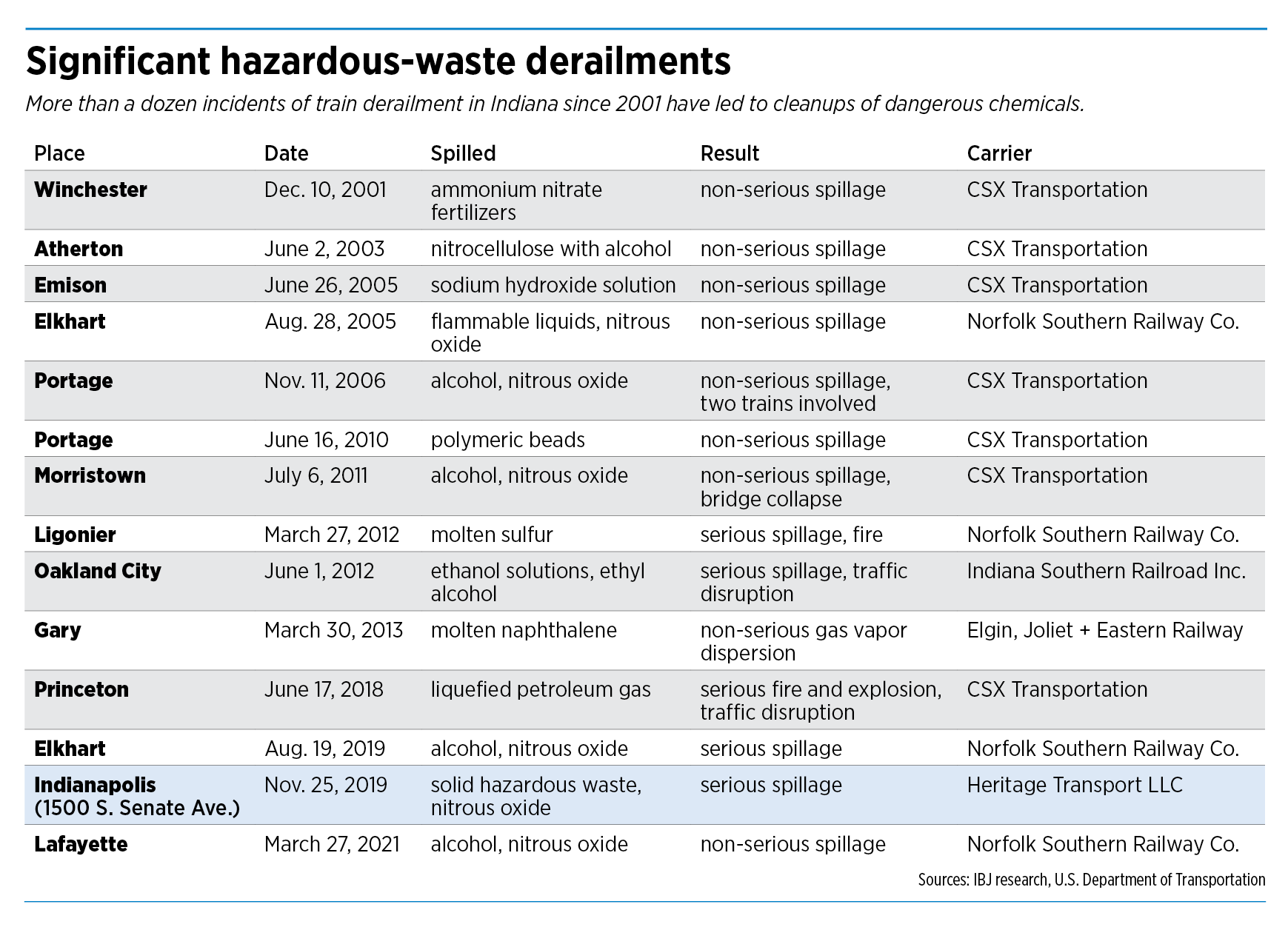 Required markings
Markings and placards are required for the transfer of hazardous material by rail, with a clear label as to a tanker's contents. That means watching trains as they pass by can offer clues as to what is going through the Circle City.
For example, on March 6, a nearly 2-mile-long freighter moving northeast from Fortville had 14 hazardous material cars, including at least nine that contained flammable liquids. Another that passed through Union Station the same day had at least 10 chemical tankers, including four marked as hydrochloric acid and a handful containing other hazardous substances or waste.
Transporting hazardous material in a tank that isn't up to industry standards requires approval from the U.S. Pipeline and Hazardous Materials Safety Administration, a division of the Transportation Department.
Since 2021, the agency has granted 50 such approvals for cargo originating in, passing through or destined for Indianapolis, according to an IBJ analysis of federal data. The tankers carried chemicals that included asphalt, molten sulfur and phosphoric acid. The tankers' problems included deformed valve fittings, damage to the container and excessive weight.
And any company transmitting hazardous material needs approval.
Eli Lilly and Co. and Indiana Oxygen Co. Inc. are among the local companies given approval to ship specific hazardous products by rail, including materials in categories like flammable liquids, hazardous waste and non-flammable gases. Other Indiana operations permitted to transport hazardous material include Evansville-based Tri-state Aero Inc. (explosives and nitrous oxide) and Purdue University (explosives).
Safety first
In a statement to IBJ, CSX said it considers the safety of its employees and the communities in which it operates the company's "highest priority," noting that, since 2019, it has had the fewest train accidents and related injuries of any major U.S. carrier.
According to data from the Federal Railway Administration, CSX has had nearly 1,200 accidents in the past four years.
"In the state of Indiana, CSX invests nearly $100 million annually in the infrastructure and maintenance of roughly 2,500 miles of track," the statement said. "The transportation of all of our freight, including hazardous materials, is done in accordance with strict federal regulations and it is important that we are able to operate safely in order to carry out our common carrier obligations."
Dietz said he considers rail to be a much safer means of transport than trucks, which are exponentially more likely to be involved in wrecks resulting in hazmat spills. Even so, most trucks are limited in where they can travel with hazardous materials—they are generally restricted to the Interstate 465 loop in central Indiana. Trains have no such restrictions.
"Looking at it from the safety perspective is the only way to do it," Dietz said. "And it's so much safer to move by rail generally than truck and other methods."
Train derailments involving hazardous material are rare in Indiana. And when they do occur, they're often in controlled environments like rail yards.
Since 2001, there have been just over a dozen major derailments involving hazardous waste across the state, with the most recent significant incident occurring in June 2018, when a train carrying propane derailed and caught fire in Princeton. No injuries were reported.
In 1999, a train carrying explosives toppled just outside the Crane Naval Surface Warfare Center, although none of the munitions fired.
Beranek said the Marion County emergency response committee hasn't requested a breakdown of specific hazardous materials that pass through Indianapolis for several decades because it wouldn't be helpful to the work the organization does. That's because most central Indiana first responders are trained to respond to any hazmat situation and assume that just about any cargo could be on any train.
"We know we're on a major east-to-west route, so anything can come through," Beranek said, adding that he believes Indianapolis would have been able to answer more quickly than officials in East Palestine did because it has a larger emergency response network.
"We're ready for everything," he said.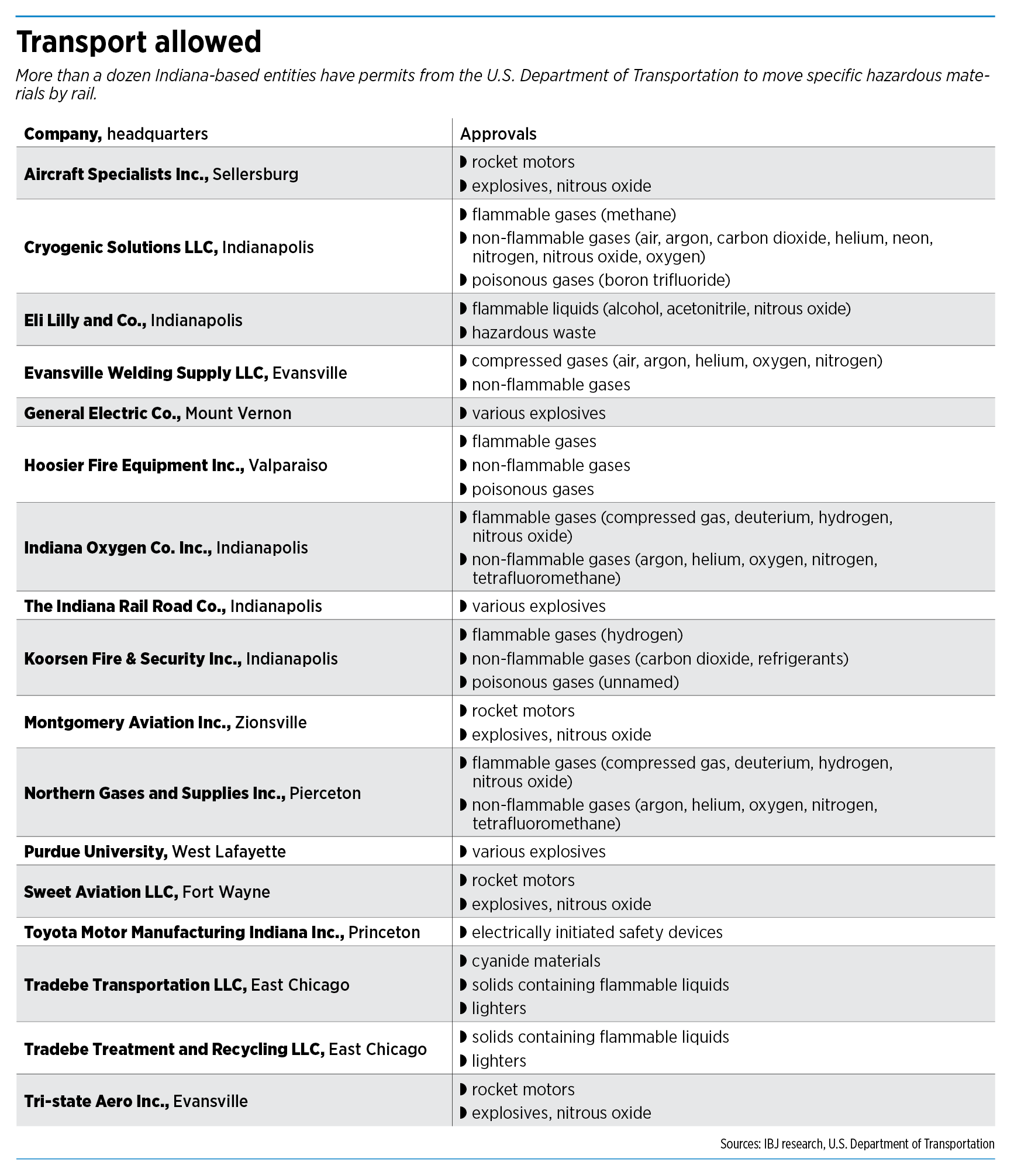 Few alternatives
Beranek said he would be interested in moving train operations out of downtown, but that making it happen would be challenging and create problems just as difficult to navigate.
Several officials have proposed such an idea over the years, suggesting at times that trains be diverted onto little-used branch tracks that go through the east, west and south sides of the city. That route would cut past the new Community Justice Campus and directly through the Old Southside and The Valley neighborhoods, as well as several other densely populated residential areas.
"If you handed the project to a group of civil engineers and asked what the cheapest way to get around downtown would be, they'd go right by the jail," Beranek said. "And they'd go right by other places that I wouldn't want a train to be.
"It would be better, and I wouldn't have to worry so much about downtown," he said. "But is it significantly better for the train to go by other people? I would just shift my attention to worrying about those other people."
In addition to the complexities associated with finding an alternative route to downtown, the cost would be exorbitant.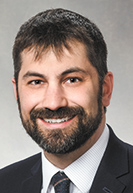 Thomas Cook, a former chief of staff for Mayor Joe Hogsett, said he'd been told moving train routes out of downtown would cost $500 million to $2 billion and would require cooperation from CSX.
"Relocating one of the highest-volume train lines in the state is just a fundamentally different type of project" than what the city is equipped to handle on its own, Cook said.
It would "therefore require a collaboration across local, state and federal governments—and, frankly, the political will to spend historic sums of money to try to entice CSX to do something they are under absolutely no obligation to do," he said.
That's not to say the city hasn't tried over the years to make moves. During former Republican Mayor Steve Goldsmith's administration, in the 1990s, city officials looked into removing the rails to promote various economic development initiatives, pegging the cost at that time to be anywhere from $200 million to $400 million.
In 2003, when Bart Peterson was the mayor, city officials worked with Lilly on a proposal to shutter the downtown tracks in favor of the outer-belt route, but the idea went off the rails due to the cost, then estimated to exceed $500 million.
The city's most recent effort to find a new route for the CSX line came in 2021, when it issued a request for qualifications—which was later abandoned—in hopes of finding a partner that could persuade CSX to relinquish control of several crossings on the east side of downtown, mostly with the goal of upgrading the crossings.
Although that project didn't go far enough to result in cost estimates, several sources told IBJ that moving the lines would now cost $1 billion to $2 billion.
City spokesman Mark Bode told IBJ in a statement, "There is no active conversation regarding rail relocation," but that the city remains open to conversations about funding such a project.
"Currently, the city has limited options regarding changes to the rail lines downtown, as CSX owns the rail infrastructure," he said. "We anticipate that any rerouting would result in significant public cost and require federal cooperation and assistance."
The city also seems keen on making the most of current federal proposals to develop a stronger inter-city rail system, which would strengthen Indianapolis' connection to Chicago and add routes.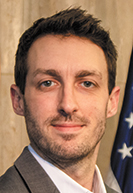 Rusty Carr, interim director of the Indianapolis Department of Metropolitan Development, said the city hopes to leverage the proposals into new opportunities for passenger carriers.
"We really need to make sure we're aligning our resources that put us in the best possible opportunity to support a better, higher-quality and more frequent service," Carr told IBJ in January, when discussing improvements to several railroad underpass areas on the south end of the Mile Square. "So, I think that's kind of where our mind is focused at this point, given federal priorities—we're just making sure Union Station is the best that it could possibly be."
What's next?
In the wake of the East Palestine derailment, federal officials are continuing to consider how best to mitigate hazardous material spills in the future, but it's not clear what the measures could mean—if anything—for the transport of chemicals through Indianapolis.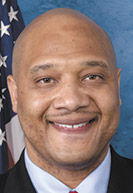 U.S. Rep. Andre Carson, a Democrat and senior member of the Transportation and Infrastructure Rail Subcommittee in the House of Representatives, said he plans to continue pushing for legislation that stops trains from blocking rail crossings, as well as other rail-safety initiatives, but he stopped short of pushing to fund the removal of rails through downtown.
"Rail lines in Indianapolis, including those that run through downtown, help drive the economic engine of our entire state, and the rail industry employs thousands of Hoosiers," Carson said.
"The safe, regulated transport of hazardous materials occurs on a daily basis in communities across our country," he said. "While it appears downtown residents and visitors face no immediate threat, I will continue to work on a variety of rail safety issues to allow this important industry and its employees to operate safely, and to protect our communities from future accidents or injuries, particularly from improper handling of hazardous materials."•
Please enable JavaScript to view this content.