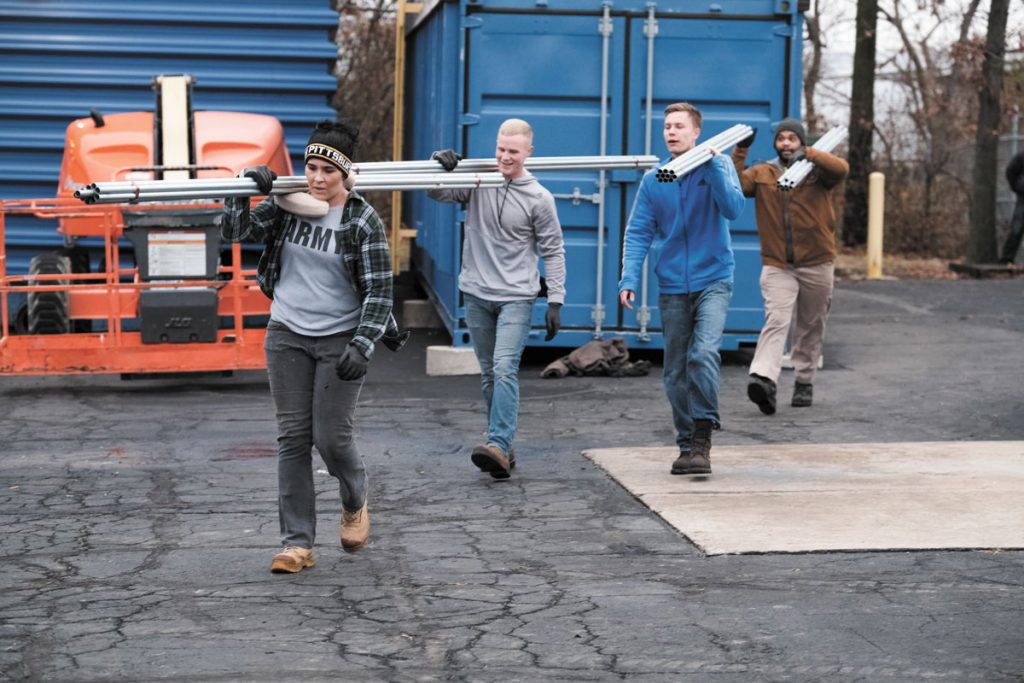 The state's construction sector is sizzling hot—adding nearly 10,000 jobs over the past year.
And workforce experts predict growth to continue, with another 13,000 additional positions over the next five years, making it imperative the industry appeals to the future workforce.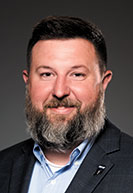 It's a big turnaround from the Great Recession, when the construction industry cut thousands of jobs.
From September 2018 to September 2019, the sector added 9,800 jobs, according to the Indiana Department of Workforce Development's October unemployment report. That ranks Indiana sixth in the nation in the increase in construction jobs in the past year, the DWD found.
But finding employees for those jobs is difficult.
The state's unemployment rate in October was 3.2% and has been below the national rate for months. The state's workforce is considered fully employed at that rate, meaning anyone who wants to and is able to work can find a job.
The resulting worker shortage across the board is compounded in the construction industry by the number of people leaving the sector. Statistics show nearly half the people working in construction are 45 years old or older and therefore nearing retirement.
In Indiana, as much as 20% of the workforce employed in core construction and extraction operations is at least 55 years old.
The U.S. Bureau of Labor Statistics estimates 200,000 construction jobs will open each year across the country through 2026.
"The need for replacement jobs due to retirements plus general labor force churn in these occupations is high," said Fran Valentine, director of research and analysis for the Department of Workforce Development. "When you add in the healthy job growth we are seeing, we have a lot of work that needs to be done when looking at the total projected openings that will need to be filled in the construction industry."
The industry is already feeling the pain of too many jobs and not enough workers.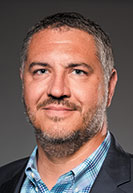 A survey by Associated General Contractors of America showed that, in 2018, 72% of Indiana contractors surveyed reported a difficult time finding skilled trade workers to fill open positions, despite growing business. The shortage of qualified workers has forced some builders to turn down projects, accept new orders at slower rates than in the past, and cancel sales, according to the National Association of Home Builders.
That's why labor- and construction-focused organizations are hyper-focused on meeting the future workforce as early as possible. In the past few years, myriad organizations and initiatives have emerged to address the shortage of workers.
At a statewide level, the Indiana Construction Roundtable Foundation was formed about five years ago to spearhead a recruitment initiative called Build Your Future. In 2016, representatives of the state's building trades apprenticeships came together to market themselves as an industry, rather than as individual crafts, launching the Indiana Careers in Construction Association's Built to Succeed initiative.
There's also the Next Level Jobs initiative—a facet of Gov. Eric Holcomb's Next Level Indiana agenda. The program provides Hoosiers with free training in high-paying, in-demand industries, including construction.
Economical alternative
The goals of all the programs are similar: Educate young people—and their parents who often help make decisions about what comes after high school—about what the trades can offer. The jobs typically pay well, are expected to be high in demand in coming years, and generally require less than a bachelor's degree, making them a cheaper alternative than jobs requiring a four-year college degree.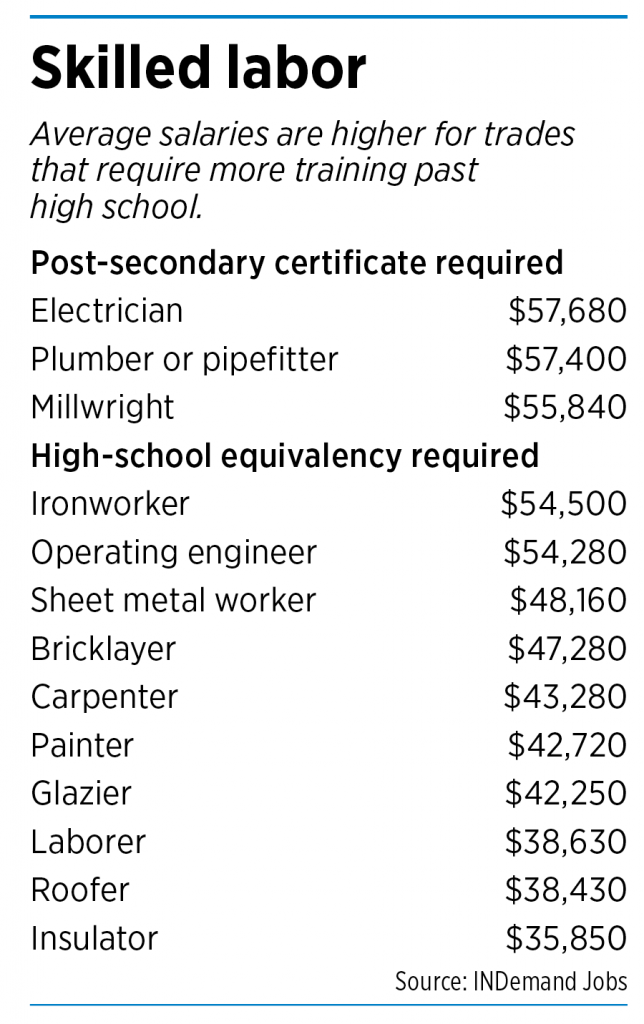 Plumbers, pipefitters and steamfitters, for example, are among the highest in demand construction-related jobs in the state, with an expected 14,000 job openings from 2016 to 2026. While they require post-secondary schooling, they don't require a bachelor's degree. And the average salary for those positions is $57,400, according to the Indiana Career Ready tool INDemand Jobs.
Electricians can earn an even higher salary, at $57,680, and project 19,000 job openings by 2026.
Those working in the trades want young people to know they're a viable career option.
Jon Hooker, business representative at International Brotherhood of Electrical Workers 481, said the organization has attended more than 100 high school job and career fairs over the past year, encouraging students to consider IBEW's five-year apprenticeship.
"Part of our marketing, our message, is that the trades is a viable career—that IBEW is a career, not just a job," he said. "You can earn a good wage and retire with dignity."
Hooker said that message used to be relayed to students in shop classes, but it was lost when schools began eliminating those courses. As a result, IBEW and other trade organizations have had to step up their marketing. As students make decisions about whether college is for them, it's important to know they have other options, Hooker said.
An apprenticeship with IBEW often doesn't cost students any money, and they can earn while they learn. That's a message the group tries to capitalize on.
"The thought of having debt and searching for a job is about the scariest thing some of these young people hear nowadays," said Jason McIntosh, membership development coordinator for IBEW. "We go to our apprenticeship, go through the five years, have zero debt, and as a journey wireman, after completing, we make six figures [when accounting for salary and retirement] and paid-for health care. That just doesn't happen in the same percentage coming out of college anymore."
Lance Bradbury, also a business representative for IBEW, said he got into the trades right out of high school, and as a result, he now has built a substantial pension. Daily, he interviews men his age trying to get into the trades who have missed out on the retirement benefit he received by joining early on.
Reaching out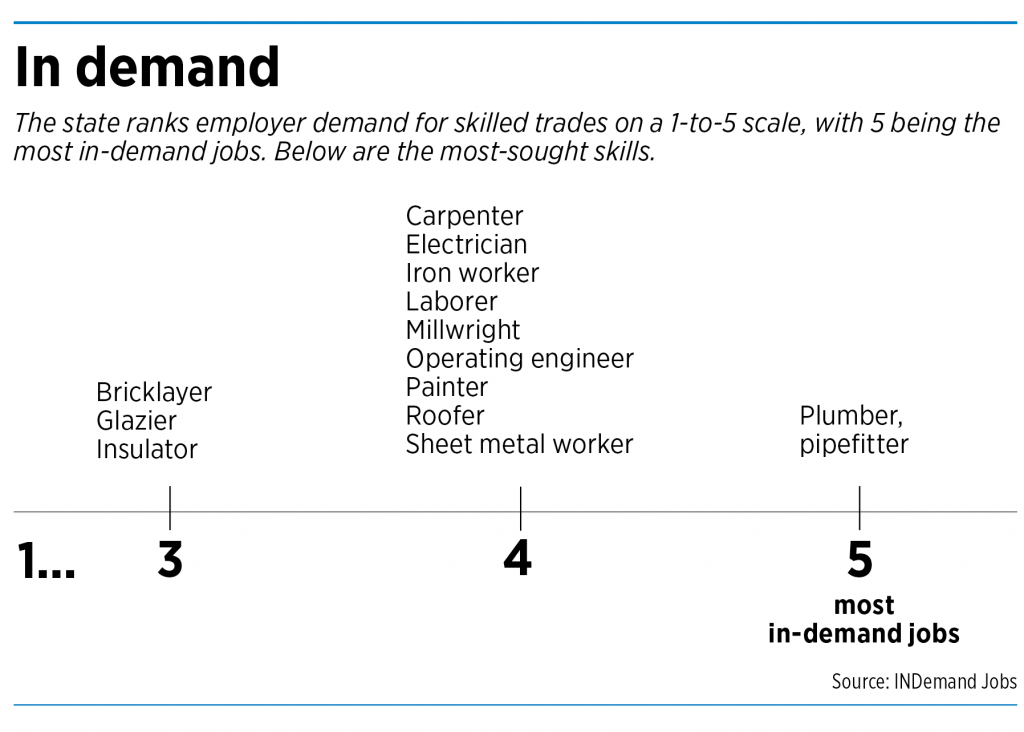 Over the past few years, IBEW has made a concerted effort to meet high-schoolers who might be interested in the trades through social media and other platforms. The organization also participates in the Operation Football Friday Night Lights program sponsored by WTHR-TV Channel 13 and WZPL-FM 99.5.
The Indiana Careers in Construction Association's Built to Succeed program has made similar efforts. The association, which represents more than 60 construction apprenticeship training facilities throughout Indiana, has partnered with the Indiana High School Athletic Association and is often represented at sporting events to meet potential apprentices.
Jim Patterson, chair of the Indiana Careers in Construction Association, said current apprentices, also known as cast members, make the best marketers. Earlier this month, cast members went to an Indiana Pacers game to meet families and talk about their training. They also have taken over the association's social media accounts, using them to tell their stories.
As a result of those efforts, the association is seeing a record number of applicants for various apprenticeships, Patterson said.
Applicants can submit a common application to the association on which they list a desired trade. Then, those applications are passed on to the various trades by the association. The association's website gives students an idea of what each trade entails.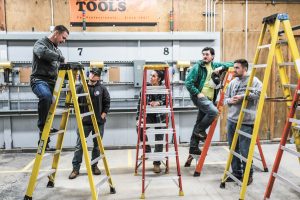 Students can cross-reference that information with the state's INDemand Jobs portal, which will give them an idea about the pay and demand for each position.
Valentine, the researcher at DWD, said the construction industry will see more than 13,000 jobs added across the state over the next five years. It's growing at about the same rate as Indiana's tech industry, she said.
That makes it a very strong market in terms of job potential. Occupations in demand now are first-line supervisors, construction laborers, HVAC techs, carpenters and operating engineers, Valentine said.
In coming years, solar-panel installers will also be high in demand.
Patterson warns the trades aren't for everyone. An apprenticeship is a four- or five-year commitment, in which candidates are typically working during the day and taking classes at night or on the weekends.
"As the proud father of a sophomore at Ball State, I know what's it's like to write that $20,000-plus check a year for tuition and room and board," he said. "No student debt at the end, that's a heck of a deal. But it takes a commitment on their end. It's not easy."•
Please enable JavaScript to view this content.