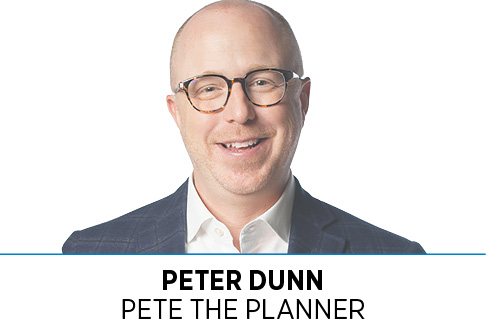 I heard some colleagues talking about discretionary spending the other day, and it got me thinking about how much money I allow myself to spend in any given month. I typically give myself some cushion for dining out and a random purchase here or there, but beyond that, I keep a pretty low balance in my checking account because I tend to spend more responsibly if I limit the amount of money I have access to.
How do you think about discretionary spending?
—Kate, Indianapolis
I could make up a lie about how concerned I was about fraud or something, but that simply wasn't the case. I wanted to know how much money I had to spend, at any given time. It was as addictive (and unhealthy) as social media is, in most respects. When I made much-needed changes to this very common strategy, both my spending and savings habits benefited greatly.
What I'm saying, Kate, is, like you, I've had to trick myself into relatively responsible spending decisions, and I don't regret it one bit.
The first rule of discretionary spending is to make the category discretionary, not the amount. Living a "no limit" lifestyle is the aspiration for many, but it's unhealthy and wasteful. Feel free to set aside $500 (or some other specific amount) for whatever moves you, but don't set aside a blank check for whatever moves you. Refusing to quantify your discretionary budget is the mark of the underachiever.
I can't even begin to tell you the number of times I've encountered high-income earners who underachieve specifically due to their unwillingness to put reasonable financial constraints on themselves. It's often made worse with giant checking-account balances, which can present seemingly limitless possibilities. You might view that extra money in your checking account as your first layer of savings, but it's equally tempting in its abundance.
Thus, the second rule of wise discretionary spending: Keep excess money out of your checking account.
For a moment, imagine you have two bags of Cheetos. The first is a single-serving bag, like you might find at your local sandwich shop. The second is one you might procure at Sam's Club. You know, a bag big enough to feed the Colts' offensive line.
Upon opening the bags to orange-up your fingers, which bag will likely lead to more consumption? The giant bag.
The smaller bag would have done the job, but the presence of the additional 35 pounds of Cheetos led to more consumption. This is exactly why I keep a very low checking-account balance. Excess supply will find itself consumed.
I call this process "balance spending." When you log in to your checking account and notice an excess amount of unspoken-for cash, you are more inclined to find something to speak for it. Whereas, if your balance remains purposefully lean, you're less likely to find ideas for your money.
Transfer excess money out of checking and into your savings account. It will decrease the amount you waste on a monthly basis. And, if this notion makes you incredibly nervous, then absolutely do it. For instance, if you get nervous if your balance drops below $5,000, then make your balance $3,000. Your habits and decisions will then take your balance back up to $5,000 as the low point. Then transfer the money out again. Sometimes, having too much of a cushion can induce more spending and lead to inefficiencies.
The same phenomenon can happen when people use their credit card as the primary means of spending as opposed to their debit card. The mere fact that real payment isn't due "at" acquisition, but instead up to 30 days later, can significantly influence both spontaneity and self-generosity.
My final rule of discretionary spending revolves around when to indulge at all. If you're struggling with consumer debt or a low savings-account balance, allocating significant funds toward discretionary spending isn't a great idea. I'm all for self-care and enjoying life, even when you're not completely financially stable, but people can perpetuate their struggle unnecessarily by prioritizing free spending over finding solid ground.•
__________
Dunn is CEO of Your Money Line powered by Pete the Planner, an employee-benefit organization focused on solving employees' financial challenges. Email your financial questions to askpete@petetheplanner.com.
Please enable JavaScript to view this content.