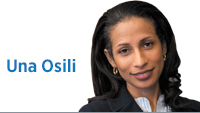 The nation and the world witnessed the fatal police beating of Tyre Nichols in Memphis. The country's anguish was evident as videos were released to the public. Nichols, a 29-year-old FedEx worker and father to a 4-year-old boy, died three days after the police beating on Jan. 7.
His brutal death has reignited discussions about policing reforms, its use of force, and racial injustice. We have heard these urgent calls for policing reform and racial justice before.
In the aftermath of the tragic killings of George Floyd, Ahmaud Arbery, Breonna Taylor and Jacob Blake, nationwide protests and outrage led to swift philanthropic commitments and calls for reform. Urgent calls for policy reform and racial equity were heard in business and across many sectors. Many corporate leaders—including executives at Nike, Walmart and Amazon—announced their support for policing reforms. Leaders and advocates called for comprehensive police training, deescalation and crisis intervention, and the establishment of a national registry for police misconduct, among other changes.
While the data shows a surge in giving and advocacy toward racial equity and reforms, it is far more challenging to measure the progress that has taken place.
According to a recent report by The Washington Post, America's 50 largest public companies and their foundations announced nearly $50 billion in commitments to address racial equity. It was the first time corporations had announced sizable commitments to racial equity causes based on Candid's tracking. Three issues emerge in tracking how much has been accomplished.
The first challenge is that analysts often need a more explicit consensus on defining racial-equity giving. According to the Center for Assessment and Policy Development, racial equity refers to "the condition that would be achieved if one's racial identity no longer predicted, in a statistical sense, how one fares."
Giving to racial equity includes donations to established organizations like the NAACP Legal Defense and Educational Fund and the National Urban League, and historically Black colleges and universities. However, grassroots organizations and community-based organizations engaged in policing reforms might be less likely to be recipients of sizable corporate donations. Moreover, determining how communities of color are benefiting is difficult because tax data for not-for-profits does not include racial identifiers.
A second concern is, there are few established conventions for tracking the fulfillment of pledges focused on racial equity. It has been challenging to assess whether company pledges were disbursed and whether funds have been allocated to intended organizations. Unlike foundations or public charities, specific aspects of corporate philanthropy (other than giving by corporate foundations) are not generally publicly available. It also needs to be determined how much funding has been deployed to address policing reforms. Another area for improvement in tracking outcomes is that results might take time to understand fully. There are few resources for companies to determine how to target funding for police reform and social justice. Companies might also need to commit to transparently sharing how their initiatives lead to noticeable change. More resources are required for companies and their stakeholders to evaluate progress toward goals.
Tyre Nichols' brutal death at the hands of those charged with protecting him reminds us of the tragic burden of stalled reforms. We must ensure that the swift public calls and outrage do not lead only to temporary surges in action. We also must commit to sustained momentum and reform. This time, we must demand change.•
__________
Osili is professor of economics and associate dean for research and international programs at Indiana University Lilly Family School of Philanthropy. Send comments to ibjedit@ibj.com.

Click here for more Forefront columns.
Please enable JavaScript to view this content.