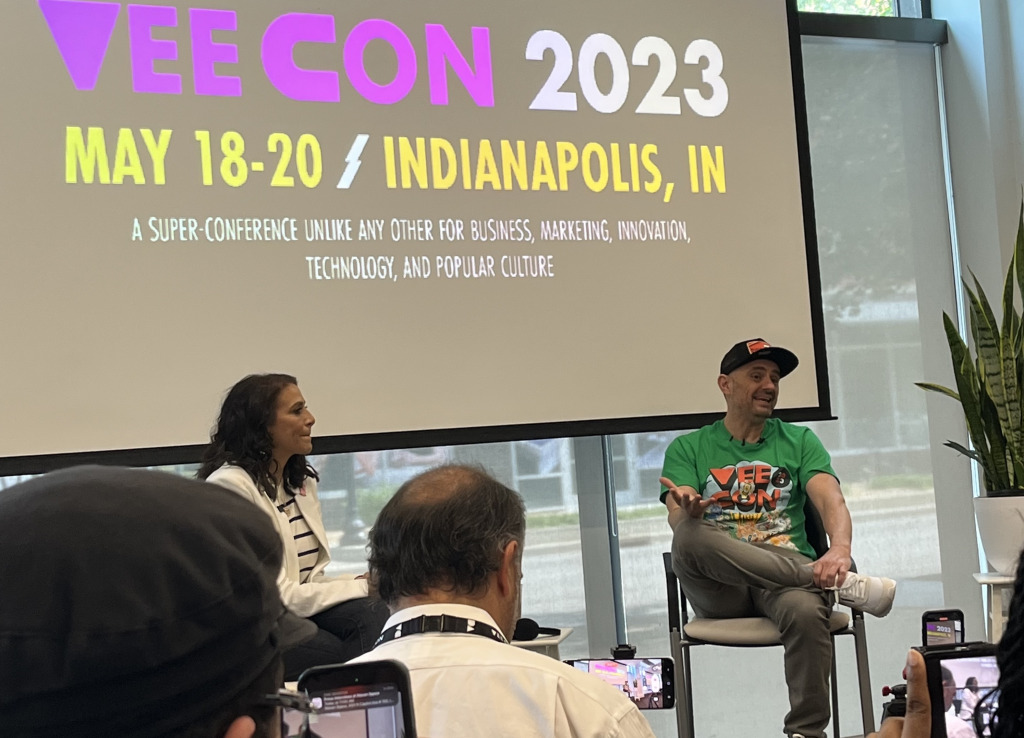 The digital collectibles known as NFTs, or non-fungible tokens, have drawn a lot of attention over the past two years as their value and popularity soared—and then crashed.
But to think of NFTs as mere collectibles is to miss the mark, says marketing guru/public speaker/entrepreneur/NFT believer Gary Vaynerchuk, who is in Indianapolis this week for VeeCon, his tech/pop culture/business convention that's now in its second year. The event, which kicked off Thursday, runs through Saturday at Lucas Oil Stadium.
Vaynerchuk, who has more than three million Twitter followers and tweets as @garyvee, said he's still hugely bullish on the future of NFTs, despite the crash that saw the collectibles lose some 90% of their value since their peak. "It doesn't take away that the technology is profound," Vaynerchuk said during a media access session Thursday that drew about 50 people in downtown Indianapolis.
Admission to the conference requires the purchase of a VeeFriends NFT—a series of animal characters Vaynerchuk created, including Respectful Raccoon, Helpful Hippo and Patient Panda. About 7,500 people are expected to attend, some from as far away as Asia.
Nonfungible tokens cannot be copied, and their ownership and authenticity is established on a blockchain. That, Vaynerchuk, makes NFTs and blockchain technology useful in a range of ways, especially as the use of artificial intelligence becomes more widespread.
"I believe the blockchain is about to become the most important technology in the world because it proves provenance," Vaynerchuk said.
As an example, within the next several years, he predicts creators will be able to use the blockchain to authenticate their videos as a way to protect against the deepfakes that will become prevalent with the spread of AI.
The technology will also be a way for companies and creators to protect their intellectual property, which Vaynerchuk predicts will motivate companies to focus on blockchain and NFTs if they haven't already. "All of them are going to care about it soon, because copyright and trademark issues with AI are going to be profound."
Vaynerchuk, who was an early investor in the social media platforms Facebook, Twitter and Snapchat, is now focusing his attention on Web 3.0, which incorporates artificial intelligence, machine learning and blockchain technology.
VeeCon's roster includes more than 175 speakers and panelists including actors Neil Patrick Harris, Drew Barrymore and Jessica Alba; rapper Busta Rhymes; music producer Timbaland; Mattel Inc. President Richard Dickson, and Under Armour founder Kevin Plank, among others.
Last year's inaugural VeeCon took place in Minneapolis, Minnesota. Next year's location has not yet been announced.
Vaynerchuk said he chose Indianapolis for a few different reasons. The city's infrastructure, including its airport, easy highway access and other logistics were one factor, he said, and its welcoming culture fits in well with his own belief in the power of kindness.
"I'm sure, for anyone who's caught any of my content, that this concept of being nice but being the killer in business is who I am. I want more of that. I don't think nice guys finish last," Vaynerchuk said. "I think that's a terrible statement. That puts a lot of people off, and it causes people to not be as civil, as kind, as they're capable of being. I don't think the world is scarce. I think there's plenty for everyone. I really believe that."
Indianapolis was also a good choice for a more marketing-savvy reason, Vaynerchuk said: It's a city where VeeCon can be "the center of attention."
VeeCon attendees flying into the Indianapolis International Airport this week, for instance, were greeted with large VeeCon signs as well as a VeeFriend character perched atop an "INDY" photo op station.
"Taking over the airport visuals—that's impossible for us to take over the entire conversation in Las Vegas, Miami, New York, Los Angeles," Vaynerchuk said in response to a question about whether he had considered taking VeeCon to one of those cities. "I love those places. But the ability to kind of own the moment [in those cities], we're not at that scale yet. You know, we're not that brand yet. … Maybe one day, but those cities are too competitive for what I want to accomplish in a three-day window, a four-day window."
Whereas last year's VeeCon was focused on the basics of what Web 3.0 is about, Vaynerchuk said, this year's event has more of a pop culture and tech emphasis.
Vaynerchuk said pop culture can provide invaluable business insights, especially if you can figure out why things are happening: What caused high-waisted "mom jeans" to come back into style? Why are people interested in the health trend known as clean eating?
Whether someone is trying to raise capital, launch a company or succeed in some other venture, Vaynerchuk said, "if you don't understand where the attention of the consumer is, you're in trouble. … The best way to understand humans and consumer insights is to have an incredible pulse on pop culture."
Please enable JavaScript to view this content.