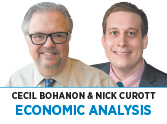 As we wrote a few weeks ago: "According to the U.S. Bureau of Labor Statistics, in July 2019, 12.9 million people worked in manufacturing in the United States. That's a sliver of the 151 million people employed today. Seventy years ago, in July 1949, the total number of people working was 43.5 million, and more than a quarter of them, 13.2 million, worked in manufacturing."
Our BSU colleagues Mike Hicks and Dagney Faulk have extensively documented what most all economists know: The decline in manufacturing employment is overwhelmingly attributable to technical innovations that have increased worker productivity.
Yet politicians at both ends of the spectrum continue to repeat the canard that U.S. manufacturing jobs have been lost primarily because of foreign competition. The nationalist conservatives see the culprit as conniving foreigners, whereas woke progressives add greedy billionaires to their cast of villains. According to this narrative, we simply need to elect leaders who are tough enough to stand up to these cretins, and high-paying manufacturing jobs will pop up like dandelions in the spring.
So why do voters fall for this line? Enter the theory of rational ignorance. People have an incentive to be well-informed about aspects of their life where they have a significant financial interest and where their choices are likely to be decisive.
If John Doe buys a new $30,000 truck, John likely knows about its gas mileage, its hauling capacity and its reliability record—after all, he is going to live with the truck. But, more important, he and he alone makes the decision as to which truck to buy.
However, when John makes a choice at the ballot box, the conditions are quite different. Ballot-box outcomes depend upon John's choice and those of a multitude of other voters. Although the outcome of an election might ultimately have an impact on his well-being that's of a similar magnitude as his truck, John's vote is rarely decisive. In a national election, the odds of any one individual's vote changing the outcome is close to nil. Therefore, John is rationally ignorant.
Politicians know this. That's why they appeal to voters' visceral emotions by reducing complex issues to simple stories of good and evil. Of course, the poor victimized voter and the noble politician are the good guys; the unknown foreigner and/or rich billionaires are the evil ones. People can understand that. More to the point, they have little incentive to learn otherwise.•
__________
Bohanon and Curott are professors of economics at Ball State University. Send comments to [email protected]
Please enable JavaScript to view this content.