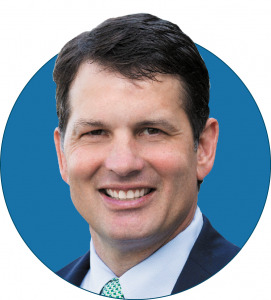 When Democrat Jonathan Weinzapfel announced his candidacy for attorney general in December, he believed he'd be facing embattled Republican incumbent Curtis Hill.
Instead, the former Evansville mayor is running against Republican Todd Rokita, who defeated Hill at the party's state convention this summer.
But Weinzapfel said Rokita and Hill are cut from the same conservative cloth on policy positions—so, in some ways, the race hasn't changed much.
If elected, Weinzapfel could be working with a Republican governor and almost certainly a Republican-controlled General Assembly—which means he'd be required to defend many of their policies and laws. But he doesn't seem concerned about that. Weinzapfel said his actions wouldn't be based on politics, but rather, what's in the best interest of Hoosiers and whether a policy is constitutional.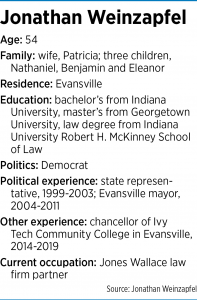 IBJ talked to the Evansville native about how he sees the office. The conversation has been edited for length.
Tell me about how you would approach this office and what your top priority would be if you won the election.
This really is about good government and looking out for Hoosiers instead of simply politics.
I'll give you an example of how I would conduct myself in office—think about Gov. (Eric) Holcomb's mask mandate. He issues a mask order, and Curtis Hill issues an advisory opinion saying he can't do that, he doesn't have the legal authority. My opponent in this race kicks it off to the Legislature, says we need to have the Legislature weigh in. I'm the only person who stands up and says, "Look, I think it's good policy. … It's clear that he has the legal authority under the public health emergency statute, wherein any violation of an order is considered a misdemeanor."
The other thing I see is a real weaponization of the Attorney General's Office, and you're seeing this from Democrats and Republicans, where, if Democrats don't like something the Trump administration is doing, there's a lawsuit that comes forward. The Republican attorneys general were doing the same thing with the Obama administration, and I don't see where it's in Hoosiers' best interest for their attorney general to be playing in national politics.
There are occasions where, in order to protect the interests of Hoosiers, I can see joining a national lawsuit. I think probably the litigation against the opioid manufacturers and distributors is a good example of that. I want to make sure that there's an impact on Hoosiers. Is this important in protecting the jobs, the health care, the livelihoods of Hoosiers? And that's going to be the criteria by which I would gauge whether to get involved in any type of national lawsuit.
You would likely be working with a Republican-controlled Statehouse and Republican governor, so there could be times when you might not agree politically with some of the laws that are signed. How would you approach that situation if a law you didn't agree with was then challenged in court and it would be up to your office to defend it?
Well, the state would be my client, so I would have an obligation to defend the state and would do so to the best of my ability. But two issues with regard to that. One, I also take an oath to uphold both the U.S. and Indiana constitutions, and if a statute or an act of the administration is, in my view, unconstitutional, that creates an issue that we'll have to resolve.
The second is: It's also about how you would defend the state so … I see that the administration has been sued with regard to the statute that requires school corporations to offer charter schools any vacant facilities for $1. And the lawsuit contests this and says it's illegal taking without compensation. And Curtis Hill's argument in defending the state is that the state has the right to take any property owned by local government without compensation, which is completely off base and which is a huge threat to local government school districts throughout the state of Indiana. So it's also about how you defend some of these cases, and I use that as an example.
An issue that you've promoted as one of your top concerns is criminal justice reform. What would your approach be to addressing that issue?
As a chief executive, serving as mayor of Evansville or even as chancellor of Ivy Tech, you really have to be able to listen to a lot of different perspectives, bring people together, bring people to the table, hammer out some consensus and then actually get things done.
I think that's the approach that's going to be necessary as we look at criminal justice reform. Timing is now to do something substantial, meaningful and constructive. There are two ways that I can be impactful here—one is making sure that I can bring parties together in having these discussions and coming up with an agenda of what criminal justice reform looks like, and the second is lobbying before the Legislature to see that these appropriate changes are made.
Are there specific changes or reforms that you would pursue?
I think we have to pay a lot of attention to the [Indiana] Black Legislative Caucus and the ideas they've come up with. I think there are some good ones there. Specifically, I think it's important to take a look at requiring all police officers to be wearing some type of body camera. When I was mayor of Evansville back in 2011, we bought body cameras for all police officers. I think we can do a lot in enhancing the training that police officers receive through the Indiana Law Enforcement Academy. … It seems to me there are also things like prohibiting chokeholds that would be effective.
You've also talked about wanting to pull Indiana out of the federal lawsuit that's challenging the Affordable Care Act. What impact do you think that move would have, given that other states would still be involved in the lawsuit?
I think it's important, as much symbolically as legally, to announce my opposition to the lawsuit.
As the people's attorney, as attorney general, I think it's incumbent upon me to be taking a look out for the interests of Hoosiers. In no way shape or form do I see this assault on the Affordable Care Act as being in their interest.
Now, it serves the ideological purposes apparently of Curtis Hill and Todd Rokita, but in no sense is this a good thing for Hoosiers because we have 2.7 million Hoosiers with some type of preexisting condition—whether it's diabetes, high blood pressure or now a positive test for coronavirus—that will once again find themselves in a position of being discriminated against by insurance companies about whether they should be insured or what they would pay for insurance. That's going back in time, which we can't afford to do.
In addition, there are roughly about 550,000 Hoosiers who have received health care through the expansion of the Healthy Indiana Plan, which was put together by then-Gov. Mitch Daniels and expanded under then-Gov. Mike Pence. … I think it's important, symbolically of course, to say, "Look, this makes no sense and I'm going to pull Indiana out," and legally it could be consequential.
If President Donald Trump wins reelection, how much do you expect to be joining some of these federal lawsuits other states have filed or filing your own? What can Hoosiers expect from you in that regard?
That I am going to defend their interests. If President Trump is reelected and I see initiatives or programs that are coming out of the Trump administration that do not serve the interests of Hoosiers, I would probably take a look and see if there is a legal remedy or a legal avenue for me to follow. But I'm not interested in playing the D.C. political games.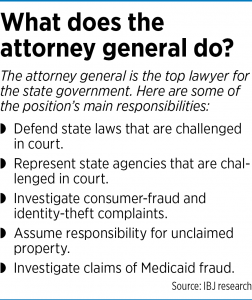 If you win, you could be the only Democrat to hold statewide elected office. How would you use your win to help build back up the Indiana Democratic Party?
Well, I think as much as anything, it is advocating for policies that Hoosier families want to see happen. In a way, it's taking some greater ownership of the Democratic platform. What does that look like? How are we making sure that, not only are Hoosier families successful, but are Hoosier businesses successful and thriving? By virtue of the ideas and policy positions that I take and espouse, I think that will have a big impact on really rebranding the Democratic Party here in the state of Indiana.
Are there any other priorities that you would tackle as attorney general?
One other issue that we've been focusing on is accountability. Regardless of who the entity is, if they are receiving state taxpayer dollars, they ought to be held accountable for how those dollars are used.
I'll use the example of the virtual charter schools. The State Board of Accounts and the Department of Education have identified that there are some virtual charter schools that defrauded state taxpayers of roughly about $68 [million] to $70 million. As attorney general, I will be going after those to reclaim those dollars and refer them for criminal prosecution, if appropriate. That would be one of the first things I do as attorney general. But it's not an anti-charter schools [position]. It is, look, these folks receive state tax dollars, someone needs to hold them accountable, especially when they violate the law and swindle taxpayers like they've done.•
Please enable JavaScript to view this content.