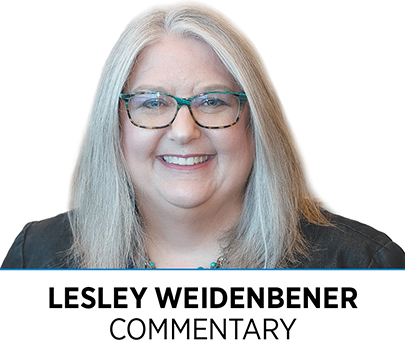 I was privileged this week to take part in the Indiana Lawyer's Leadership in Law event on Tuesday at the Indiana Roof Ballroom.
My small role was to join Indiana Lawyer Editor Olivia Covington on stage to read profiles of many of the honorees (you can read them, too, in the Leadership in Law section in this week's issue of IBJ and online at TheIndianaLawyer.com).
So many of the honorees talked in their profiles and in video presentations about the importance of mentors in their careers—and the importance of mentoring others. Susan Brooks, the former 5th District congresswoman and former U.S. attorney—talked about several mentors, including U.S. District Judge Sarah Evans Barker, now a senior judge.
There are dozens of female attorneys—maybe hundreds—who count Barker as a mentor and credit her with empowering women in law across Indiana.
It all really struck me as I stood on the stage. Olivia, 20 feet away, was one of my students at Franklin College when I ran a Statehouse reporting program there. She worked at our news site—TheStatehouseFile.com—for several years and was editor of the student newspaper, The Franklin, when I was the adviser.
She was an outstanding student reporter and has become an outstanding professional journalist—and I was so proud when, earlier this year, she became editor of the Indiana Lawyer, IBJ's sister publication.
On her staff is Katie Stancombe, another former student who was live tweeting Tuesday's event. In the audience was Zach Osowski, one of my earliest Franklin College students who is now the public information officer at the Indiana Prosecuting Attorneys Council.
Not in attendance Tuesday but on IBJ's staff is Samm Quinn, our assistant print editor, who was so valuable as a student to TheStatehouseFile.com that I nearly cried when she told me (now nearly a decade ago) that she was going to Uganda for winter term rather than serving as my student editor that year.
I don't want to exaggerate in any way the influence I had on the success these young journalism and public relations professionals have experienced. I'm confident each one was destined for great careers whether or not I had ever been a part of their training.
But I know the impact my mentors had on me. I remember how much Mary Dieter, then the Indiana Statehouse reporter for The Courier-Journal in Louisville, taught me about covering politics and government when I landed in Indianapolis at just 26 years old. She showed me where to sit, which lawmakers to talk to, which ones to avoid and how to ask questions in a way that would elicit frank and accurate information.
When, years later, I succeeded Mary at The Courier-Journal, my boss Mark Provano—a savvy veteran journalist—gave me a blueprint for how to edit others and manage reporters. He was at once supportive and demanding, and he made everything I wrote better. I can only hope to be the boss he was.
And when I moved to Franklin College, I summoned everything I learned—and there was so much—from Dave Knott, who was the adviser at the Ball State Daily News. Over and over, I could hear Dave in my head as I tried to help these young men and women transition from students to professionals.
Thinking back about my own career illuminates how often people became my mentors without any formal effort—or, in some cases, without my even knowing it was happening. And it's a reminder that, at every minute, I and all of us are influencing those around us.•
__________
Weidenbener is editor of IBJ. Email her at lweidenbener@ibj.com.
Please enable JavaScript to view this content.