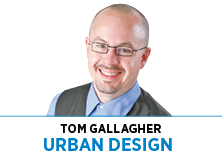 Now that we are a few months into our encounter with a global pandemic and almost four weeks under official stay-at-home orders, it's hard not to wonder what the future holds.
Thankfully, our present experience is not the fait accompli. Rather, it is the emergency response to an acute shock to the system. If history shows us anything, cities and societies mend following a period of active recovery. Ultimately, they advance and find a new normal.
In truth, there is always a potential crisis of some kind looming. As I write this, states in the South are recovering from multiple tornadoes, hurricane season starts in June and climate change is a constant specter. The ability to navigate, to thrive, through this cycle of change is the definition of resiliency. The city of Indianapolis' resiliency plan, "Thrive Indianapolis," released last year, reminds us of just a few of the major shocks, like the 1913 White River Flood or the Great Depression, through which we have persevered in our 200 years as a city. It also calls us to action so we can be strong enough to prosper through the next 200.
There are already pages of speculation about how our cities will change after this pandemic. Personally, I have far too little solid data upon which to comfortably base predictions. It is not too early, however, to begin to conceive of the future we want and need to have. Who do we want to be on the other side of this? Whatever specifics we ultimately embrace, I am certain we will be more likely to flourish if we can think in these ways:
Critically
As we move toward recovery, the temptation will be to get back to normal swiftly. It will be important to balance that urge with maintaining an open mind and a willingness to not form conclusions too quickly. Consider, for example, how too shallow an understanding of urban density could lead us awry.
What are we to make of the fact that San Francisco County, the most densely populated county outside of New York City, has, at the time of this writing, only 957 COVID-19 cases and just 15 deaths? In Marion County, with essentially the same population spread out across nearly nine times the area, we have more than 3,000 cases and more than 100 deaths. Moreover, three rural counties in southeastern Indiana have among the highest number of cases per capita in the country.
A measured and academic approach to understanding urban density could help define more sophisticated approaches to urban design, perhaps defining the points at which density offers critical mass, the necessary engine for social and economic capital, or tips the scales toward excess.
Systemically
Cities are complex, interwoven, multi-dimensional puzzles. Often, a solution that works swimmingly on one level might create a problem we can't even see or won't know about until years later.
Michael Berkowitz, urban resilience expert and former executive director of the not-for-profit consultancy 100 Resilient Cities, points out, "The trick is linking different goals together. When you're doing economic development, how can you also make yourself better protected for floods? When thinking about mobility, how can you increase biodiversity or reduce exposure to extreme heat?"
Great urban buildings will contain a multitude of uses over their lifespan. Can they also be quickly transformed on-demand if called upon? Imagine a power supply that could modulate its sources and scale, allowing a single house to contribute energy to the district but function off-grid if the need arises.
Positively
National Geographic's study of the places across the world with the longest-lived people, blue zones as they call them, reveals that, despite having very different cultures, their environments positively support a lifestyle of purpose, balance, wellness and deep social connection.
A city that focuses on growth gets bigger. A city focused on vitality gets stronger, healthier, more flexible and more durable. A city focused on vitality can see the good in things even if they seem negative on first impression.
More people choosing to work from home after this experience could mean fewer people energizing downtown during the day. But it could also mean better work-life balance and reduced traffic. The increased daytime population in neighborhoods could support walkable urban villages, stimulating fine-grained retail recovery, and help a struggling economy.
The success of our actions during an emergency is largely contingent on how well-prepared we were for the unknown. As individuals and a society, we will not remain unaltered, unaffected by this event. During the recovery and reset, we have the responsibility—the opportunity—to be proactive in determining our future.
Though we must endure the present situation a while longer, I am heartened by how our sense of community and connection to local seems to be elevated while we've been distancing ourselves. Likewise, I am cheered by people rediscovering simple joys like walking their neighborhoods with the family or making their own bread.
What we choose to do next will really tell us who we are.•
__________
Gallagher is a principal and urban designer with Ratio and a professor-in-practice of urban design at Ball State University. Send correspondence to TGallagher@ratiodesign.com.
Please enable JavaScript to view this content.