Already living near Indianapolis' largest wastewater treatment plant and three U.S. Environmental Protection Agency Superfund brownfield sites, some west-side residents are strongly opposing another wastewater facility proposed for the area.
But a little-known, 70-year-old local-government unit whose sole task is to provide wastewater services to the estimated 15,000 people within its boundaries says it needs its own wastewater treatment facility, which it wants to build on a 7.8-acre site at 900 S. Tibbs Ave., to opt out of skyrocketing Citizens Energy Group rates.
The Ben Davis Conservancy District owns only the sewer lines underground, so it sends its wastewater to Citizens for treatment.
A fight over zoning has devolved into debates over odor, water quality, and the impact of another wastewater treatment plant in the area on nearby residents.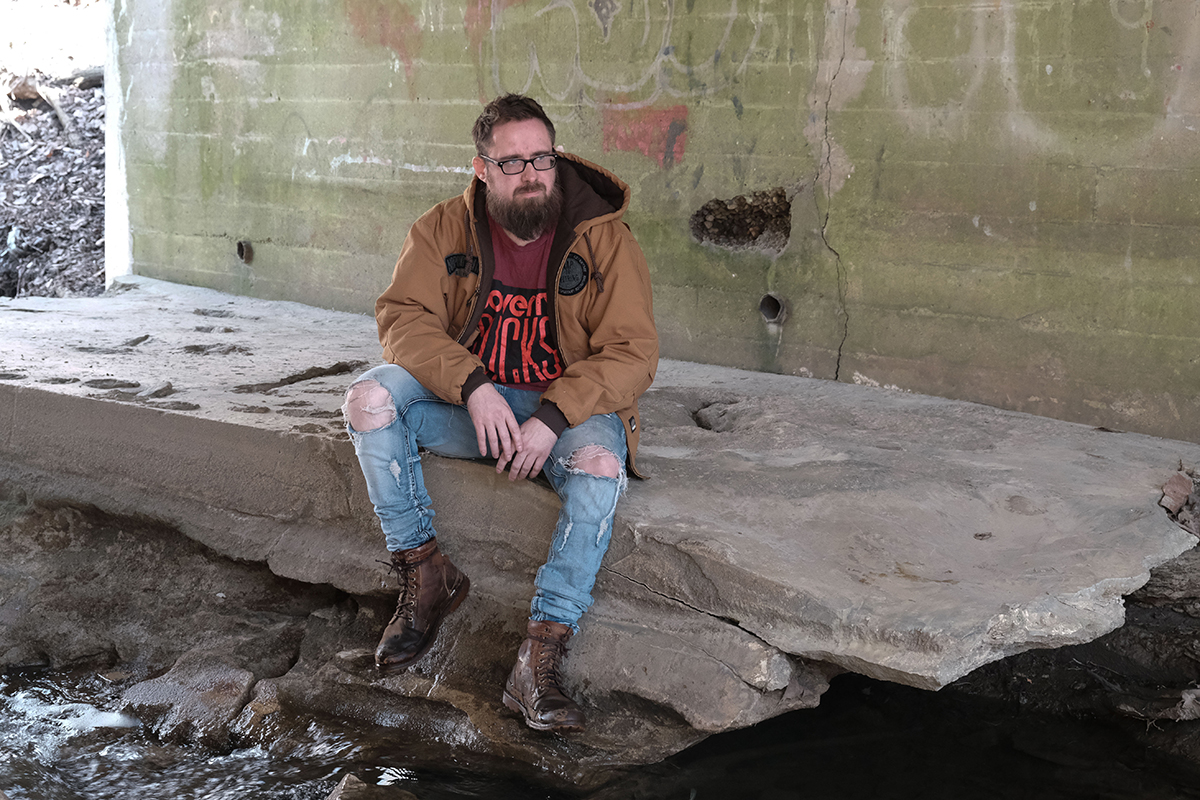 Before the conservancy district was created in 1950, each household relied on a septic tank to treat wastewater. But the tanks were prone to backing up, with raw sewage coming up household drains and pooling around the tank outside, and parts of the area were in danger of condemnation.
"I can remember [how], at a young age, how the septic system used to overflow and my dad telling me how we'd applied to the city of Indianapolis for help and they'd turned us down," Fred Buckingham, now the BDC District's board chair, told the Metropolitan Development Commission's hearing examiner at a Feb. 24 meeting.
"That's why [the district is] in existence today," Buckingham said.
The district was authorized under Indiana's 1947 Conservancy Districts Act and was finalized in 1950 by the Marion County Circuit Court, which still has jurisdiction over it. So does the Indiana Department of Local Government Finance.
The district can levy property taxes to pay for its operations and charge user fees to finance its general obligation bonds.
The sewage conflict has been brewing for more than a decade, since Indianapolis sold its sewer and water utilities to Citizens in 2011 to avoid paying for enormously expensive, EPA-mandated upgrades to its century-old combined wastewater and stormwater system.
Citizens instead took on the task of complying with the 2006 consent decree—made with the EPA and the Indiana Department of Environmental Management—that lays out a 20-year plan to minimize overflow of raw sewage into the White River and other waterways. The result was Citizens' $2 billion DigIndy tunnel project, set to wrap up in 2025. Citizens has progressively hiked its rates to pay for the project.
The BDC District had negotiated a cheaper contract with Citizens, but in 2017, the court ordered the district to up its payments to match what other Citizens customers were paying. The district paid Citizens $575,000 in 2018, and expects the amount to increase each year, according to Dee Revnyak of Triad Associates, the district's engineering firm on the project. The bill is projected to reach $3.5 million by 2026, a sixfold increase.
"Our ratepayers really can't afford [Citizens' charges]," said the district's attorney, Jennifer Hess of Hess & Donnelson. "The houses in our district run in the assessed-value range of $40,000 to $60,000. A lot of people are on fixed incomes and budgets. So one of the reasons we're doing this is so we don't have to absorb the rate increases from Citizens."
The district's pipes, installed in the 1950s, are separated, so the BDC District is not part of the combined system. And the district commissioned a study that indicated building its own plant would be cheaper, in the long term, than paying the Citizens rate increases. It decided to go for it, last October purchasing the Tibbs Avenue parcel from Indianapolis-based Tibbs Property Investments II LLC for $1.45 million.
"The [district] board members and much of the staff live within the area, [and] own property and work in the area, so we have to live with any decisions that are to be made," Buckingham told the Metropolitan Development Commission at a second meeting on March 16. The district was seeking to rezone the property from Industrial-4—for the heaviest industrial uses—to Special Use-41, "Sewage/Garbage Disposal Plant."
The district has already spent more than $1 million for design and permitting, Buckingham said, and is authorized to spend up to $20 million, according to Hess. But the site chosen, after what district representatives have said was a three-year search, is just outside the district's boundaries.
Neighborhood outrage
That's brought backlash from some residents of West Indianapolis, the neighborhood and former incorporated town that includes the proposed site.
"We fully understand the economic pain that Ben Davis Conservancy District residents deal with, because we live in West Indy, too," said Jessica Saenz, at least a fifth-generation West Indianapolis resident and vice president of the West Indianapolis Neighborhood Congress.
"Attention really should be focused on [Citizens] and the constant rate hikes they impose on us," Saenz told the hearing examiner on Feb. 24, "instead of pitting us against each other by making a group of neighbors feel like they need to build their own sewage plant because it's the only way they can afford a basic utility."
The district says the proposed location is ideal for its size and natural discharge point at Neeld Ditch.
"We don't want to go in and condemn someone's property to build a wastewater treatment facility when there is a suitable site that's nearby, that really is suited from all the engineering perspectives, topographically, drainage studies, IDEM permitting," Hess told IBJ. "… It's about availability."
Buckingham told the hearing examiner the location's features would save the district about $1.5 million, compared to other locations.
Hess also noted limitations on the site's future via a restrictive covenant that prevents housing, agriculture and other developments.
The triangular parcel of land is sandwiched awkwardly between a CSX rail line and Interstate 70. Tibbs Drive-In and Mann's Grille, both West Indianapolis institutions, lie roughly 1,500 feet north and south of the site, respectively.
It's a fragment of the larger former Chrysler Corp. foundry, a remediated former Superfund brownfield site. A 2008 Quality of Life Plan specified that the West Indianapolis Development Corp. should facilitate discussions on site reuse, with input from WINC, the City-County Council, the Department of Metropolitan Development and the property owner.
But WINC leaders say they didn't know about the proposed plant and location until shortly before the Feb. 24 hearing examiner's meeting, when the Indianapolis zoning body was required to notify all registered organizations in the area.
Hess said the district issued all legally required notices and held town halls to spread the word.
"I honestly didn't know that the West Indianapolis Neighborhood Congress existed," she said. "It certainly wasn't an attempt to evade or not be forthright about the process."
"We were surprised that they were in opposition to this," Hess added. "We think we're taking a site that's heavy industrial, and on that site, we're putting five acres of green space. There'll be no noise from this, no noxious fumes or lights. We think it's a substantial improvement to what was a scrapyard."
Odor, discharge
The BDC District says the facility won't smell because of the aerobic process it uses. That assertion drew skepticism from West Indianapolis residents and MDC President John J. Dillon III, who questioned whether that was realistic.
Triad Associates Project Manager Jim Frazell told the MDC the plant would be different from the Belmont Advanced Wastewater Treatment Plant, the city's largest such plant, which is only three miles from the proposed site.
While both plants are designed to treat wastewater aerobically, Frazell said, Belmont uses an anaerobic process to digest the sludgy byproduct. He said that's where the smell comes from.
Citizens spokesman Dan Considine confirmed sludge treatment at Belmont is anaerobic, which generally gives off more odor.
District representatives also repeatedly said the Belmont plant has a capacity of 600 million gallons of wastewater per day, but Considine wrote that it typically treats just 105 million gallons daily and is rated for a maximum of 300 million.
It still dwarfs the BDC District's plant, which would be intended for an average flow of 4 million gallons per day, and a peak flow of 12 million.
Residents also worried the plant's effluent would pollute the thin canal it would run into, Neeld Ditch. But Frazell said that, since the ditch is so small, and often dry, IDEM's standards would be stricter than for plants dumping directly into larger bodies of water.
The district has already received preliminary IDEM limits for suspended solids, ammonia, phosphorus, E. coli bacteria and others, according to IDEM documents obtained by IBJ. While some limits are the same for both plants, like the proportional counts for E. coli, others differ.
Belmont must keep the concentration of suspended solids in its effluent under a monthly average of 10 milligrams per day in the summer and 30 in the winter, according to an IDEM permit, and the BDC District plant must keep suspended solids under 12.
Not everything is enforceable, like the green space the BDC District said it would add, which wasn't included in the written list of four proposed commitments to the Department of Metropolitan Development. The Department of Business and Neighborhood Services enforces zoning commitments and requirements, but it transfers odor, air quality and other potential violations to IDEM, according to spokeswoman Brandi Pahl.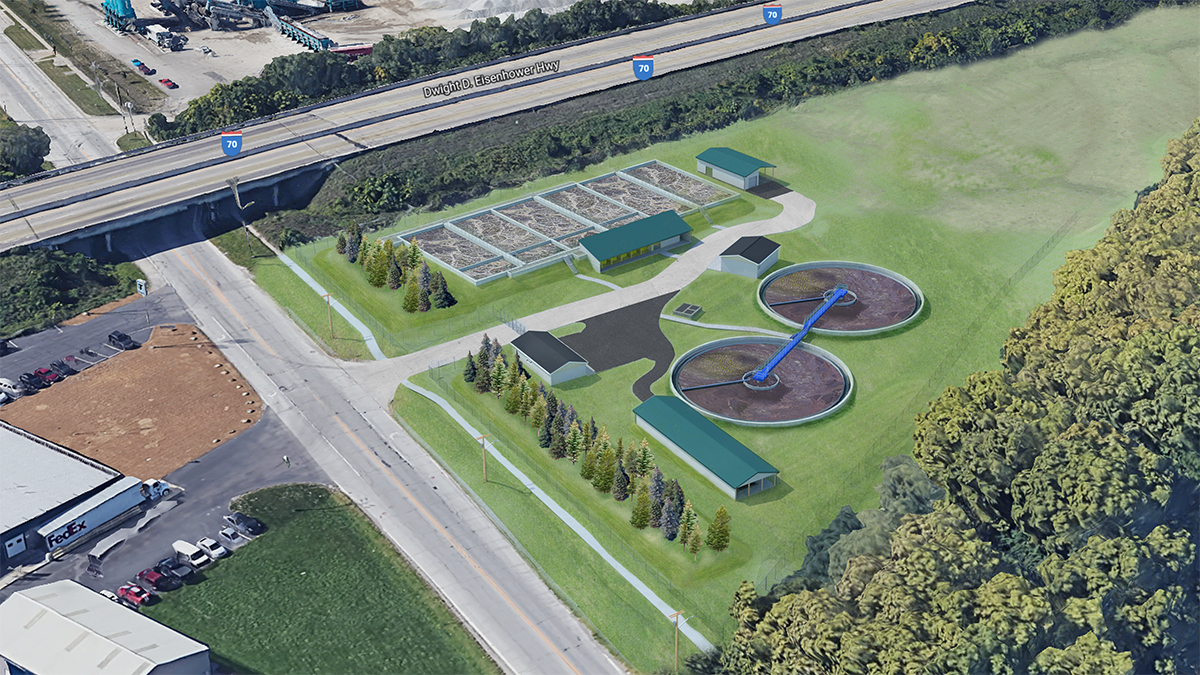 Triad track record
Residents also took aim at Triad's track record, citing reports that New Palestine had ended its longtime relationship with the company after a $4.2 million expansion of its wastewater treatment plant was reaching its limits 18 years early.
In a letter, Town Manager Tom Robinson blamed Triad, writing, "Several unanswered issues regarding engineering performances and shortcomings have put the town in a precarious situation with the recent upgrade of our wastewater utility plant and collection system."
Frazell told IBJ that New Palestine was growing rapidly, but that the funding source—the State Revolving Fund loan program—stopped allowing long-term-needs projections after a spate of incorrect assumptions post-recession. He said town leaders were aware of the limitations and agreed to them, but that turnover meant new people are now in charge.
While residents were skeptical of the BDC District and its representatives, some at the district were dismissive of the opposition.
"Zoning is always a difficult issue because you deal with emotions," Frazell told IBJ. "Logic and reasoning go away."
But for some West Indianapolis residents, the engineering assurances and environmental limitations aren't enough to outweigh their concerns.
"I'm a bit taken aback that the passion and engagement from our neighbors has been called emotional. It's not a 'not in my backyard' issue," Priscilla Jackson, WINC's president, said at the March 16 MDC meeting. "… We've just been overburdened with a preponderance of hazards in the area, and I think we're just seeking some environmental justice here."
"[Department of Metropolitan Development] staff, when they talked about their support of this [facility], gaslighted us and acted like no community ever wants a sewage plant in their neighborhood," WINC Treasurer and former president Jonathan Howe told IBJ. "This is the second sewage plant! … It's manipulative for them to make it seem like we're just not being supportive of utilities that are needed."
DMD staff and proponents, meanwhile, warned that, if the move to rezone failed, the land would remain open to the zoning code's heaviest industrial uses, arguing they could be worse.
Not over yet
The project is moving ahead, for now.
The Metropolitan Development Commission voted 7-1 at the March 16 meeting to rezone the property, and the City-County Council will likely uphold the decision at its April 4 meeting. The decision was met with anger from opponents.
"We do all this work and then [the MDC] spits in our face," Howe said, describing the canvassing, research and time off work multiple residents took to come downtown for the hearing.
"We're a poor community—we don't have time to fight the … city," Howe said. "So when we come to the city with 450 signatures and 70 pages of documents and months of work, and we're completely ignored and get one vote, it's disgusting."
WINC isn't stopping there.
Saenz, WINC's vice president, said the group is preparing for a last chance on zoning at the April 4 council meeting, but has also been considering getting representation for a lawsuit aimed at the final permit the district would need for the plant, called the National Pollutant Discharge Elimination System permit. IDEM spokesman Barry Sneed confirmed the department hadn't yet received an application for that permit.
But Triad is forging onward. Construction bids for the project were due March 17, according to Revnyak, with the goal of starting the 20-month construction project in May. It would add just one employee, a licensed operator, to run the facility. The district currently has six full-time staff members and one part-time, alongside contractors like Hess.
"There's no victory lap here," Frazell said. "… We're just trying to move on and do the best thing we can for the Ben Davis Conservancy District and the ratepayers in that area."•
Correction: An earlier version of this story incorrectly reported that the West Indy Neighborhood Congress has been in conversation with the Hoosier Environmental Council about securing legal representation. The story has been corrected to say that WINC is considering getting legal representation for a lawsuit.
Please enable JavaScript to view this content.